After our visit to Plitvice National Park and our interesting hike through the Korana river, we were going to drive to Zagreb today. On the way, we were going to stop at Rastoke and Petrova Gora. Rastoke is a charming town located in Slunj and Petrova Gora is a World War II monument. 
Rastoke Slunj
In the town of Slunj, you can find Rastoke, famous for its cascading waterfalls. The waterfalls are created by the water of the Slunjčica river cascading through town, into the Korana river. The water from the river forks and forks again, creating streams that spread throughout the town. The water eventually ends up in the Korana river. On the internet, we found that a lot of people really recommend visiting this charming town. The town does live in the shadow of Plitvice National Parks as they have a very similar thing in common: waterfalls.
On our way to Zagreb, we would pass Rastoke on the way, so we decided to visit this town as well. We drove into the village and looked around. Steven and I were really curious about what this little town had to offer, but I must say… we were still looking for something worthwhile when we drove on. The houses were indeed charming, but the waterfalls were really small. Especially in comparison to what we had seen at Plitvice National Park. The water level was too low, so the town lost most of its charm for us. Because we weren't that impressed and we saw that we needed to pay for a parking ticket and an entrance fee, we decided to just drive by and leave Rastoke. 
We hope that during different seasons, the water level is high enough and you can enjoy the waterfalls in their full glory. We've seen many great pictures of Rastoke, so I'm guessing we were there at the wrong time. If you visited Rastoke and think we missed out on something, please drop us a message 😀.
Construction of Petrova Gora Monument
Petrova Gora is a World War II-monument built on the highest peak of the Petrova Gora mountain range, named Veliki Petrovac. In English, you would call it Peter's mountain. The monument itself is mostly known as Petrova Gora but is also known with a "slightly" longer name called Monument to the Uprising of the People of Kordun and Banija. That explains why people refer to it as Petrova Gora 😉.
The longer name gives you a pretty good idea of what this monument is all about. It is a celebration and a remembrance of the brave people of Kordun and Banija who fought the Nazis in WWII. The author of the monument is Vojin Bakić. The monument was finished in 1981, but the construction had taken over a decade. Petrova Gora finally opened in July 1982.
The monument is 37 meters tall and 40 meters wide. It's mostly made out of stainless steel and reinforced concrete. The surrounding of the monument was designed as a recreational area. On the inside, there was a museum about people's liberation struggle in the region.
You could even go to the top of the monument where you would have a fantastic view of Zagreb, Slovenia, and Bosnia. More information on Wikipedia.
Our visit of Petrova Gora
We drove through the town of Gvozd to another small town called Podgorje. We were following the road towards the monument but the concrete road turned into a sandy one. There were some rocks on the road, so we weren't that comfortable. We were driving with a rented car that was rather small and low to the ground. You just don't want the car renting company to find any bumps and charge you way too much for it. So we decided to park our car on the side of the street and hike to the Petrova Gora. We still had about 4 km to go to get there and the climb was pretty steep!
The hike was enjoyable and we were really excited to get to the monument. We had seen it emerge on top of the mountain while we were walking closer and it looked huge. When we came closer, the trees prevented us from seeing the tower.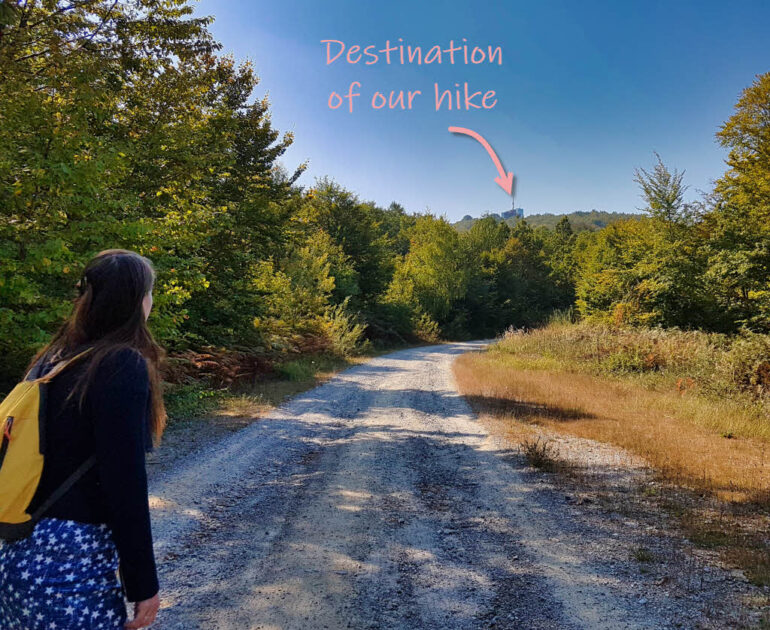 We hiked through the forest for most of the time. There were other people hiking in these woods as well, so we knew we were still on the right track. After about an hour, we finally arrived at the tower. We were a little spooked by what we found!
Spooky Petrova Gora
The tower was in poor shape. It looked like no one had ever cared for that tower! It was a sight me and Steven had never seen before. Especially for a monument. We found out that after 1991 all the anti-fascist monuments were neglected. And to make it even worse, locals tore off the stainless steel to use it for their own construction! But it didn't stop at that. Many people had broken into the museum and the visitor center to steal everything of any value. They even sprayed graffiti on it. That's something we can't even imagine doing. In our home country, a monument is considered somewhat sacred and you should never deteriorate a monument.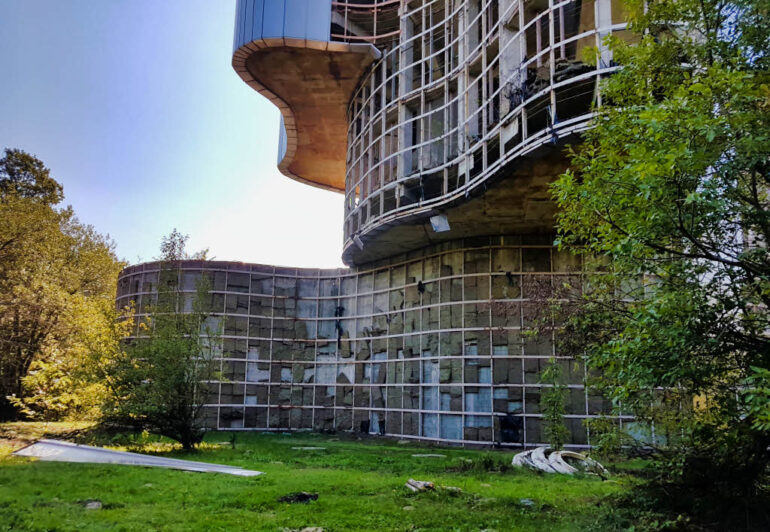 When we were walking around the building, we did see a warning sign saying that it is unsafe to walk under the monument as something could fall on your head because the building wasn't in good shape. We saw some parts lying scattered around the building, so we tried to keep a good distance from the building.

The monument looked more like the perfect decor for a Halloween movie. It wasn't at all what we had expected to find. Over the last years, antennas were also placed on top of the Petrova Gora, making the building look even less like a monument.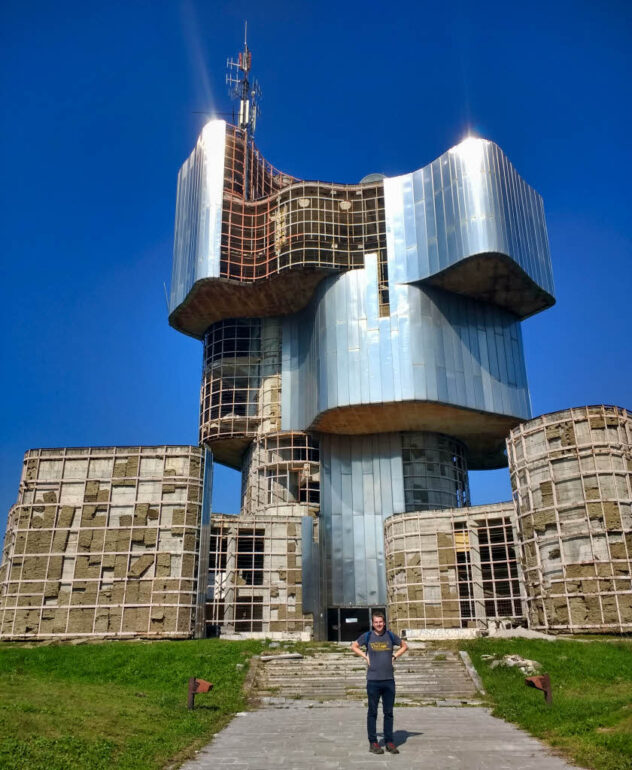 Future of Petrova Gora
It is said that the local and federal government doesn't do anything to stop vandals from stealing on the Petrova Gora site. Everything that can be used, has already been taken by someone. Even the walls leading to the monument are stripped!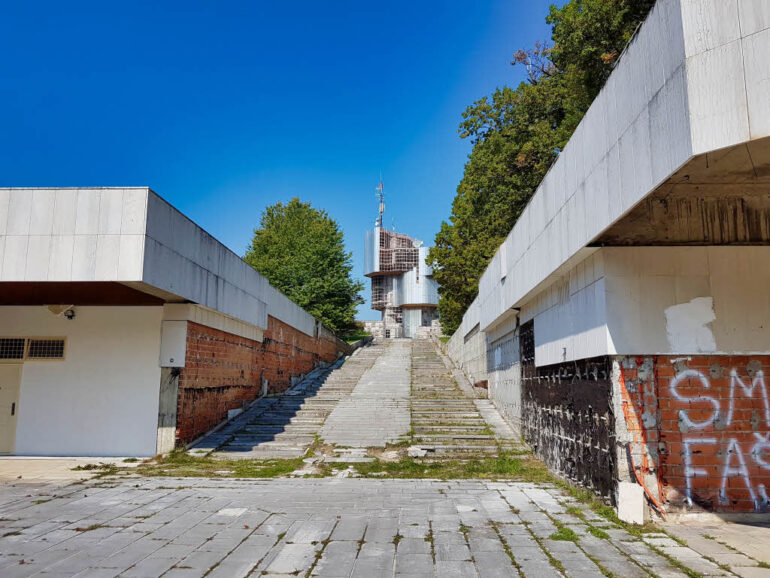 There are a lot of groups who want a better future for Petrova Gora, but as far as I can find, there are no concrete plans yet. Veterans want to have the building protected and restored as they want to honor this place. But also astronomers have an interest in this building as it has almost no air pollution. In 2019 the Petrova Gora mountain range was proclaimed an International Dark Sky Park (an exceptional place to look at the stars at night because of little light pollution). We have less than twenty of these in Europe, 2 of those are located in Croatia.
We are definitely rooting for a better future for this building! There are enough spooky places already!
After this weird encounter, we hiked back to our car and drove on to the Capital of Croatia, Zagreb! Here we'd spend our 2 final days of our road trip through Croatia.