The Blue Lagoon, nearby Reykjavík in Iceland, is definitely something we were dying to visit! It's a famous geothermal spa and one of the best tourist attractions in Iceland. We have heard so many great things about this place. It is said to be one of the best spa experiences you'll ever have. And I must say, it really is a wonderful place to relax and enjoy the tranquility. 😌
Wonders of the Lagoon
The Blue Lagoon is filled with geothermal seawater. Bathing in geothermal seawater is proved to be very beneficial for your skin. It's said to strengthen, renew and moisturize the skin. The healing characteristics of the blue-green milky water are formed by the algae, silica, and minerals in the Lagoon's extraordinary ecosystem.
History of the Blue Lagoon
The Blue Lagoon is Man-Made
In the early 1980s locals already knew that the water in the Blue Lagoon had healing powers. The Lagoon is formed right next to the Svartsengi geothermal power plant. It's actually even formed by the plant! The power plant is drilling for steam and hot water. The excess water is released in the lava fields nearby, creating the Blue Lagoon. The freshwater and seawater converge, forming the healing and milky-looking seawater. 
So the Blue Lagoon is actually formed by the geothermal plant in the neighborhood! That makes it sound less romantic of course than the stories of the lagoon just being a natural phenomenon. So do keep this in mind. The Lagoon is man-made, but they have done everything they could to make the experience as unforgettable as possible.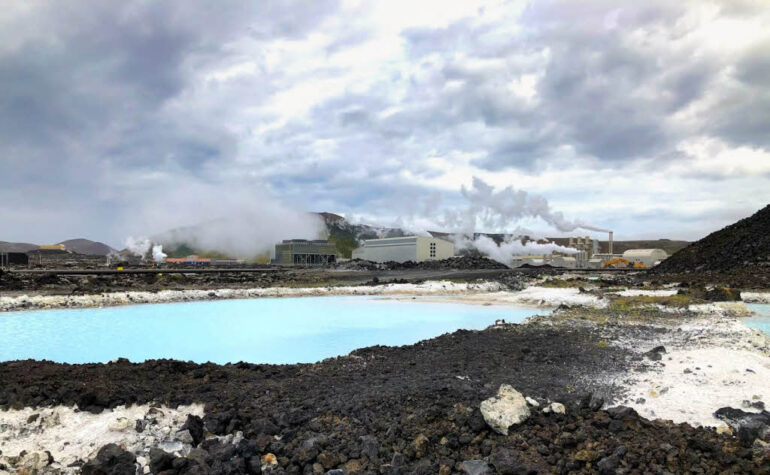 Scientific Studies on the Water of the Blue Lagoon
By the 1990s, Scientists started to gain interest in this blue water. They wanted to study it. That's when the company Blue Lagoon Limited was formed. This company would focus on the scientific study of the water in the lagoon. They especially wanted to investigate the healing powers of the water's 3 main elements: silica, minerals, and algae.
It suddenly spiraled for the Blue Lagoon Limited company. By 1995, they had even created their own line of skincare products. All based on the same wonders of the Blue Lagoon. These products came highly recommended because the scientist had just proven that the geothermal seawater had healing properties!

The Blue Lagoon Clinic and Spa
In 1999, the company turned the Blue Lagoon into a modern spa facility and in 2005 they even added a clinic hotel to the Blue Lagoon. In this clinic, you could get treated for certain skin conditions such as psoriasis.
Since then the spa has only increased their experience by building other facilities like a restaurant, a face mask bar, a bar in the lagoon… Now Blue Lagoon is one of the most famous geothermal spas in the world.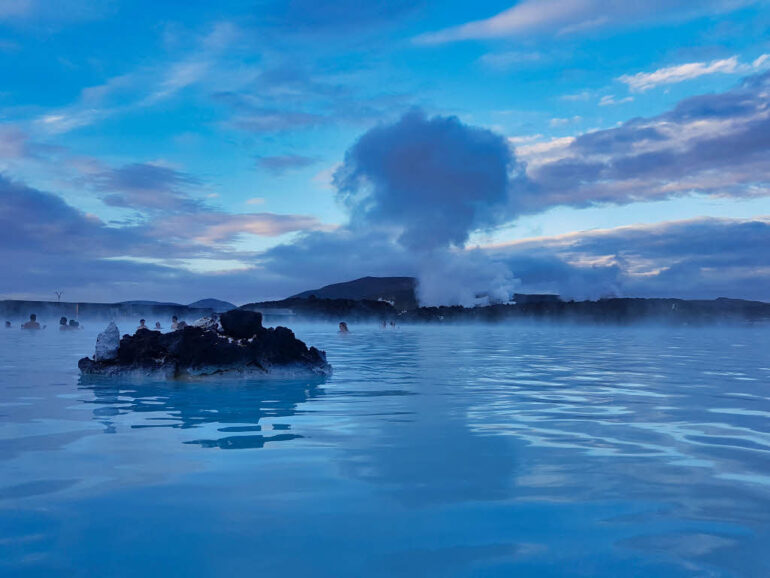 Price of the Blue Lagoon Spa in Iceland
Reservations are necessary when you want to visit the Blue Lagoon. You always have a choice between 3 packages when you are making reservations online.
Comfort pack
Comfort tickets are typically priced between 70 and 90 euros depending on when you want to visit the Blue Lagoon. Even in the Comfort Pack, many things are complementary to your visit. You'll get a Silica mud face mask, you may use the provided towels and your first drink of choice is free!
Premium Pack
Premium Pack tickets are typically priced between 90 and 110 euros depending on the season you want to visit the lagoon. In a Premium Pack, everything that's in the Comfort pack is also included. So you'll get the face mask, the use of towels, and your first drink of choice for free.
Apart from that, you'll also get a second mask of choice, you may use slippers and a bathrobe. You'll also be able to reserve a table at the Lava Restaurant. And if you do decide to eat at this restaurant, you'll also get a complimentary glass of sparkling wine with your dinner.
Luxury Pack
If you want to upgrade your experience even more, you can also book Luxury tickets. These tickets don't come cheap though, they will cost hundreds of euros. According to the website, the prices start at 306 euros, but for June and July, these have already gone up to 493 euros. Now the prices have plummeted on the website due to the Corona crisis. So I'm assuming they are a bit higher normally. I've found online that the prices can go up to 560 euros. Do check the official website for the recent prices!
In your Luxury Spa tickets, you can switch freely between the Blue Lagoon and the Retreat Lagoon. You also get a private changing suite. With these tickets, you'll also be granted 5 hours to visit the Retreat Spa. Here you'll have the chance to have Skin Care Amenities, a drink of your choice, the Blue Lagoon Ritual, access to the Spa restaurant, and access to 8 Subterranean spaces.
Save Money on Your Tickets to Visit the Blue Lagoon
Some websites recommend you to visit another spa in Iceland, because of the high prices of the Blue Lagoon. But according to us, this isn't needed. If you plan your visit and are a bit flexible, you can get tickets for the blue lagoon at a great price.
We decided to book Comfort tickets. When you are reserving online, you can also choose your timeslot when you'd like to visit the lagoon. If you select a later hour, you'll book "evening tickets". We selected that we would like to visit the Lagoon at 8 PM. This would give us 3 hours to visit the lagoon as it closes at 11 PM.
Now the best thing about summer in Iceland is that it doesn't get dark. So for us, it looked like the early evening when we were visiting the lagoon. If you reserve an evening ticket, the price will decrease a lot.
Another recommendation we'd like to share with you is to book your tickets well in advance. We booked our tickets several months before our trip. When we were in Iceland we checked the ticket prices again and they were a lot higher. So booking early also saves you money.
Considering both those tips, taking an evening ticket and booking well in advance, you can save a lot of money. This is a great way to enjoy the lagoon for a good price. We paid 50 euros per person for our Comfort pack. This includes your first drink, and you can even take alcoholic beverages.
What Should You Bring with You to the Blue Lagoon?
– Bathing suit. Of course, if you go to a spa, you'll need this!
– Hair tie. The water of the blue lagoon isn't exactly good for your hair, so best to keep your hair tied together.
– Hairbrush. Again the water isn't that good for your hair, so you'll be glad to have a brush when you come out of the spa and have taken a shower.
– Slippers. If you decide on the Comfort pack, those aren't included. The floor can be slippery, so it's a good idea to bring your own ones.
– Waterproof camera or phone case if you'd like to take pictures. Now, most recent phones are splash waterproof, so that should be fine… Considering you don't drop it 🙊.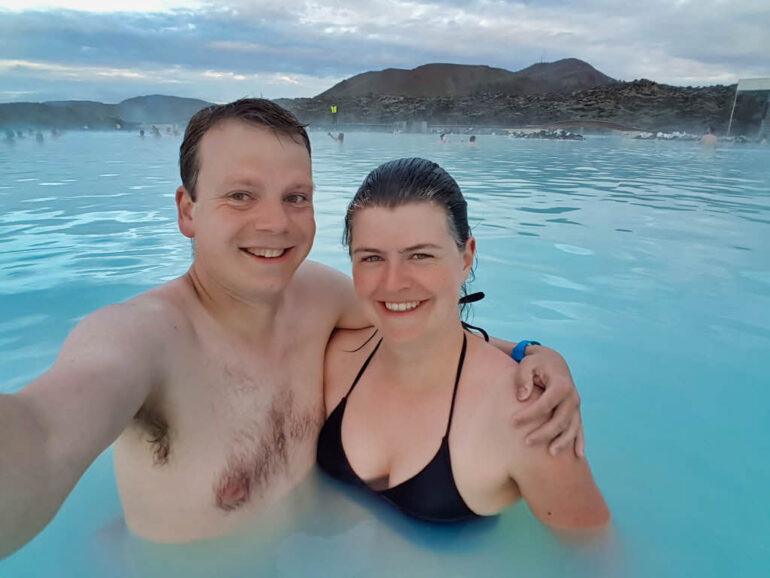 Tips for your visit to the Blue Lagoon
We want to make this experience as enjoyable as possible for you as it really is a magical place. To make sure all the odds are in your favor, we've come up with the following tips. These tips will help you enjoy the Blue Lagoon even more!
Hair Conditioner and a Hair Tie
Our first tip is to use a lot of hair conditioner. Although the water is super beneficial for your skin, it will completely ruin your hairdo. If you dip your hair in the water, it'll feel like cardboard! The water isn't said to be harmful to your hair, but it leaves your hair completely unmanageable. So you can forget about a glamorous dinner after the lagoon. You'll look more like a plucked chicken 😉.

The best way to make sure you keep your hair healthy is by using hair conditioner before and after your visit to the Blue Lagoon. An even better idea is to just let it rest in your hair while you are relaxing in the lagoon. If you're imagining what size bottle you'll need to take with you, stop worrying! There is complimentary conditioner in the shower area!! Talk about service 😍.
A scrunchie or hair tie is very convenient to make sure your hair is protected even better! Not letting your hair touch the water is the only way you'll be sure your hair can be handled the next day. I just made a pony-tail as I wasn't really worried that much about my hair. It wasn't colored or curly. If I'd go back now, it would be a whole different story. Wouldn't want to ruin my highlights in the lagoon!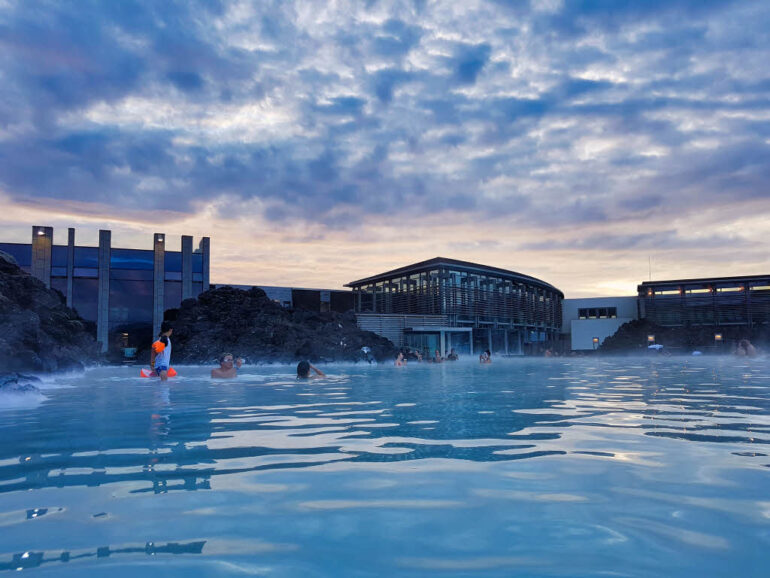 Lenses and Glasses
If you are "lucky" like me, to wear lenses or glasses, there's always an extra thing you need to think about. I think everyone with lenses has, once in his/her life, jumped into a pool and right after the jump has thought: ow boy, I'm still wearing my lenses! 😩
I would recommend leaving your glasses and lenses in your locker in the dressing rooms. If you can't see enough without them, then make sure your glasses stay dry as the water in the lagoon could damage them. In the lagoon, you'll also be given the option to ask for a face mask. And we all know it's gonna be a little messy with glasses or lenses.
My eyesight isn't that bad, so I chose to leave my glasses in our car. Now, of course, men and women are separated pretty early on and my husband is my guide when I don't have my glasses on. So you'd probably guessed it… I was the person staring like crazy at a door because I couldn't read the sign yet. So just ignore how weird that must look for the others 😉
Bottom's Up and Complimentary Drink
Sure, you never forget to drink 🍹 when you're on holiday… But guys, we mean drinking water of course 😄! The Blue Lagoon is beneficial for your skin, but being in a spa with hot water can dehydrate your body. So remember to drink plenty of water! And of course, apart from water, don't forget to get your complimentary drink at the bar as prescribed in the prices-chapter.
Your free drink can be absolutely anything you want. Remember, it's the first drink that's free. So choose wisely and go for something expensive as your first drink! We both chose a small bottle of sparkling wine. That was one of the most expensive things on the menu. If we're being honest, no need to "waste" your free drink on a cheaper cola if you'd ask me 😉! If you want to take a soda and some alcoholic beverage, take the most expensive one first and then pay for the soda. So keep an eye on the prices when you choose your drink!
When to Visit
We were a little scared that there would be way too many people in the lagoon. We saw some horror pictures and reviews of having to wait in line to enter the lagoon and then seeing the overcrowded lagoon. Luckily with our evening tickets, the majority of people had already left. Especially an hour before closing time, you'll have so much room for yourself! If you do take the evening tickets, stay until closing time.
I was really happy with our choice of going in the evening. I just can't relax properly when there are too many people everywhere! So our tip would be to choose an evening slot. I've read that many people also advise going early in the morning, but in my opinion, the thought of having to flee when the lagoon is at its busiest just isn't how I want to start off my day. I prefer closing it off with a relaxing visit after an active day of exploring Iceland.
Bringing Children to the Blue Lagoon
Children are welcome to join your relaxing visit to the Blue Lagoon if they are minimum 2 years old. If your children are aged between 2 and 13 years old, they will have to wear inflatable armbands for their own safety. No need to worry about bringing any, they are provided free of charge! Even the entrance of kids younger than 14 years is free!
Your Wristband is your Wallet
When you arrive at the Blue Lagoon, you will be given a bracelet. This bracelet will be your wallet when you visit the Blue Lagoon. You can order all kinds of things with this bracelet. From drinks and snacks to a face mask (a different one than the one you get for free of course).
Your wristband is also the key to your own private locker. In this locker, you'll store all your personal belongings that you do not want to take with you.
No Jewelry Needed in the lagoon
The water in the Blue Lagoon can severely damage your jewelry. So we would advise you to leave all your jewelry in the locker room. There's also really no need to wear them in the lagoon as the water is cloudy and the steam will prevent anyone from seeing them anyways. Better safe than sorry!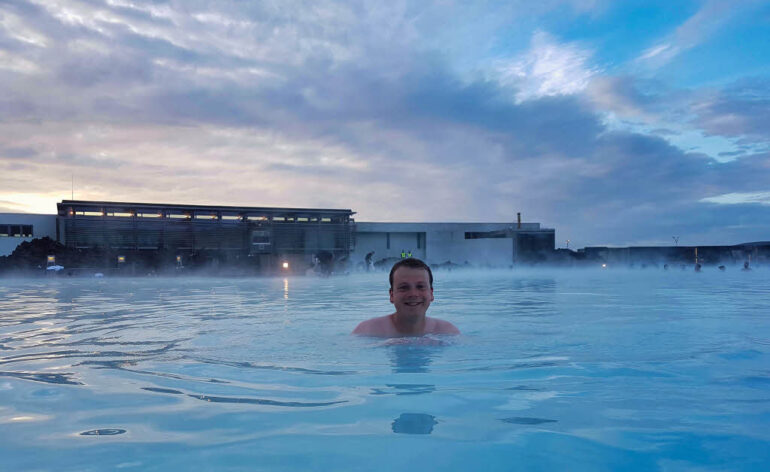 Showering Before Entering
I've read many horror stories about having to shower naked before you may enter the Blue Lagoon. I wasn't comfortable when I read those stories. I thought it wasn't going to be cozy at all! It's something typical in Iceland. Whenever you go to a spa or swimming pool, you're required to shower fully naked. Showering naked is not something we're used to in Belgium.
But luckily, when I entered the shower area, there were a huge amount of showers available. There were public showers and private ones. So if you'd like some more privacy, just go to a private one. The Lagoon does ask you to shower naked to rinse your entire body. So a private shower can be useful if you're not used to showering naked in a shared one. 
There's shampoo, hair conditioner and soap present in every shower. So no need to bring anything with you!
What about Hygiene at the Blue Lagoon?
Many people wonder if this beautiful place is hygienic enough… You won't see the Blue Lagoon's water being pumped out to do a good scrub of the bottom as you see in swimming pools… So a great question indeed!
If you're wondering if the Blue Lagoon is filled with chlorine to get the bacteria out, stop worrying immediately! The lagoon is not a hotbed for bacteria like other places are because the lagoon's ecosystem has different characteristics. Bacteria aren't attracted to this type of water. This has been proven by testing the quality of the water.

The Blue Lagoon holds about nine million liters of geothermal seawater. It takes 40 hours for the water to renew itself naturally. So in short, the lagoon is actually a self-cleaning ecosystem!
If you don't want to believe my word on it 😉, then believe this: the Blue Lagoon has been awarded a Blue Flag for the past 10 years! A Blue flag can only be earned by meeting a series of strict environmental, educational, safety, and accessibility criteria. So you can be certain that the quality of the water is topnotch.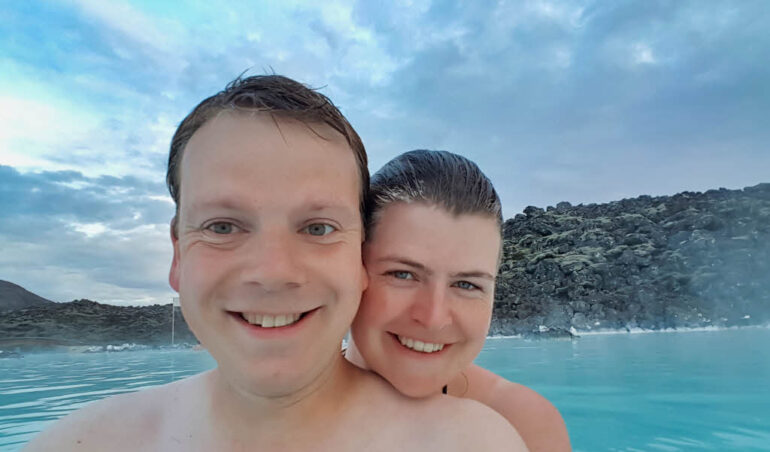 Summary to Plan Your Visit to the Blue Lagoon Spa
Now to summarise, we want to repeat the 3 most important things to remember before you visit the Blue Lagoon in Iceland. First, if you want to save money, take an evening ticket and book well in advance. It can save you 50% on your ticket price.
Second, especially for women, use lots of hair conditioner. The geothermal water can damage your hair, and the conditioner prevents this. Hair conditioner is provided free of charge at the Blue Lagoon.
And third and last tip, don't forget your complimentary drink and face mask. Your first drink and a silica mud mask are included in your ticket price.
Nearby the Blue Lagoon – Tips to Extend your Visit
The Blue Lagoon is located on the Reykjanes Peninsula, nearby Reykjavík. Check our guide to Reykjanes Peninsula for details. For an overview of all there is in Iceland, check our Iceland travel guide.
Next to the Reykjanes peninsula, we also recommend you to visit the capital of Iceland, Reykjavík. Check our guide on the best places in Reykjavík for tips. The drive from the Blue Lagoon to Reykjavík is 45 minutes.
If you have more time, you can also take a 1-day or 2-day drive along the Golden Circle of Iceland. And if you have more than a week, you can drive the ring road of Iceland.