Skógar is a small village in Iceland where about 25 people live. Skógar is Icelandic for forests. It's a popular place for tourists because of the famous waterfall Skógafoss. But that's not all that this small village has to offer. In our guide on Skógar, you'll discover all this village has to offer.
The village Skógar is located next to the ring road, in the south of Iceland. It's easily accessible. Skógar is 2 hours away from Reykjavík (155 km, 96 miles). As a day trip from Reykjavík, you can combine a visit to Skógar with a visit to the black sand beach of Reynisfjara.
Skógafoss Waterfall
We have to start this list with the most famous and most spectacular sight of the village. And that is the waterfall Skógafoss. This waterfall, situated along the Skógá river, drops down 60 meters (almost 200 feet) at Skógar.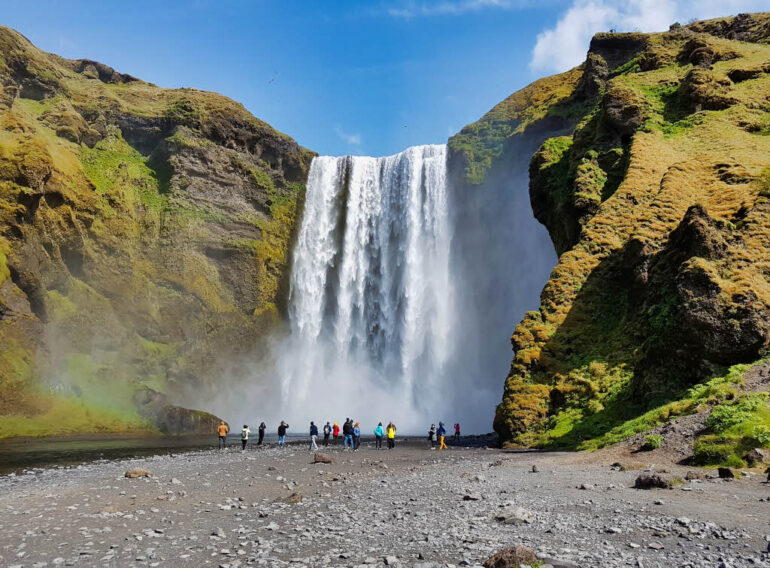 Skógafoss can be visited both at the foot of the waterfall as on the top of the waterfall. We found the foot of the waterfall the most spectacular though. For full details, check out our visit to the waterfall Skógafoss.
Kvernufoss Waterfall
Another waterfall in the village of Skógar is Kvernufoss. The waterfall is sometimes also called Sigurfoss. This waterfall is a bit smaller than the famous Skógafoss. The drop of this waterfall is 30 meters high (about 100 feet).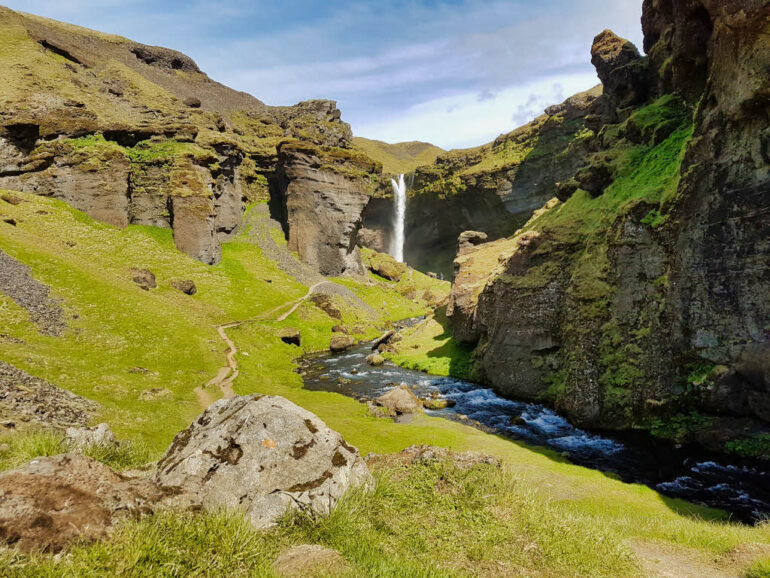 But having said that, the waterfall is much more quiet than Skógafoss. When we visited Kvernufoss, there were less than 10 other people there. To reach Kvernufoss, you can park your car at the Skógar Museum. From there you'll have to take a short hike (about 1 km, 0.6 mile) to reach the waterfall.
To get more information on visiting Kvernufoss, including details on the hiking trail, check out our guide to visiting Kvernufoss.
Skógar Museum
Skógar Museum is a museum split into 3 parts: the open-air museum, the folk museum, and the technical museum. Those 3 museum parts are spread across 6 buildings, hosting over 18.000 items on display.
The Folk Museum is a cultural heritage collection. The museum has more than 15.000 regional folk craft artifacts on display. The Skógar Open Air Museum focuses on presenting to you how Icelanders used to live in the past, in different times of Iceland's architectural history. For example, they have a model turf-house on display. The technical museum focuses on the evolution of communication and transport starting from the 19th century.
We didn't have the time to visit the museum during our trip, so we can't give our own experience of the Skógar Museum. But reviews on Google and Tripadvisor are good. If you decide to visit this museum, we'd be happy to hear your opinion on this museum.
If you want to learn more about the museum, you can visit the Skógar Museum website.
Fish & Chips at Mia's Country Van
The last place we want to mention in the village of Skógar is a place to eat. Mia's Country Van is a local fish and chips restaurant serving fresh fish and chips. Mia's place is located just 1 minute away from Skógafoss.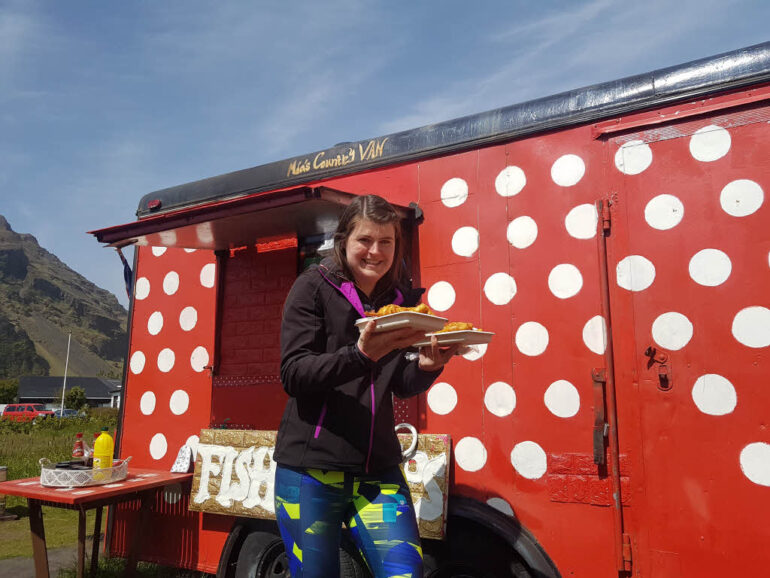 The place is only open at noon, so if you want to try the 🐟 fish and chips, you'll have to do this at lunchtime. Reviews claim it's the best fish & chips in Iceland. Because we didn't try all the fish and chips places in Iceland 😉, we can not tell if this is true, but we did enjoy the food here very much. Check out our review on Mia's Country Van for full details and prices.
Map of Skógar in Iceland
On our map below, we marked all places of interest in the village of Skógar. Both waterfalls, Mia's fish and chips place, and the Skógar Museum are on the map. As well as the parking locations. If you have any questions, reach out to us!