Reykjavík is the capital and largest city in Iceland. The city has around 118 thousand inhabitants. It's located in the southwestern part of the country. Most people who visit Iceland include Reykjavík in their itinerary, and for good reason. In this article, we'll introduce you to the best things to do in Reykjavík, such as the city center, Sun Voyager, Blue Lagoon, museums… Our map will help you to find all those places.
Reykjavík will be the start and ending point for most tourists visiting Iceland because Reykjavík is the start of the famous Golden Circle in Iceland. The Golden Circle takes you to the best tourist attractions near Reykjavík. If you would ask us, the Golden Circle is the bare minimum you need to visit if you want to visit Iceland.
Reykjavík is the northernmost capital of the world. But not only that, the city is also rated among the cleanest, safest, and greenest cities in the world! If that doesn't persuade you that Reykjavík is definitely worth a visit, then maybe the list below will! It's a list of all of the great things you can do in Reykjavík.
Reykjavík City Center
Hallgrímskirkja
Let's start our tour of the Reykjavík city center with the iconic Hallgrímskirkja. This is a 74.5 meters (244 ft) high church. It's the highest church in Iceland and one of the tallest buildings in the whole country. The church was named after a famous Icelandic poet and clergyman named Hallgrímur Pétursson.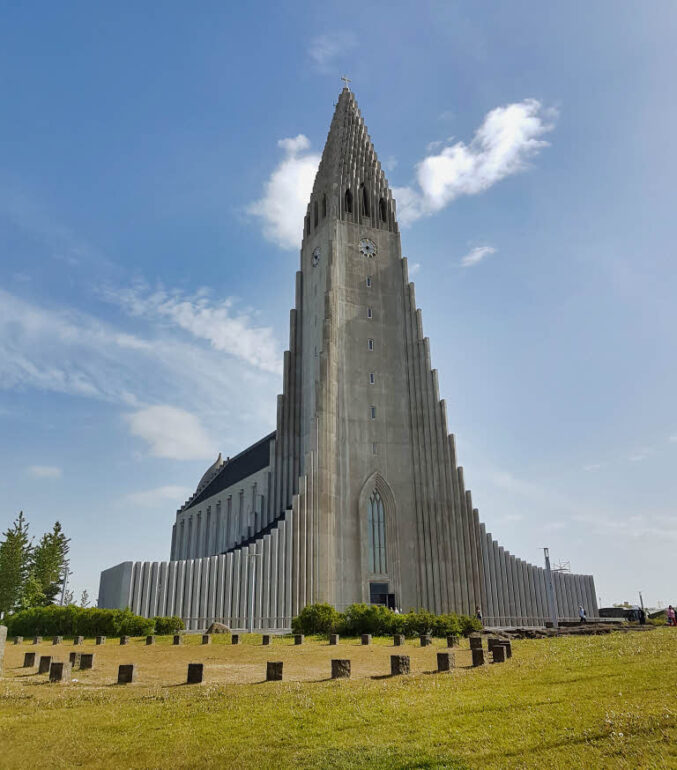 Its great design should immediately make you think of Iceland's iconic basalt stone. The church is open for visitors to look around this church and you can even climb to the top of the church for a magnificent view of the city!

To learn all about this church, read our article on Hallgrímskirkja.
Sólfarið – Sun Voyager
The Sun Voyager, or Sólfarið in Icelandic, is a famous sculpture located next to the Sæbraut road in the center of Reykjavík. Many think it resembles an old Viking ship, but that wasn't the intention of the designer Jón Gunnar Árnason. He wanted the Sun Voyager to be a dreamboat and therefore an ode to the sun. This sculpture should remind everyone of their dreams of hope, progress, and freedom as well as the promise of undiscovered territory.
The sculpture is located next to the sea and can be visited all the time. It isn't fenced off or anything.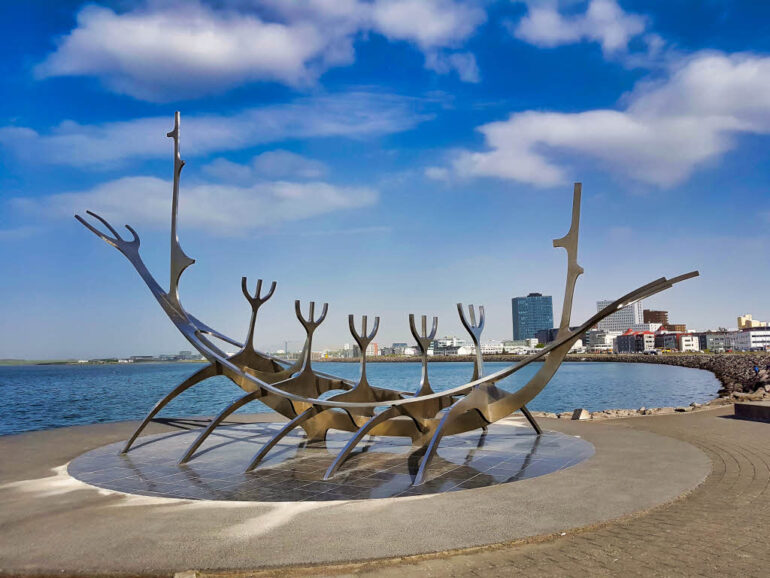 The location of the Sun Voyager does cause some discussion with many Icelanders. The Sun Voyager isn't facing the setting sun to the west. Many think that this is contradictory to the intention of the artist Jón Gunnar. Sæbraut road had indeed not been the preferred place of Jón. His ideal place was the coastline of Ánanaust. Unfortunately, due to the town planning, this location wasn't possible anymore. That is why the Sun Voyager was placed next to Sæbraut road instead. Of course with the consent of Jón Gunnar.
Harpa Concert Hall Reykjavík
Harpa is a concert and conference center located in downtown Reykjavík. It has become one of the greatest and most distinguished tourist attractions since its opening on May 4th, 2011. More than 10 million guests have experienced the wonders of this exceptional building. This building has also been rewarded with many nominations for its architectural design. Read all about the architecture and history of this building in our article on Harpa.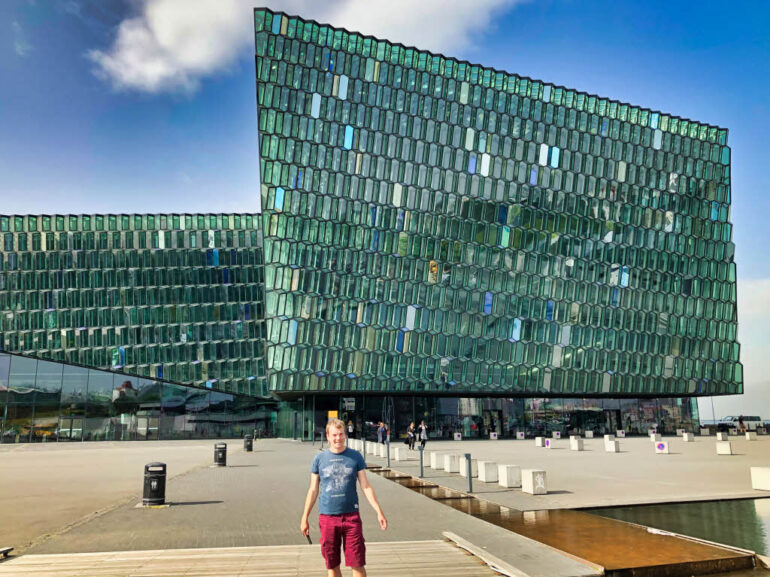 Prime Minister's Office
The Prime Ministers Office, or Stjórnarráðið in Icelandic, is a charming white building with two statues in front of it. The building was finished in 1771. This building had a totally different purpose when it was constructed. The building was used as a prison until the year 1813. After that, the building was mostly used by Royals and Governance. It even became the Office of the President of Iceland from 1973 till 1996. Since 1996 it has been the Prime Minister's Office.
The Prime Minister of Iceland is Katrín Jakobsdóttir at the moment. The Prime Minister's Office has a supporting duty to the Prime Minister and it provides political, operational, and administrative services.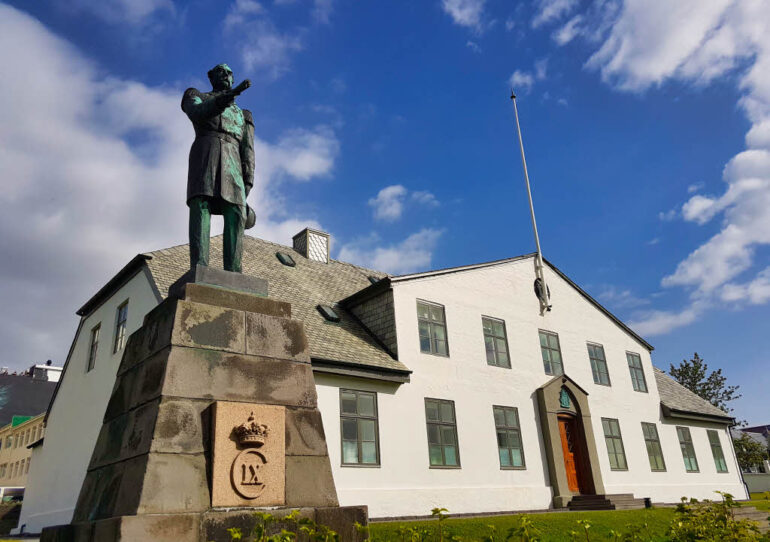 The 2 statues in front of the building are both the work of Einar Jónsson. One represents King Christian IX handing over the constitution in 1874. The other one depicts the first minister of the country in 1904, Hannes Hafstein.
Austurvöllur – Dómkirkjan Church & Icelandic Parliament
Austurvöllur is a public square located in Reykjavík. On this square, you will find the Dómkirkjan church, the Icelandic Parliament, a hotel, and many restaurants and cafes. The square is a very popular place for Icelanders to gather in the summer. Especially because of the surrounding cafes. In the middle of this square, you'll also find a statue of the leader of Iceland's independence movement, Jón Sigurðsson.
Dómkirkjan church or Reykjavík Cathedral looks rather small and bland from the outside. The church has more of a cozy vibe than a grand cathedral vibe. Especially if you compare this rather small church to the other European Cathedrals. It's nicely decorated on the inside, so worth a peek inside.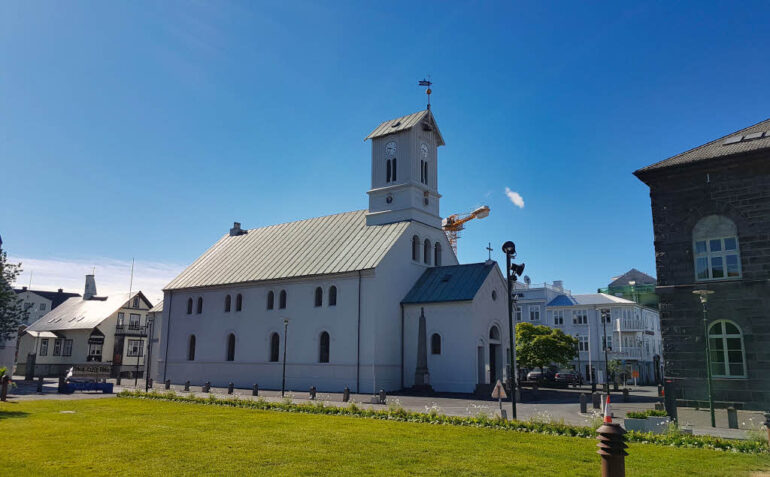 Austurvöllur square also is the place where protests against the decisions of the government take place. Of course, that is because the Icelandic Parliament is located along this square. The Parliament itself is called Alþingi in Icelandic. The Parliament of Iceland claims to be the oldest in the world. It was founded in 930 at Þingvellir. Later in the 1800s, it was moved to Reykjavík. The Parliament's House or Alþingishúsið was built in 1881.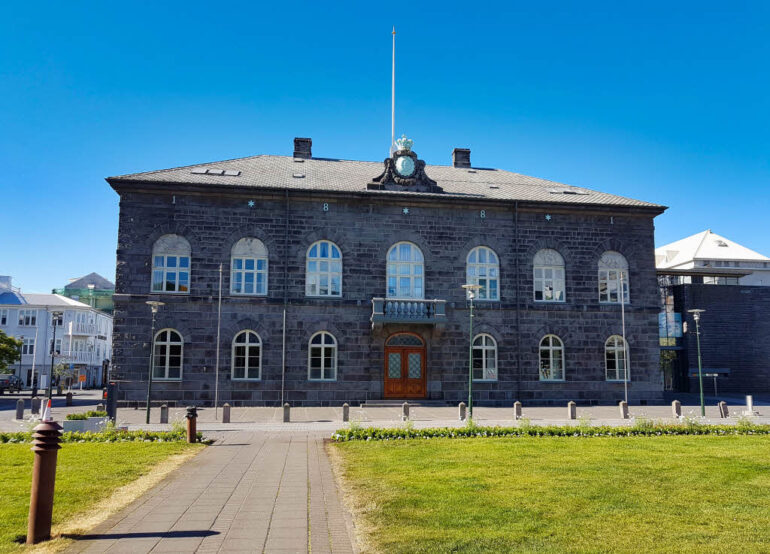 Visit the many local shops all over Reykjavík
Another great thing to do is go for a walk in the streets of Reykjavík and walk in and out of the beautiful local shops. Perfect to discover some hand-crafted items and to get your souvenirs for friends and family! Now we have to admit that the prices were a little different depending on which store you went to. So keep your eyes on the prize when walking through the many shops! 😉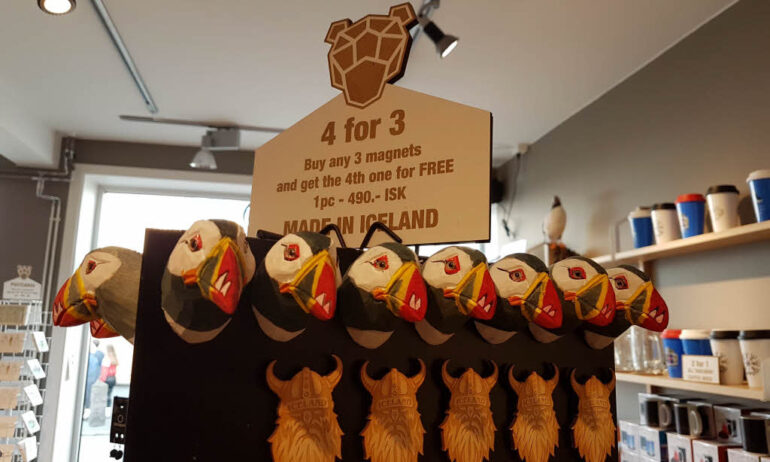 Landakotskirkja
Landakotskirkja is also called Christ the King Cathedral. This Catholic Church is located in west Reykjavík. Instead of a typical spike roof, this church has a distinctive flat roof. Surprisingly enough this church was designed by the same man, Guðjón Samúelsson, as the world-famous Hallgrímskirkja. The two designs couldn't be any different if you'd ask me! As most of the people in Iceland are members of the Lutheran State Church, there aren't many catholic churches around this area. You can find a Catholic school right next to the Church.
Entering this Catholic Church is free of charge. In front of the church, you will see a giant bell. In the year 1927, the bishop wanted to bless these 3 bells. When they were inspecting the bells, they saw that one was broken. One of the bells had a crack in it. They decided not to take this bell to the bell tower. The bell had been laying around the church ever since. With the celebration of the existence of the church, they decided to give this bell a different purpose. There is an info board in front of the bell explaining that this bell is placed there to pray for the protection of life and God's mercy. If you've done that, you may slam the bell with the hammer.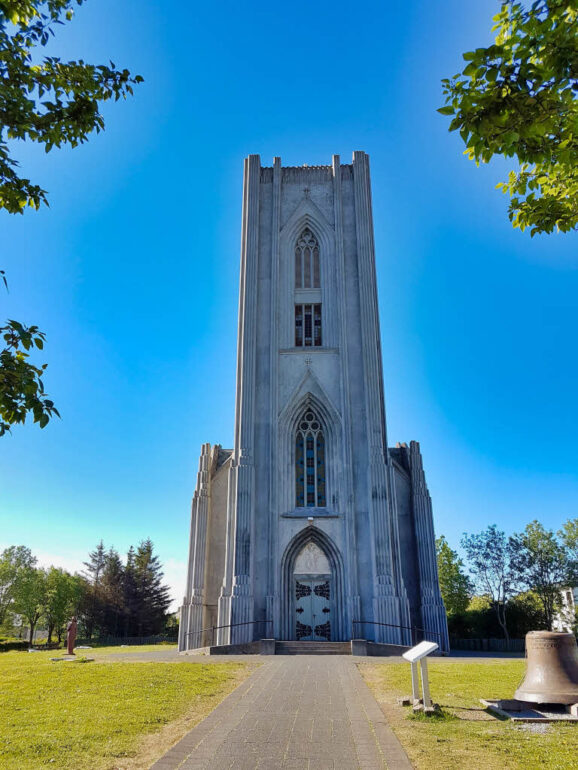 Of course, people always look for an explanation of what happened to the bell. In this case, the story goes that the evening before the bells were going to be consecrated, the Bishop asked the priests to come and take a closer look at the bells. The BIshop wanted to know how the bell sounded and hit it with a hammer! So he, supposedly, created this crack himself!
Nauthólsvík Geothermal Beach
Another great place to spend a few hours relaxing is Nauthólsvík Geothermal Beach. This is a sandy beach and really looks idyllic don't you think? Well… you're in for a treat if you're planning on swimming here… We visited on a sunny June day. It was 12°C outside and the water was only 13.4°C!! 🥶🥶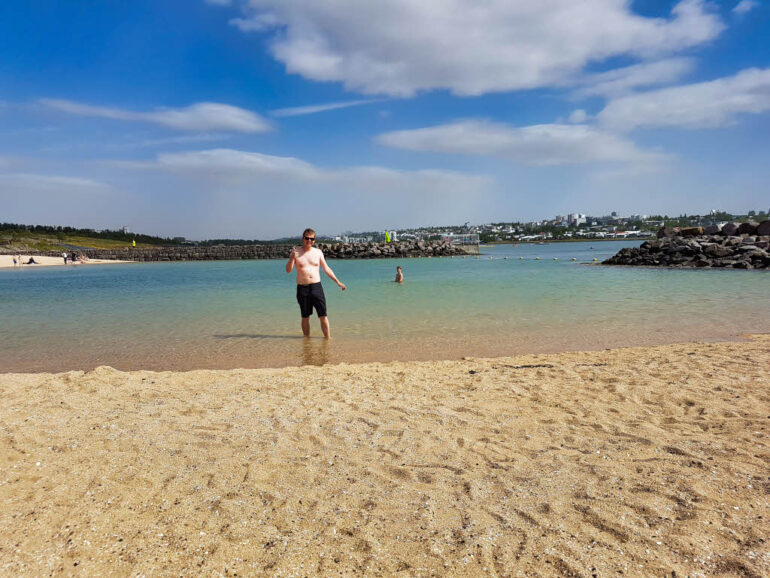 Of course, Steven wouldn't be Steven if he wouldn't go for a swim! Normally a few minutes after Steven is in the water, I join him. But the minute I dipped my big toe in the water, I decided not to. The sun was nice and warm, but it just wasn't warm enough for me!
If you're planning on visiting this beach, make sure to check out our article on Nauthólsvík Geothermal Beach.
Kvika footbath and Lighthouse Grótta
Kvika Footbath is a small footbath designed by Ólöf Nordal. This man-made footbath is located near the lighthouse Grótta. This area is commonly used by Icelanders to enjoy the sunset and the northern lights. The view is said to be magnificent. You can also find many different bird species in this area.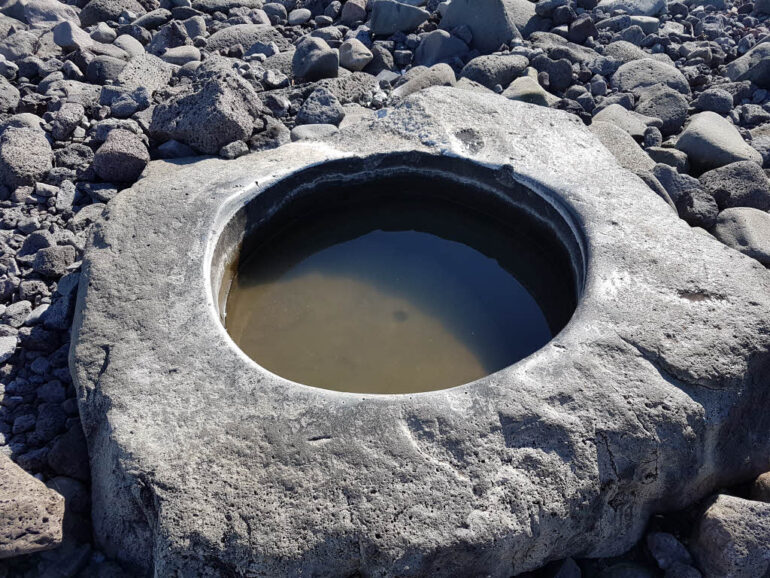 The Kvika footbath is pretty small. It's less than a meter wide and only about 30 cm deep. So it really was designed as a footbath only. The water comes from a nearby borehole and should have a nice temperature of 39°C. Unfortunately, when we drove there and touched the pool with our fingers, it was cold. Bad luck for us! 😟 Luckily, I saw in other reviews online, that it appeared to have been fixed. So do let us know in the comments below if that really is the case!
Best Museums in Reykjavík
There are many museums in Reykjavík to explore! We didn't have enough time to do any museums, but we wanted to give an overview of the most visited museums in Reykjavík.
The list of museums found in Reykjavík is inexhaustible. There is a museum for everyone here! From the Maritime Museum to the Icelandic Punk Museum. So we are certain that everyone will find a museum that's right for them.
Perlan
Perlan is a museum and exhibition site with great views of Reykjavík. This museum will teach you all about the natural wonders of Iceland such as volcanoes, geothermal areas, earthquakes, and crustal plates. It even has a man-made ice cave!
We didn't visit Perlan because we weren't aware of its existence actually. According to the website, Perlan has won many awards for its exhibitions. The most popular one is Áróra. It's Perlan's northern lights exhibition.
For more information, please visit the official website.
The Icelandic Phallological Museum
Oh yes, you've read it correctly! It's a museum filled with over two hundred penises!
This rather unusual museum will teach you all about the penises and penile parts of most of the creatures living in Iceland. And I probably don't have to tell you that there are a lot of differences there! 🐋 vs 🐹.
You can even find some human ones that have been donated to the museum! And if that wasn't crazy enough, you can even reserve a place for your own member in the museum! They are still looking for "a younger and a bigger and better one".
National Museum of Iceland
The National Museum of Iceland, called Þjóðminjasafn Íslands in Icelandic, is a museum that will tell you all about Iceland's heritage and nation. In this museum, there are also some temporary exhibitions that might interest you. Do check the official website for more information.
Saga Museum
Another museum on the history of Iceland is the Saga Museum. This museum recreates important moments in the history of Iceland with wax figures. An audio guide is also available in many languages to help tell the story of Iceland.
Skál! Restaurant in Reykjavík
Skál is an exceptional place in Iceland. It was the first food hall in Iceland! The food hall isn't only a great concept if you and your travel companions want different types of food. It has also been rewarded with the famous Bib Gourmand in the year 2019. A restaurant can get a Bib Gourmand when they serve exceptionally delicious food for a reasonable price. I think that says it all on why you should visit this food hall!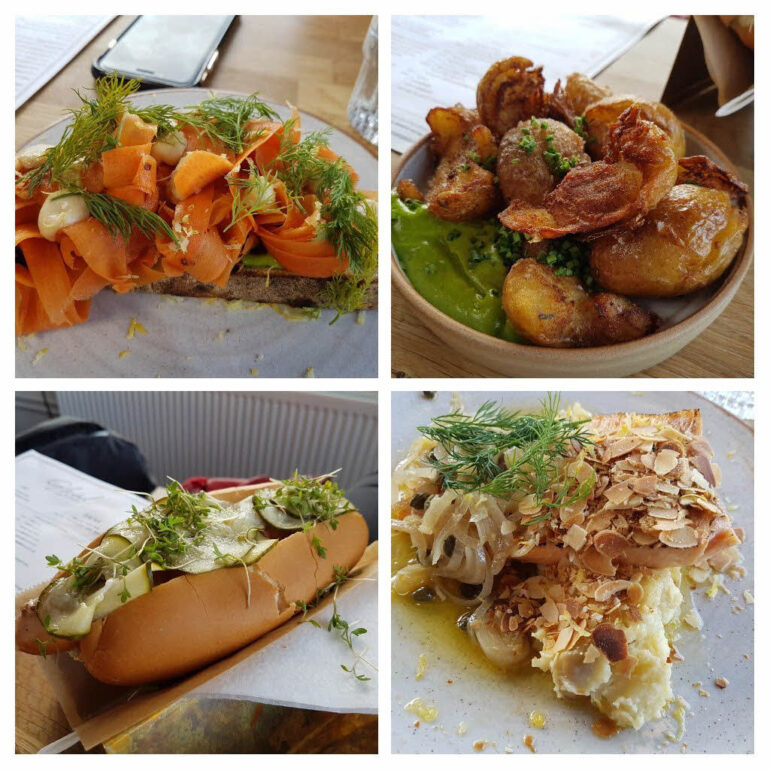 When we were planning our trip to Iceland, Steven read about Skál winning the Bib Gourmand. He immediately said that we would eat at that place because he was really interested to see what exceptional and affordable dishes they would present to us! 🤩
To read on about this great restaurant, please check out our article on Skál Restaurant for more information on the dishes and prices.
Day Trips from Reykjavík
Another fantastic way to get to know Iceland better in a short period of time is going on day trips. Below you can find an overview of our favorite trips that are near the city of Reykjavík.
Golden Circle
Of course, the most famous one is the Golden Circle. Along the Golden Circle, you'll find the 3 most popular attractions in Iceland being the waterfall Gullfoss, Þingvellir National Park, and Geysir in the Haukadalur geyser basin. We have created a guide on what to visit along this trip. If you only have one day, check out our itinerary on a 1-day trip along the Golden Circle.

If you'd like to see more of Iceland, we would suggest doing the 2-day trip along the Golden Circle. During this extended trip, you'll see many beautiful places with a lot fewer tourists. Of course, you'll also see the 3 main attractions during this trip. They are just accompanied by great places like Nesjavellir, Kerið, Bruarfoss, and Reykjadalur Valley.
Blue Lagoon
A very popular attraction is the Blue Lagoon. This exceptional geothermal spa is really a must-do when you're in Iceland! The experience alone is already worth it. When you enter the Blue Lagoon, you enter an oasis of calmness and relaxation.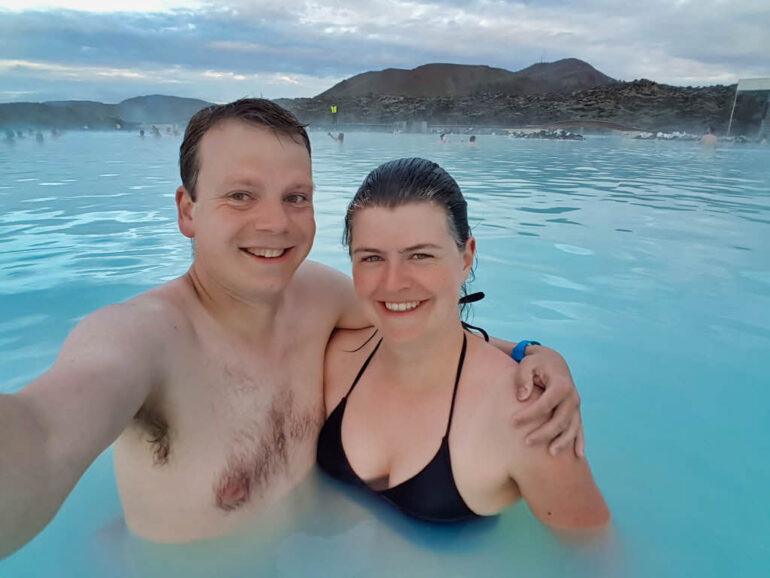 There are different packages available at the Blue Lagoon, so you can choose how much extra comfort you'd like. We went for the Comfort package and were really happy with our choice! Read all about our visit, the price, and our tips in our article on Blue Lagoon.
Elliðaárdalur
Elliðaárdalur is a green gem really close to Reykjavík. It is a recreational park where many people go in order to get away from city life. The park is calm and has many trails for hiking and biking. The Elliðaá river runs through this valley creating waterfalls.
This valley is filled with wildlife! You can find 60 species of birds here! This area is also used for reforestation. Many trees like the fir and pine trees are planted there.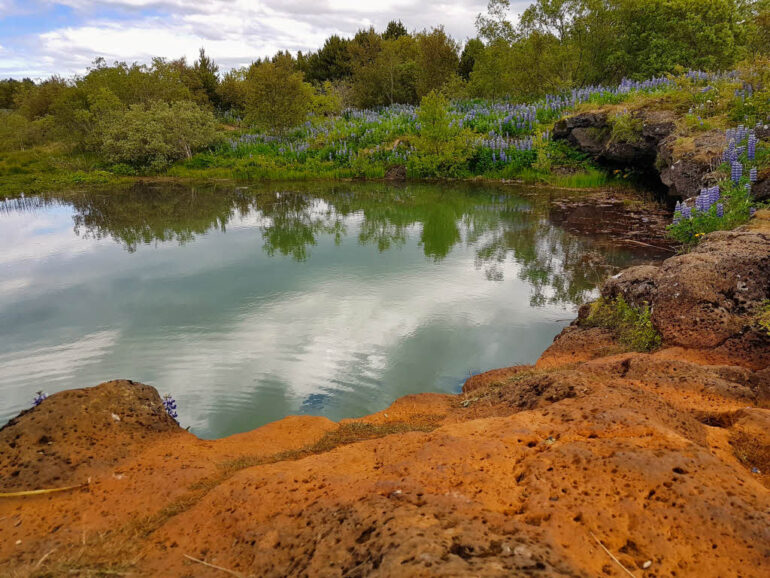 If you're looking for some greenery while visiting Reykjavík, we would suggest coming here. This is a good place to take a hike through nature and fill up your lungs with fresh air.
Map of the Best Things to Do in Reykjavík
Share our Guide to Reykjavík
Like our post on the best things to do in Reykjavík? Share it on social media or save it to Pinterest for later.