A place worth mentioning in the south of Iceland is Mia's Country Van, a local fish & chips restaurant. As you probably already would have guessed, at Mia's Country Van you can eat fish & chips.
Mia's Country Van is located in the town of Skógar, next to the ring road of Iceland. So it's easy to reach and just 1 minute away from the road that everyone passes. When you drive to Skógafoss, you pass by the place. But it's difficult to see, so you might miss it if you don't know where to look.
On Google Maps, you can find Mia's place at this location. If you have a GPS system, you can use the following coordinates: 63.52406, -19.50394.
Mia's Country Van Reviews
When preparing our trip to Iceland we read about this place in different reviews. People claim it to be one of the best fish & chips places in Iceland. On Google Maps Mia's place has been reviewed by over 600 people, rating the place on average with 4.8 out of 5. So that's quite amazing!
There is one downside though. The opening hours are quite limited. Mia is open every day, from noon until 4 PM. So if you want to go here to try the local fish and chips, you'll have to do this at noon.
Our Visit to Mia's Country Van
After reading the reviews, we decided to add a stop to this fish & chips restaurant to our itinerary. We visited Skógafoss waterfall, and afterwards stopped at Mia's Country Van to have lunch. After stopping here, we'd continue to Kvernufoss, also located in the town of Skógar, so it was nice and convenient.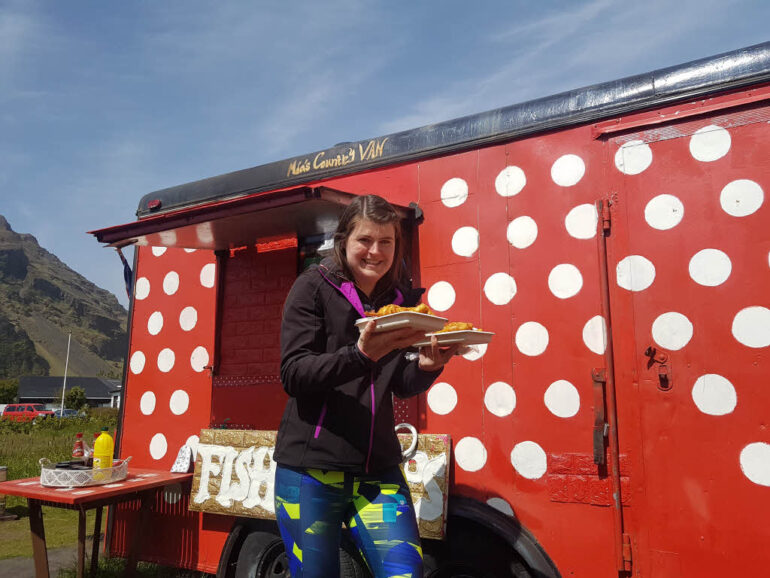 It's a takeaway place only, but there are some tables outside to sit and enjoy your meal. We ordered our food and then sat at a table. It takes about 15 minutes to prepare your meal as it's freshly cooked. And we must admit, the reviews don't lie. The food is really excellent. We really recommend you to stop here.
With your order, you get one sauce for free (pick from mayo, Icelandic tartar, ketchup, or sweet chili). She also has lava salt and other salts to use on your wedges. I tried the black lava salt and some salt with seaweed. Both of which I had never tried before.
Prices of Fish & Chips
Mia's Country Van basically only sells one thing: fish & chips. The fish and chips are made from locally caught fresh fish. The fish that's used can be different, depending on what's fresh. Most of the time, the fish is cod, but it can be a different one.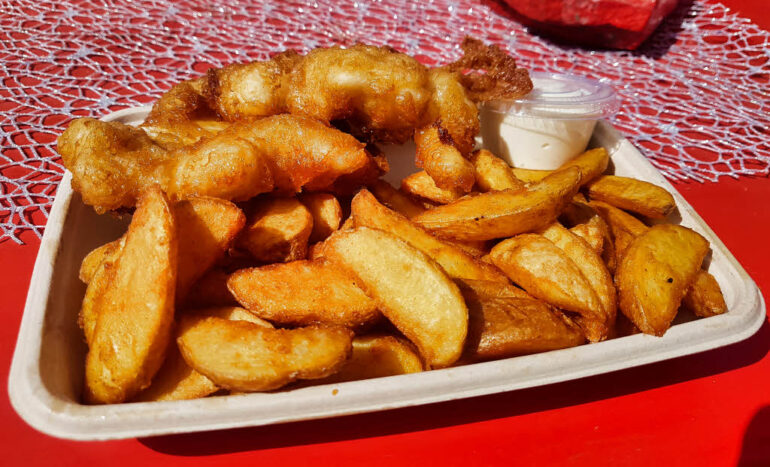 A portion of fish and chips costs you 2000 ISK (about €13 / $15.50) and serves one person. You can also purchase drinks and extra sauce. Prices are based on our visit in June of 2019.