When we visited the geysers Geysir and Strokkur in Haukadalur Valley, we stayed in a hotel right across the street from the geothermal area. This hotel was the Litli Geysir Hotel in Iceland. We were quite impressed with our stay there, so we want to share our findings with you.
Litli Geysir Hotel in Haukadalur
While we were visiting the Haukadalur Valley, we stayed at the Litli Geysir hotel and I really have to recommend it to everyone! I got the tip from a colleague of mine. The price per night is a little higher than what we usually paid in Iceland, but what you get in return is really worth it! Most affordable rooms in Iceland have a shared bathroom. Well, this hotel had a gigantic beautiful ensuite bathroom, all for yourself! The rooms were big and nicely decorated.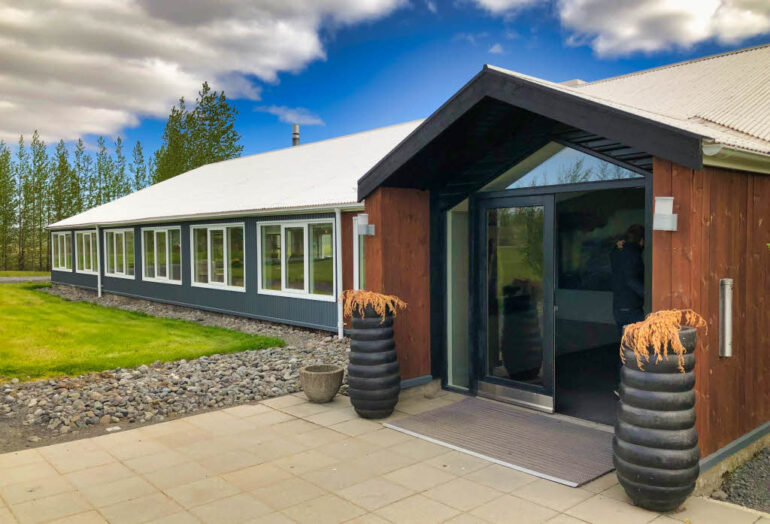 When you set foot in this hotel, you can immediately feel the coziness of the hotel surrounding you. We checked in right before we visited Gullfoss. We wanted to warm up a little in our hotel and get settled in before we'd continue to the Gullfoss waterfall.
The room is very big in comparison to other hotels in Iceland, but the thing I loved most is the bathroom. The bathroom was gigantic! And it's one of the only places where we would have a bathroom all to ourselves during our Road trip to Iceland.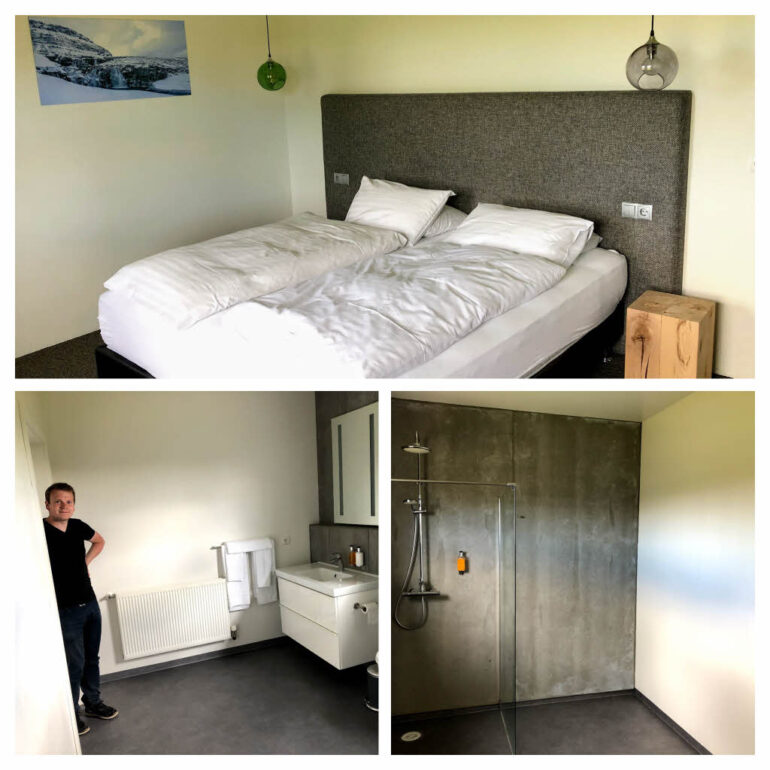 We noticed that there was a bottle of water in our room, but no coffee maker. We went to the front desk to ask where we could get some coffee and the staff immediately suggested that we sat down right in front of the lobby and they would bring us a coffee. I asked for a Latte and Steven for a regular black coffee. We were surprised by that much hospitality and we really loved how the staff did everything they could to make you feel at home.
Litli Geysir Restaurant
After our nice cup of coffee, we visited Gullfoss and then later the geothermal area of Geysir. When it was time to look for a place to have dinner, we left the geothermal area and crossed the street. There were many small restaurants where you could have a bite.
We noticed that one of them was actually closing already! When we were walking around the food court, we noticed other businesses started to close as well. It was almost 6 o'clock, so we were surprised that after 6 nothing was opened anymore! Luckily our hotel had a restaurant as well, so we hurried to our hotel to see if there was still room for us to have dinner!
We initially wanted to go to the Kantína and Súpa to try out some new things and honestly, we thought that the food in our hotel would be too expensive!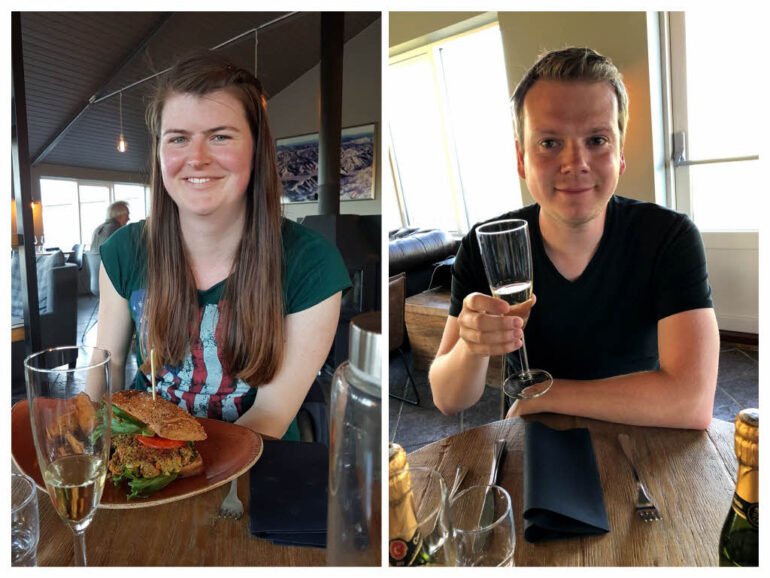 Luckily for us, there still was a table available. So we had dinner there. The prices of some dishes were -as we thought- pretty expensive, but there were many normally priced courses as well.
In Iceland going out for dinner always is a little more expensive than in most European countries. Especially if you want something alcoholic like wine with your dinner. Alcoholic beverages are really expensive in Iceland. But the prices of the alcohol didn't help us in resisting buying two little bottles of sparkling wine. They were not that expensive as each served 2 glasses.
Food in Litli Geysir Restaurant
Steven ordered the fish of the day and I ordered a hamburger. The presentation was absolutely beautiful and the staff was incredibly helpful. In this restaurant, you also get some bread with olive oil as a starter. We each ordered a small bottle of sparkling wine as well and we paid around 8500 ISK (€63) for everything. That's 2 bottles of sparkling wine and 2 meals, so that's still a fair price! So all things considered, we weren't planning on eating in our hotel, but were we glad we "had to"! It was delicious!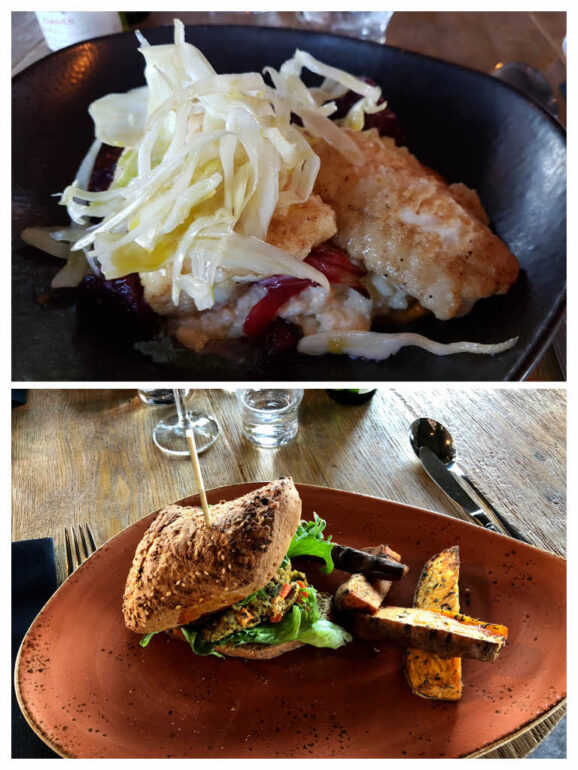 After our dinner, we decided to go back to the geothermal area for one last hike. We just couldn't get enough of the hot springs and geysers. And we still wanted to get better shots of the Strokkur erupting. Because it was getting late, there weren't a lot of people present anymore. That's what made it even more enjoyable. The calmness really enhanced the experience of the geothermal area. That's another great benefit of this hotel, it's literally just across the street! So you can go back to the Strokkur anytime you want to!
Both of our feet were aching a little because it had been a really busy day. We decided to call it a day and go sleep in our comfy bed. Resting while on vacation is equally as important!
Breakfast of Kings
When we got up, we went to the restaurant to have breakfast. The breakfast was a buffet. It's fair to say that they had absolutely everything I could wish for to start the day. From pancakes to croissants, to muffins, to fruit, to eggs. They had just about everything!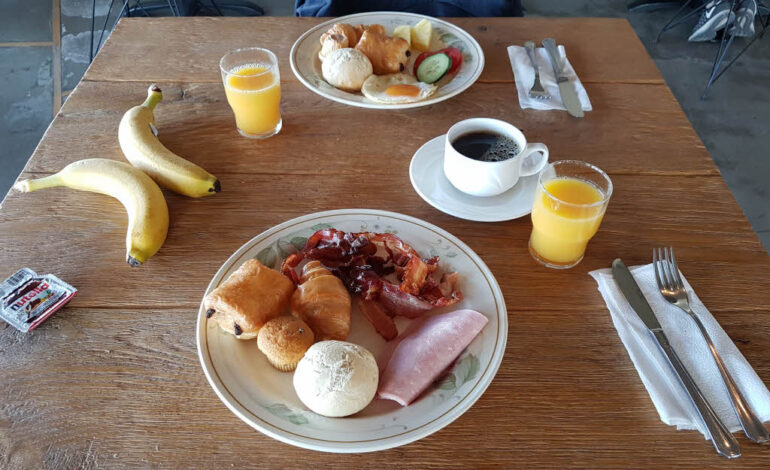 I left the breakfast room with a filled belly and a great mood! A great start to the day if you ask me! 😄
Price of the Litli Geysir Hotel
Staying at the Litli Geysir Hotel might be a little more expensive than other hotels or B&B in Iceland, but it's definitely worth it!
We paid about €140 per night for the room. So that comes down to 70€ per person per night. Now I know this is quite a lot of money. We personally wouldn't book these kinds of hotels the entire trip, but for just one night, it was heavenly. If we could choose though, we would have liked this hotel being one of the last stays on our road trip instead of at the beginning. I think we would have appreciated it even more when we were used to sharing bathrooms with other guests.
If you would like some more information on this hotel, check out the official website.