Nin is a beautiful town in Croatia located on a small island in a shallow lagoon. You do not have to take the ferry to go to Nin. There are two bridges that connect Nin to the mainland. Because Nin is located on an island, it's well-known for its beautiful and many beaches. The most famous one is Queen's Beach.
Beaches in Nin, Croatia
Nin is famous for its abundant beaches. Nin even has a total of 8.000 meters of beach! That's incredible! Many of them are beautiful, but the one everyone remembers the most is Queen's beach.
And if that's not enough, on the nearby island Vir, there are a lot more beaches to be discovered. Most beaches on Vir are remote red sand beaches, making them a unique sight. In just 15 minutes drive from Nin, you'll reach the beaches of Vir island. You can go to Vir if you're looking for a calmer place to spend the day.
Queen's Beach / Kraljičina plaža
Queen's Beach is also known as Kraljičina plaža in Croatian. Legend says that this beach got its name thanks to the visit of the Royal Family. It's said that the wife of the first Croatian King fell in love with this beach and decided to always visit this beach whenever the Royal Family made an official visit to the town of Nin.
There is one peculiar thing about Queen's Beach though. In order to reach this beach, you have to cross ten meters of shallow water. But no need to worry, there is a wooden boardwalk that you can take so you can stay dry.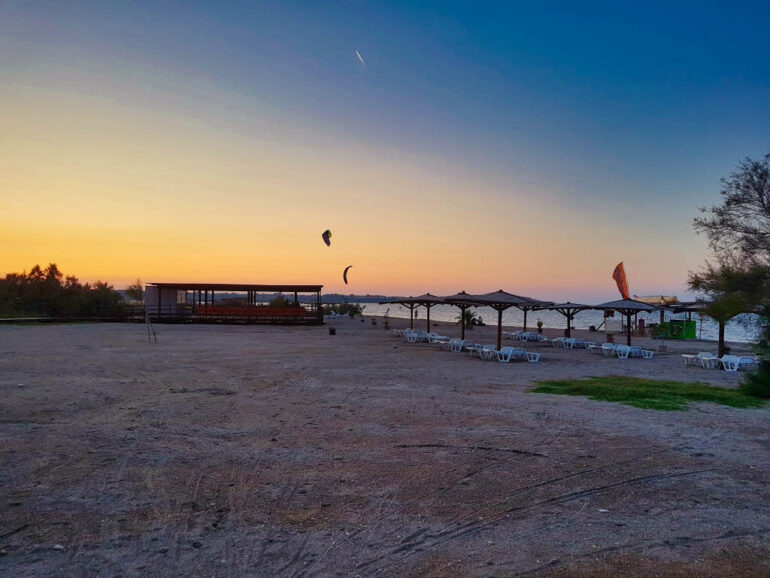 When we visited this beach, we immediately noticed that the water is quite shallow. Meaning it's an ideal place to walk in the water barefoot, but if you really want to swim, you'll have to walk a long time until the sea gets a little deeper.
Of course, this shallow water is what makes the beach the perfect place for families with small children! It's an ideal beach to keep an eye on your kiddos as the water is shallow and there's little current. Also for fans of watersports, this beach is definitely the right place. We saw a lot of kite surfers when we were there.
Ninska Laguna Beach / Plaža Ninska laguna
Ninska Laguna Beach (or Plaža Ninska laguna in Croatian) is another beach located in Nin. It's the beach opposite to Queen's Beach. Ninska Laguna Beach reaches towards Queen's Beach making it possible to walk from one beach to the other. Both of these beaches are sandy and pleasant to walk on!
Nin's Medicinal Mud Lagoon
There is one other perk about Nin and its Queen's Beach. Near this beach, there is a large mud pool. This mud is said to be medicinal mud. Over thousands of people have tried out this mud, and they proclaim that it really does work! Apparently, it's not as simple as rubbing some mud on your skin and all your troubles are gone… It's mostly a treatment that lasts 10 to twenty days where you need to cover your body with mud, sunbathing with your muddy body, and then rinse it off in the sea.
Now, these treatments are supervised by a Zadar Health Institution, and luckily for all these people, treatments are done in the months July and August. Just imagine sitting there in mid-December waiting for the mud to dry 🥶.
Of course, you can always take a mud bath on your own. It's definitely not an obligation to follow a certain treatment. I would say it's the perfect excuse to go play in the mud!
Since we visited the beach in the evening, we didn't use the mud as it was already a lot colder and the sun was setting.
Solana Nin Salt Museum
Nin isn't only famous for medicinal mud. It's also famous for its production of healthy salt. The salt in Nin is said to be the healthiest salt because of its high concentration of natural iodine due to the alga called Petula.
If you want to know more about this, you can pay a visit to the salt museum in Nin. The museum's name is Solana Nin Salt Museum. Here you can learn about how the salt of Nin is produced and buy some salty products 🧂. If you're interested in visiting the museum, you can visit the website of Solana Nin.
Exploring the Town of Nin, Croatia
We rented an apartment in Nin for 2 nights, just outside the historic old town. On the day that we arrived, we had already visited Čikola Canyon, stopped at the Šibenik Bridge, and visited Krka National Park. Let's just say it had been quite a busy day. The owner of the apartment had sent us a message saying that he could only be at the apartment at 8 PM. So we decided to already park our car next to the apartment and go and explore Nin. We walked towards the center of the town. We still had to eat, so our plan was to spot some good restaurants while walking around the town.
On our way to the center, we saw a beautiful stone bridge (Nin Upper City Bridge) that had collapsed in a flood in 2017. Too bad, as the bridge was absolutely stunning and would give you easy access to the town coming from Ninska Laguna Beach. It had that historic vibe like you were catapulted back in time.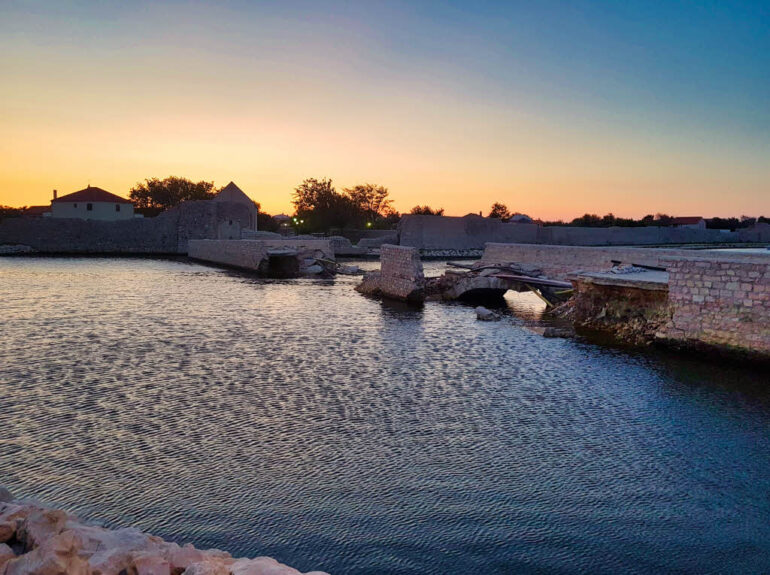 Nin Historic Town Gate / Lower City Gate
The town itself is actually a great mix between cozy new buildings and historic ones. The streets were really narrow so we were happy we were on foot. We walked through the old lower city gate (Donja gradska vrata or historic town gate) and we immediately knew that the town had a very rich history waiting to be told. 
There are many other buildings that are great to visit while in Nin. You can visit the smallest church in the world, rub the big toe of the statue of Grgur Ninski for good luck, visit the Church of St. Nicholas…
It's not a coincidence that Nin has been rewarded an EDEN (European Destination of Excellence). For us, the best thing about Nin is that everything is so close to each other. The treasures like Queen's Beach, the medicinal mud, the historic buildings… They are all within walking distance. Going from one side of Nin to the other only takes about 15 minutes to walk. That's what makes Nin so interesting.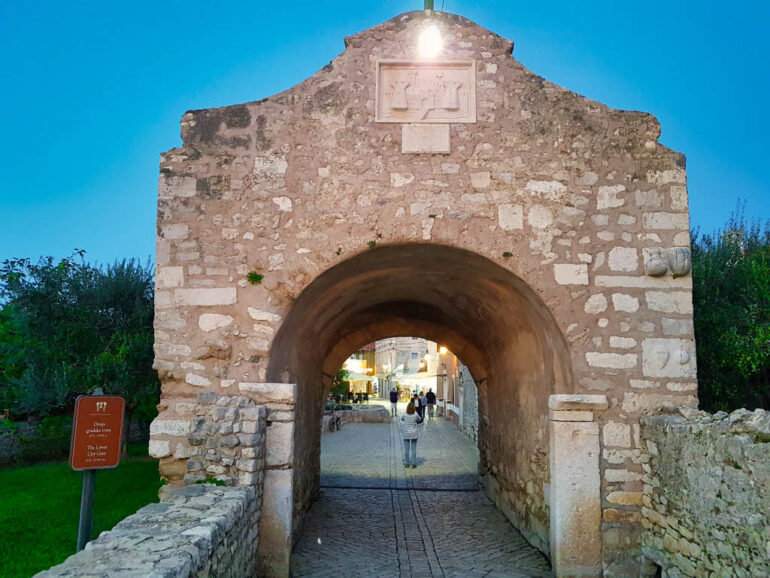 We walked around town and eventually chose a place to have dinner. We'd chosen a place where we could sit outside and that looked cozy. We both ordered a schnitzel and fries and enjoyed some Croatian wine with that. After that, we returned to our apartment and went to bed!
Our Second Visit to Nin, Croatia
On our second day, we had first visited the island Vir. Here we went to some beaches between red sand cliffs and hiked along the shore of the island. We were surprised to find that there were so many beautiful beaches in Croatia. 
After our visit to Vir, we decided to go to Queen's Beach on our last evening in Nin. We waded through the water from Queen's Beach to Ninska Laguna Beach. We enjoyed watching all of the people either kitesurfing or kiteboarding in the distance.
It was a nice walk, but as I already mentioned, I wouldn't call this an ideal beach to go swimming. The water wasn't really deep. It's more like a beach to relax, sunbathe or do water sports.