Vir is an island in Croatia, close to the town Nin and about 20 km north of Zadar. On the island Otok Vir you'll find a lot of beaches. Although it's a popular tourist destination, we found that the beaches aren't packed with tourists. The island Vir is about 22 km² (8.5 square miles) large. Vir is located in Dalmatia, on the Adriatic Sea, and is reachable by a bridge.
We visited the island of Vir during our Croatia road trip in 2017. After our visit to Krka National Park and to the Čikola Canyon on September 26th, we visited Vir on September 27th.
Itinerary of our Visit to Vir Island
After having breakfast, we left for the island Vir. The drive from our apartment in Nin was about 30 minutes. On the way to Vir, we stopped at a supermarket to buy some food for our lunch. After a short stop at the supermarket, we continued to Vir. The island is reachable by a bridge that you can cross by car, so no need to take a ferry to the island.
Our idea was to go to Beach Cipavica. We drove to the beach, but stopped next to the road as the last part of the drive is a dirt road. We didn't want to damage our rental car, so we parked here. From there we continued on foot for about 300 meters (1000 ft).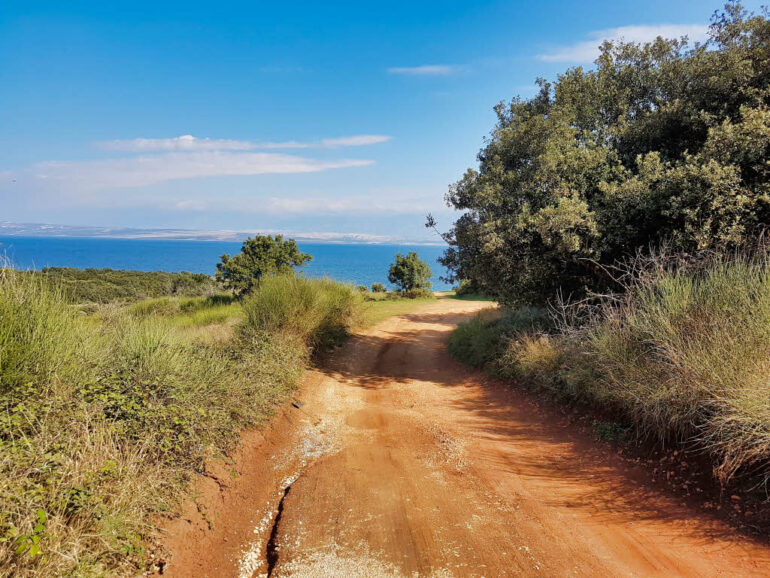 Red Beach Cipavica & Duboka Draga Beach
The dirt road to reach the beach is orange to red. The same is true for the beach. The beaches there are located within orange /red sand cliffs. But the beaches themselves are sandy and comfortable. The water is clear and shallow. So an ideal place to spend your day.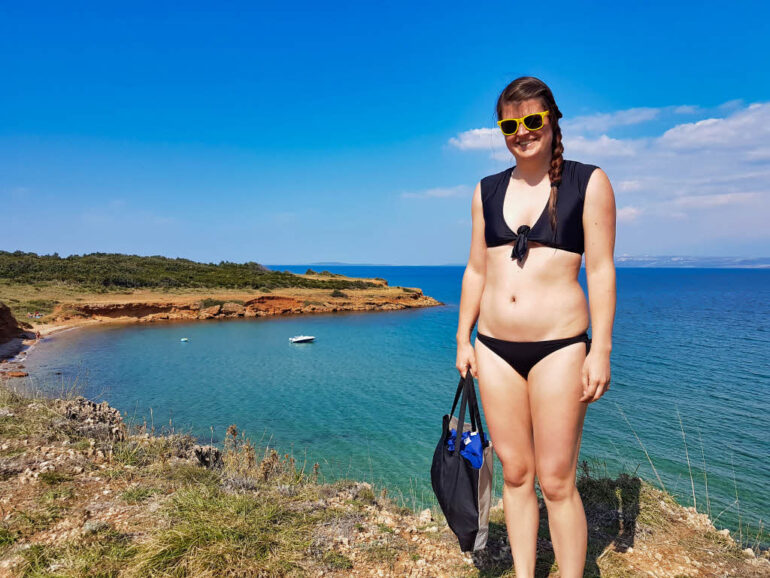 There are 3 beaches close to each other: Beach Cipavica, Red Beach and Duboka Draga Beach (Plaža Duboka draga). Depending on how busy it is you can pick one of the beaches. All of them are beautiful and a great place to relax.
From the top of the red cliffs, you also have a great view of the surroundings. Azure blue waters, red cliffs, trees and bushes… A wonderful view.
Plaža Crvenka and Rastavac Beach on Vir
After our visit to the red beach Cipavica, we wanted to take a walk along the shores of the island Vir. From the beach we were on, we followed a trail along the shore in the direction of the edge of the island Vir.
We hiked in the direction of Plaža Crvenka, crossed this beach, onwards to Bodo beach, and then to Rastavac Beach (marked as Stränd on Google Maps). In this area, there are a lot of smaller beaches, but some are only reachable by sea. We spotted an empty beach (Rastavac Beach) and decided to go there.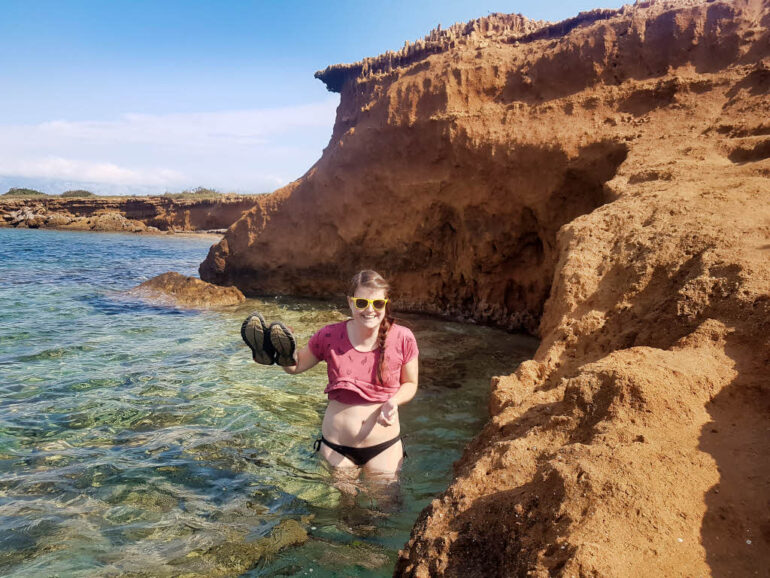 A bit further we saw there was a kind of stairs made in the red cliffs. We descended the stairs and reached the sea. From there we'd have to wade through the water to reach the beach we wanted to go to. We took off our shoes and put on our water shoes as we'd be walking on rocks.
Being ready to go through the sea we started our walk along the rocks. It was just around the corner, so it wasn't really that difficult. But we did have our shoes and backpack with us, so we didn't want our stuff to get wet. We arrived at Rastavac Beach and went for a swim there and had a snack on the beach.
One thing to note though is that there are a lot of sea urchins here. We really recommend water shoes, to avoid stepping on top of one barefoot.
Back from Vir to Nin
After our refreshing swim, we waded back through the water. We followed the same road along the shore back to Plaža Duboka draga and from there took the dirt road back to where we parked our car. Then we drove back to Nin, where we'd have a visit to Queen's Beach.
On the way back we noticed a few times that there was a snake 🐍 on the road. We didn't see any when hiking along the shore, but just so you know that snakes live there! So be aware of that.