In this article, we'll introduce what we consider to be the 10 best beaches in Croatia. Make sure to check those beaches for your holiday planning! We also put the 10 best beaches of Croatia on a map so you can easily find them.
Croatia has over 1000 kilometers (620 miles) of coastline on the Adriatic Sea. This means there are lots of beaches! Next to that, Croatia also has over 700 islands, with even more beaches. Some of those are well equipped, but many of those are remote. With several 100's of beaches, small and large, picking a ⭐ top 10 is difficult. If you feel we missed one of the top beaches, please let us know in the comments.
Also, check out our article on the top 10 destinations in Croatia and check our guide to the national parks of Croatia.
The Top 10 Best Beaches in Croatia
Vela Plaža Baška Beach – Krk Island
Vela plaža Baška is a very long beach located in the town Baška on the island Krk. Baška is located on an inlet on the island Krk, making the sea calm. It's a pebble beach with a sandy surface in the sea. This makes the beach an ideal destination for families with kids. No need to worry about rocks or sea urchins.
The beach offers rental umbrellas and beach chairs, showers, and changing areas. There are also areas where you can sit on your own towels if you prefer. The parking near the beach and in the town Baška is paid. Baška beach has some bars and restaurants nearby, and there is also a campground.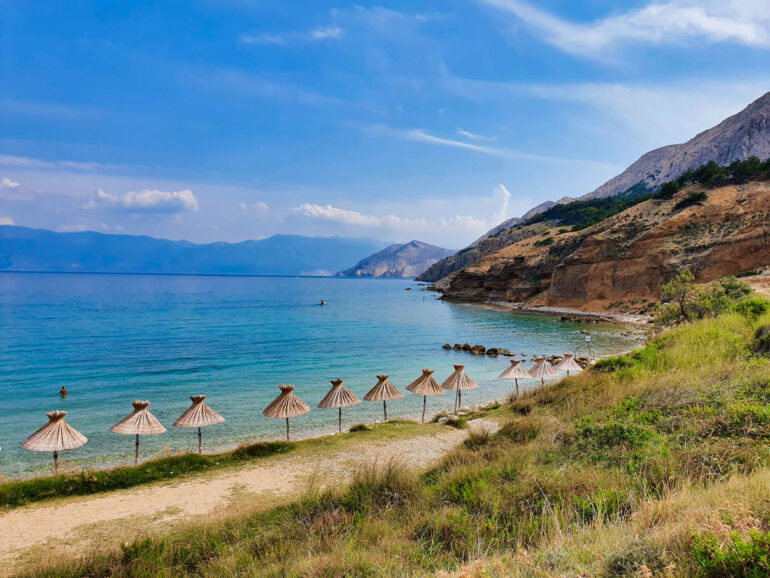 If you're looking for a more remote beach, there are a few alternatives near the town Baška. We did take a short hike to a secluded beach nearby and to a viewpoint named Bag. Check our article on hiking and swimming at Baška beach for our itinerary with a hiking map.
Zlatni Rat Beach – Brač Island
Zlatni Rat Beach is located on the island of Brač in the Dalmatia area of Croatia. The island Brač has a lot of beaches, but the most famous one is Zlatni Rat beach. Zlatni Rat, also named Golden Horn or Golden Cape, is probably the most famous beach in Croatia. It's the one beach you always see on postcards and tourist advertisements about Croatia.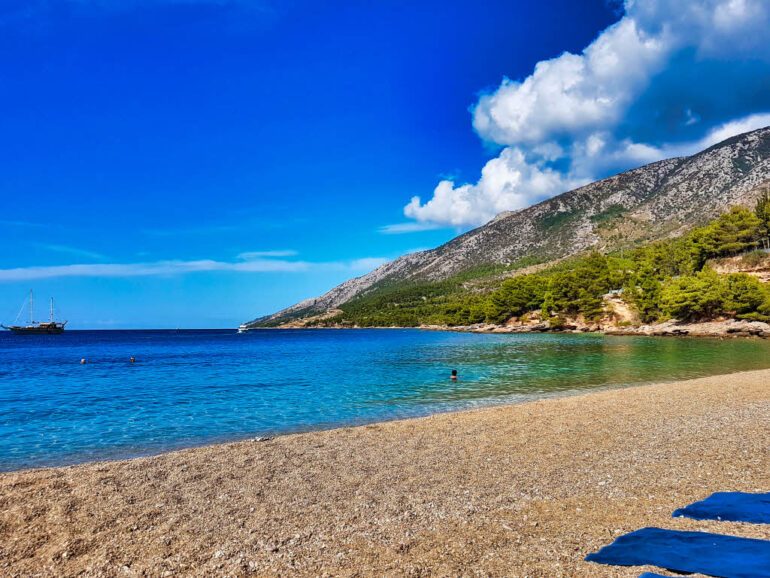 The beach is famous because it's a land tongue into the azure blue sea. The shape of the beach changes with the tides and the wind. The beach surface is made of smooth pebbles, making it a really enjoyable place to relax and swim. We did visit Zlatni Rat beach ourselves in 2017 and were truly impressed.
If you want a good view of the beach from above, you can hike the mountain Vidova Gora to see the beach at the end of the hike. Don't forget your zoom lens for your camera though.
Makarska Beach & Nugal Beach
Makarska has a few popular beaches. First of all, you have Makarska Beach or Gradska plaža (City Beach in English), a 2 kilometers (1.2 miles) long beach located right in the city of Makarska. It's another pebble beach and is popular for families because of the facilities and water castles in the summer period.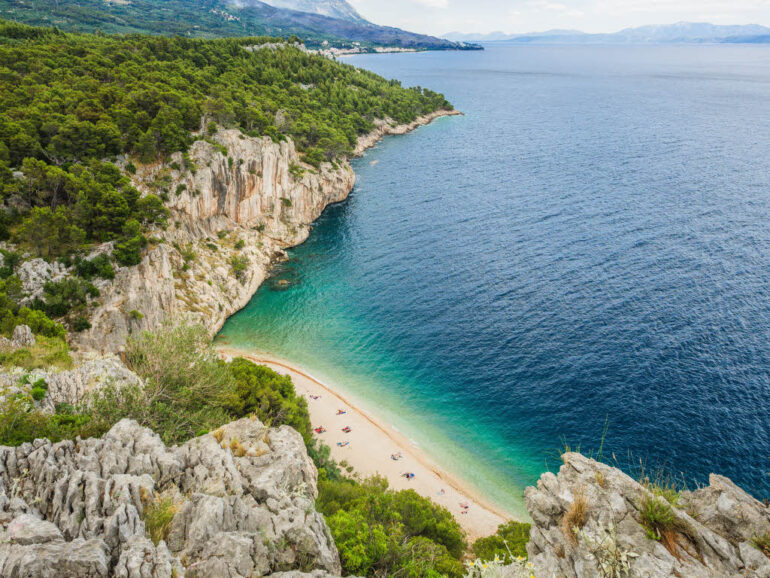 Then you have Nugal Beach near Makarska. Nugal beach is located in a remote setting between cliffs. To reach Nugal beach, you'll have to hike down for about 10 minutes. But that's definitely worth it. The pebble beach in the middle of nature looks like a true paradise. Nugal Beach is also popular with naturists.
Queen's Beach Nin (Kraljičina Plaža)
Queen's Beach is a long and sandy beach located in the town of Nin, close to Zadar. There are two beaches, Ninska Laguna Beach (Plaža Ninska laguna) and Kraljičina plaža reaching towards each other. You can walk through the sea from one beach to another. The Queen's beach in Nin is popular for water sports, such as surfers and kiteboarders.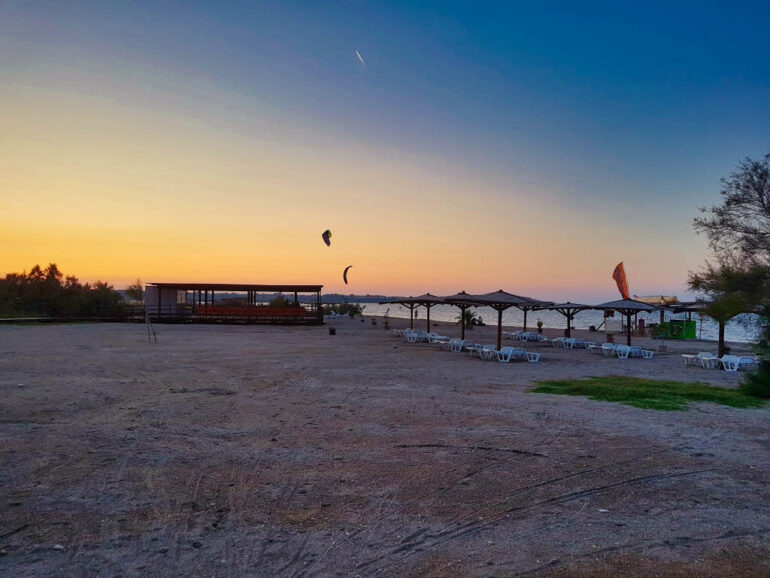 Near the beach, you also have a mud area, with mud that is claimed to be medicinal. We didn't try it so we can not judge if it's really working though. But if you want to learn more, you can do so on the Nin Tourist Board website.
We did visit the Queen's Beach in Nin twice. Read more about our visit to Nin and our visit to Vir, a nearby island. On Vir, we also discovered some great beaches worth a visit!
Lovrečina Bay Beach – Postira, Brač Island
Lovrečina Bay (Uvala Lovrečina) is another beach on the island of Brač in Dalmatia. The beach is on the north side of the island Brač, close to the town Postira. Lovrečina Bay is easily reachable by car and there is a parking lot nearby. It's a very beautiful beach in a more remote setting with a wonderful view of the mountains of Croatia on the horizon.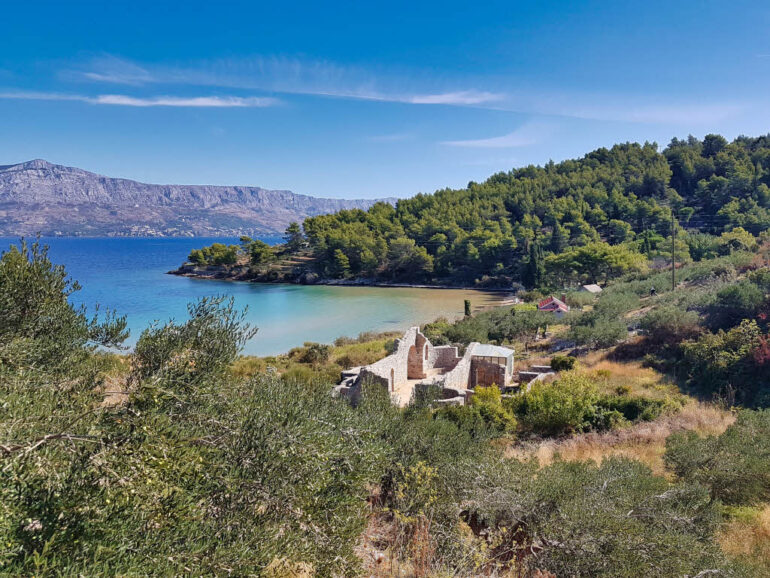 If you take the ferry from Split to Supetar, the drive is about 30 minutes. We did visit the beach in September of 2017 in the early morning and we had the beach all to ourselves. It can get busy though in July and August. Check out our itinerary of Lovrečina Bay for more information.
Nearby the beach you also have ruins of a Roman Basilica that you can visit. The ruins are worth a quick stop when visiting.
Oprna Bay – Krk Island
Oprna Bay Beach is our favorite beach on the island Krk. The beach is located on the south-east of the island Krk, close to the town of Stara Baška. The beach is located in a cove, making it calm and quiet. In the summer you can rent umbrellas with loungers and there is a beach bar.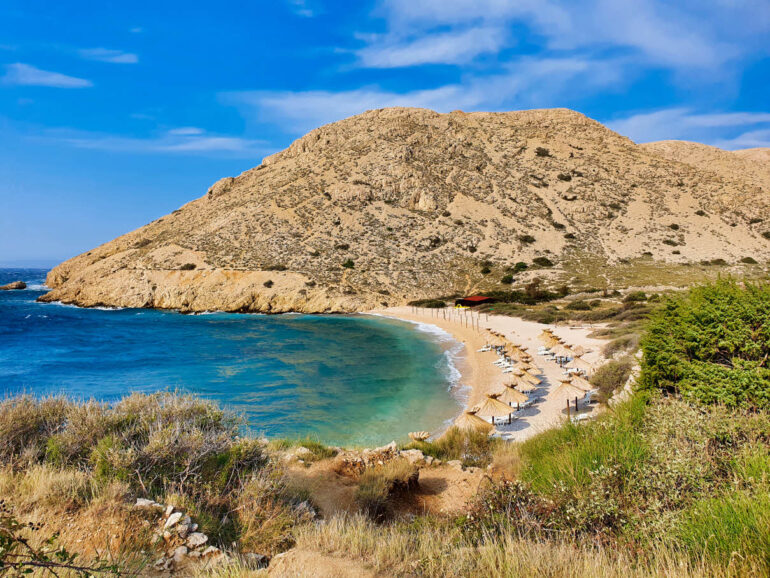 To reach Oprna Bay, you'll have to park your car next to the road and descend for about 10 minutes to the beach. Near Oprna Bay beach, you also have a smaller beach, Zaglav beach. This beach is another good beach to visit.
We preferred this beach over Baška Beach, but that's just our personal opinion. We traveled here in 2020 and we found that the island Krk had a lot of beautiful beaches. Discover the other beaches on Krk in our article on the best beaches on Krk island.
Proizd Beach – Vela Luka
Proizd Beach is located on the island Otočić Proizd. On the island of Proizd, you have multiple beaches: Uvala Bili Bok, Batalo, and nudist beach Donji bili bok FKK. The water at the beaches is clear and has a turquoise color.
You can take a taxi boat from the town Vela Luka on the island Korčula to the island of Proizd. A transfer ticket costs about 60 kn (€8 / $10). The island isn't very crowded, but in the summer season, there can be quite some people there. On the island of Proizd, there is also a small restaurant.
We didn't visit Proizd island (yet 🤞). You can find the location on our map at the bottom of this article.
Lanterna Beach Rabac – Istria
Rabac is a tourist town in the Kvarner Bay of Istria, Croatia. In Rabac, you'll find a coastal boardwalk along the shores with many different beaches. Some of the beaches are from the hotels in the town, so you can only use them if you're staying in the hotels.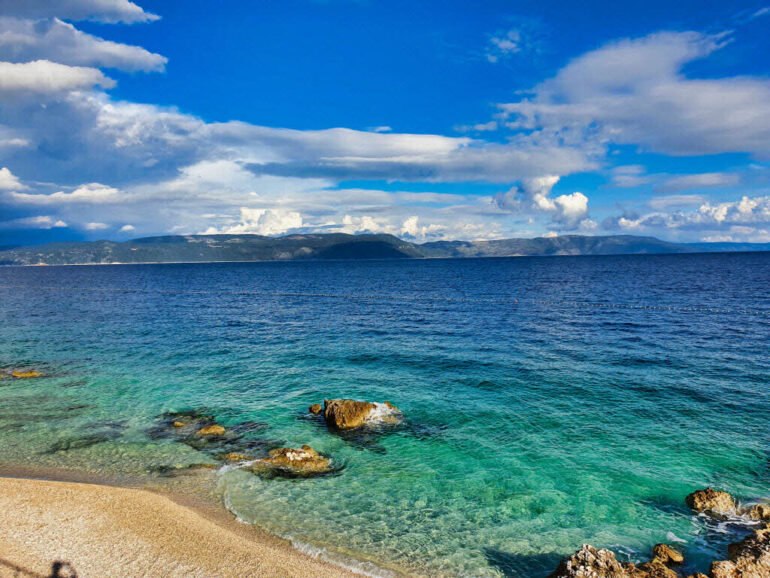 We did visit Rabac and our favorite beaches were Plaža Girandella and Lanterna Beach. But the complete coastal area is one small beach after another. It's a great place to wander and look for a perfect place to take a rest and plunge in the water. Near the beaches, you'll also find a lot of beach bars, restaurants…
Check our itinerary on Rabac beaches for more information and photos. If you have the time, we also recommend visiting Duga Luka beach. That's another great beach not so far away from Rabac.
Koromačno Beach – Istria
Koromačno Beach is a beach located close to Crna Punta and the village Koromačno in Istria County. It's a pebble beach with crystal clear blue water. It's a great place for snorkeling because the water is so clear you'll see a lot of fish.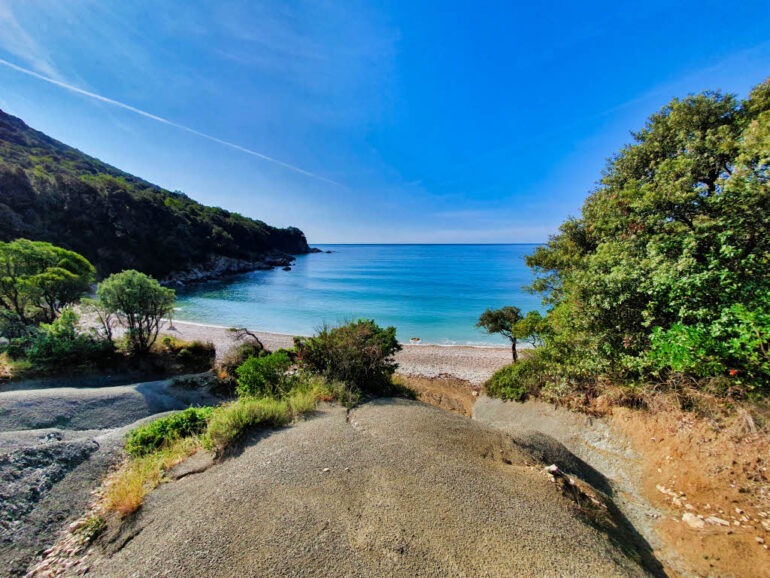 Koromačno Beach is only reachable on foot or by boat. It's a large beach, difficult to reach. This makes the beach a calm place to visit, even in the summer season. As a reference, we visited in September 2020 and we were the only ones on the beach!
When we visited Koromacno beach during our honeymoon in Croatia in 2020, we parked our car near the village Brovinje. From there we hiked 30 minutes (1.5 km / 1 mile) to the beach. Check our itinerary on hiking to Koromačno Beach for more information and a map.
Sveti Ivan Beach (Plaža Sv. Ivan Lubenice) – Cres Island
Sveti Ivan Beach or Plaža Sveti Ivan is a beach on the island Cres in the north of Croatia. Sveti Ivan is located in the city of Lubenice, known for the ancient fort. From the fort, you can hike down to the beach.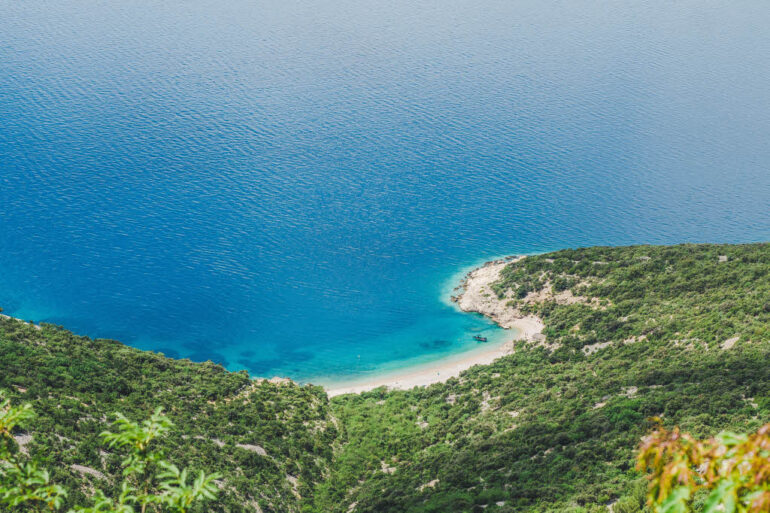 The beach is only reachable on foot or by boat. If you want to go to this beach on foot, the hike is 1 hour one-way. Descending more than 300 meters / 1000 feet. The hiking trail can be quite challenging because of loose stones. Especially going down, sturdy shoes are recommended. You can park your car here. Don't forget to pack lots of water, sunscreen and some food.
Map of 10 Best Beaches in Croatia
On the map below you can find the location of the 10 best beaches of Croatia. We also added some bonus beaches to the map. Those are other beaches we visited and really liked, but they didn't make our top 10 though. But if you're near, they're worth a visit!
Pin our 10 Best Beaches in Croatia
Like our article? Save it for later on Pinterest.