Skál restaurant was the first food hall in both Reykjavík and Iceland. It's a famous restaurant that has been awarded a Bib Gourmand by Michelin. A restaurant can get a Michelin Bib Gourmand when they serve exceptionally delicious food for a reasonable price. Those two things are obviously what we all look for at a restaurant. Great food at a great price!
We planned our visit to Reykjavík so we could have our final stop of the day at the restaurant Skál, right in time for dinner! When you enter the food hall, the first thing that you notice is the bustling atmosphere in the food hall. People trying to find a seat, others that are walking around trying to decide at which stand to order…
Food Hall Skál in Reykjavík Center
The restaurant Skál is located in Iceland's first food hall at Hlemmur, Reykjavik. The 3 chefs of Skál have the goal to bring customers great food and drinks at a reasonable price. And they succeeded in this. As proof, Skál was awarded a Michelin Bib Gourmand in 2019 and Skál has been featured in the 2019 Michelin guide.
The hall is made out of some food and drink stands where you can order whatever's on the menu. Every stand offers different things, so you need to look around to see where you want to go. Around these dinner stands, there are long tables where you can sit down to enjoy your drinks and food. There are some smaller tables as well, but they are mostly occupied already. You just have to find a spot where you can sit at a table and sit down.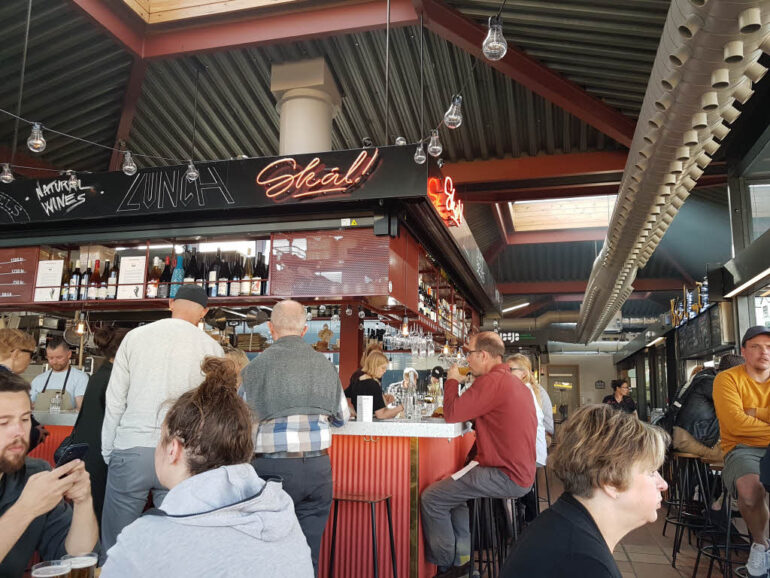 Skál Menu and Ordering at the Restaurant
There was a menu on our table, so we could decide what we wanted in peace. On the photo below you can find the latest menu (January 2021) of Skál restaurant, but you should check the Skál website before visiting as the menu changes often.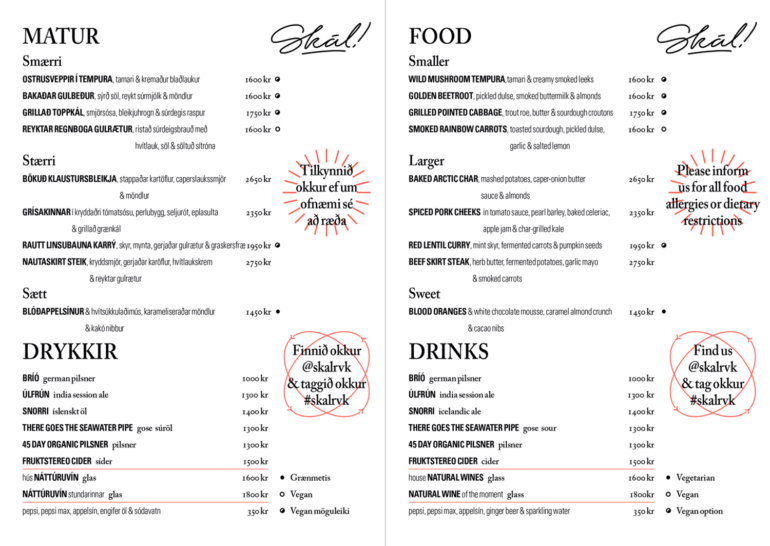 If you have decided on what you want to order, you can play Rock Paper Scissors on who has to get the food 😉. The food has to be ordered at the dinner stands.
We were very excited to see what local things we could try out. On the internet, we had found that the hot dog was a typical Icelandic dish to order at Skál. So we knew we would order that as well. But we decided to order a drink first as a starter. We ordered the Skál Lemonade. We also bought some spiced almonds with that as those always go well with a drink. Having a drink first also gave us some time to think over the dishes we wanted to try 😉.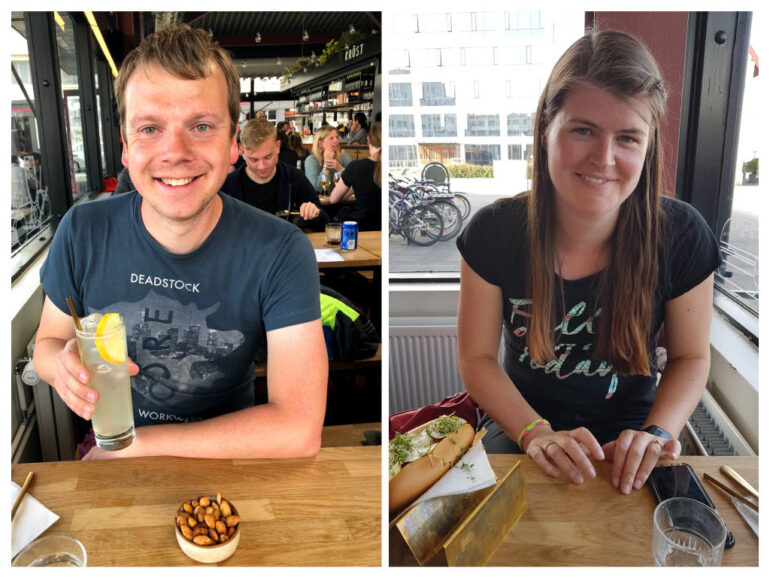 Right after ordering our drink, we decided that we wanted to try the Smoked carrots first. This dish tasted great, so we decided to go for it and order everything we really wanted to try. We ordered the baked Arctic Char, crushed potatoes, and a Hot Dog. We shared all the dishes so we could taste more of them. But after those, we were quite stuffed. To conclude, we tried some great new things here and we ended up having a great time in the food hall!
Prices of Food and Drinks at Skál
Considering the quality of the dishes, the food was very reasonably priced. Going to a restaurant in Iceland is always a bit more expensive than we are used to on vacation. Especially considering we mostly visit countries like Croatia, Italy or Slovenia where the food is pretty cheap. But we are from Belgium and restaurant prices in Belgium aren't that cheap either.
The lemonades cost 550 ISK (€3.50 / $4.30) per piece. We ordered some spiced almonds with that and they cost us 350 ISK (€2.25 / $2.70).
Now the dishes are divided into two buckets. You have a selection of so-called smaller dishes. And you have a selection of larger dishes. These larger dishes cost more money than the smaller ones.

We had ordered the Crushed potatoes and they cost 650 ISK (€4.20 / $5). That isn't a lot of money, because these potatoes were really more of a side dish to go with another one. The Smoked Carrots was a smaller dish and cost 1450 ISK (€9.25 / $11.25). The Hot Dog cost 1000 ISK (€6.40 / $7.75). We bought one larger dish: the Arctic Char. This dish cost 2350 ISK (€15 / $18.25).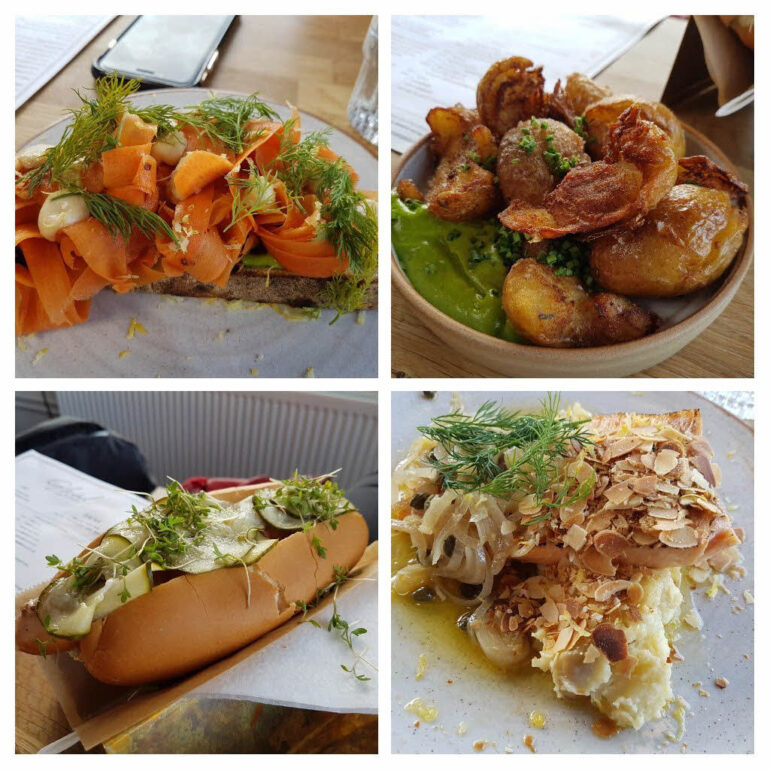 If we add all of this up, we had dinner at Skál for 6900 ISK. That's about € 45 / $55. Now we noticed that since our visit in June of 2019, prices have gone up slightly. So you'd end up paying a bit more.
Comparison to Litli Geysir Restaurant
If you compare the prices of Skál to our visit to Litli Geysir Restaurant, you would have sort of a break-even. We did order some sparkling wine in this restaurant. Alcoholic beverages are really expensive in Iceland. So I think the prices are really fair considering you get to taste many different dishes and ingredients.
We would recommend Skál restaurant when visiting Reykjavik because the ingredients are fresh and there is a great variety in the dishes they offer!
Recommended further read: Best things to do in Reykjavík