Taking a ferry in Croatia is the best, and only, way to get your car to one of the islands of  Croatia. Croatia has a lot of lovely islands, so in order to see all the beauty Croatia has to offer, you should definitely take a ferry a few times. We always took a ferry with the biggest ferry company in Croatia: Jadrolinija. There are other ferry companies, but Jadrolinjija has the most connections.

When we took our first ferry in 2017, we were a bit lost. That's why we wrote this article, to guide you through the process. After you've read this, you can act like a resident when you're going to take one 😉. If you want to plan your own trip on the ferry, you should check out the website of Jadrolinija. On this site, you can find all the routes they offer together with the timetables and prices.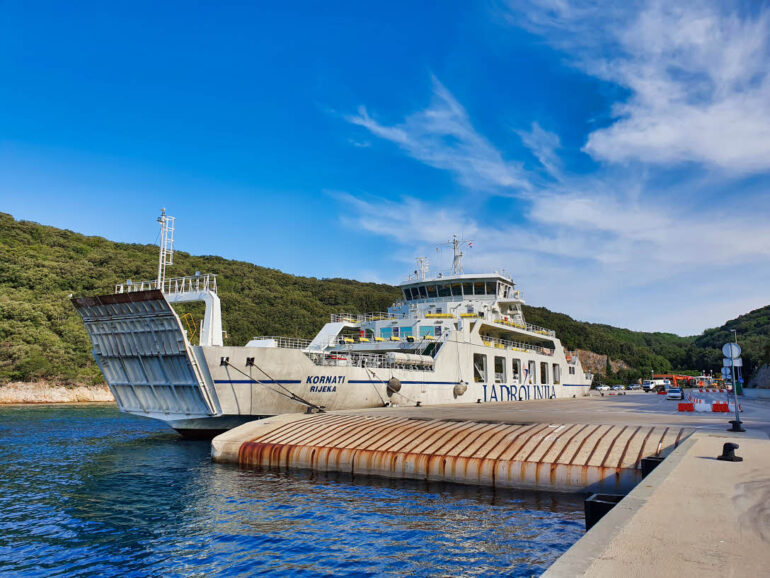 How Early Do You Have to Be to Get a Ferry?
People in general tell you to be about 45 minutes early. So if your ferry is leaving at 10.45, you should be at the port at around 10 o'clock. Now of course it's always difficult to predict how many people are going to be taking the ferry with you. In July and August, you should be there 45 minutes upfront, as indicated. Outside of the popular summer months, this isn't really needed.

We personally, always try to be -at least- 45 minutes early. But when we are waiting there, we see locals arriving like 5 minutes upfront, and they still have space on the ferry. So 45 minutes isn't needed, but better safe than sorry 😉.
The very first time we took a ferry, was to go from Split to Supetar in Brac, we took the first ferry of the day, somewhere at around 5 AM. We were scared not to get to the island 😉. That does mean having to get up at an ungodly hour, but then you also have the entire day to enjoy after you've taken the ferry! When we took this early ferry we had breakfast on Lovrećina bay beach after arriving in Supetar. And that was really lovely!
If you don't get on the ferry you wanted to take, you can always wait on the next one. Now of course that's why we would always advise not to take the last ferry of the day. If you would miss that, it would mean that you have to wait out the night there.
How often the ferry runs is influenced by how popular the route is and if it's high season or not. You can find all of these timetables on the website of Jadrolinija.
Queuing for the Ferry in Croatia
When you arrive at the port, the easiest thing you can do is drive straight to the lanes on the parking lot. You can easily recognize these lanes as they have big numbers written on the concrete. You'll most likely have five (or more in a bigger port) lanes right next to each other. They're numbered from 1 to 5. When you arrive first, you can go wait in lane 1. Lane 1 literally means that you will be allowed on the ferry first. After lane 1 is driving up to the ferry, they will let lane 2 leave and so on. That's how they make sure that people who are there first, are also certain they have a spot on the ferry.
Now immediately driving to the lanes will give you one big benefit. Your car is already in the queue for the ferry, so you're parked right where you need to be.
We have seen it quite a few times: people who buy their ferry tickets first and then go to the lanes. Everybody who knows the system just drives past you and will be on the ferry before you! So please keep that in mind. Especially if it's rather busy!
Buying Ferry Tickets
Now that you have parked your car in the lanes, you can go to the ticket office and buy your tickets. Everyone in these lanes typically leaves behind their car and goes for a walk or has a drink in the café strategically placed next to the port. In most ports, you also have public restrooms so you do not have to worry about that either!
To take the ferry, you'll need a ticket for your transportation mode (different prices for a car and a caravan), for yourself and for everyone who is traveling with you. So in our case, it would be a ticket for a car and 2 adult tickets. The ferry isn't that expensive. E.g. in 2020, we paid 126 kn (about €17 / $20) for the ferry between port Valbiska and the port Merag on Cres. 96 Kuna for our car and 2 times 15 Kuna for an adult ticket. 
Tetris on the Croatian Ferry
When the ferry is approaching the port, everybody will rush to their cars. Mostly because you do not want to be "that guy who held up the entire first row". We also experienced that they opened up lane 2 at the same time as lane 1. So it's best to be back in your car when the ferry has docked.
When you drive towards the ferry, an employee will check your ticket and rip off a piece of the ticket that he needs.
After that, you can start driving towards the ferry. You'll see a lot of employees making gestures on where you need to park on the ferry. A man will then stand in front of your car and tell you how far you need to drive. They want as many cars on the boat as possible, so they keep making moves to get you to almost drive against the car in front of you. But cars aren't the most tricky part… The caravans, mobile homes or even buses are really difficult to fit in as they are a lot bigger. It always looks like playing a game of Tetris when they are trying to optimize the loading space.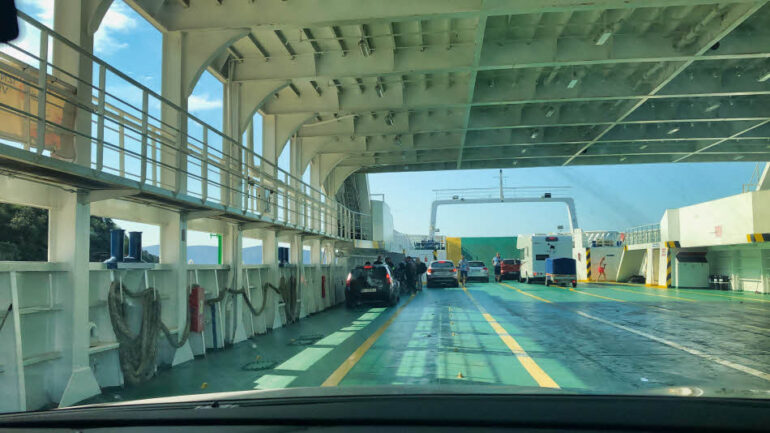 When you have parked your car, you need to get out of your car and go up. Either stay outside on the deck or go inside to the waiting area. No one is allowed to stay in their cars when the ferry is on the move. Normally you can buy something to drink on the ferry. That could be very useful when the ferry ride takes a long time. When you're island-hopping, it isn't that useful because the rides are often shorter than half an hour.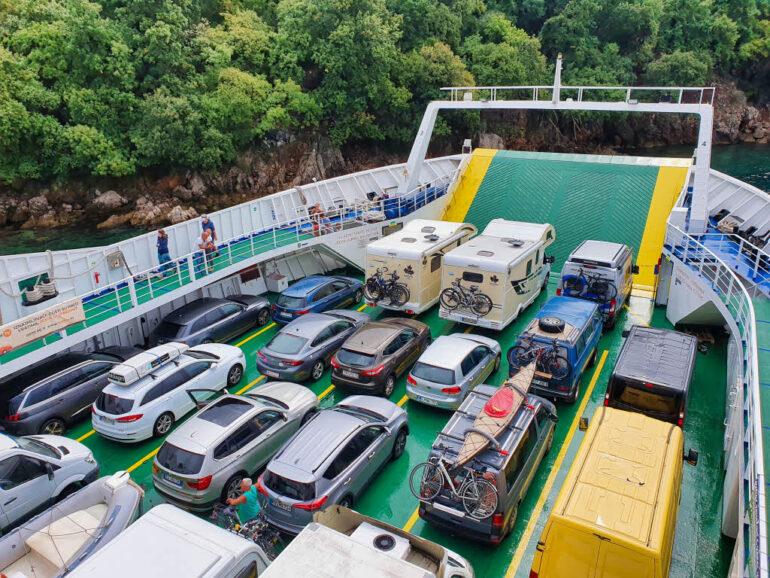 Driving off the ferry
Whenever the ferry comes closer to the destination port, everyone starts to get ready to go back to their cars. When the ferry is approaching the port, everyone is already stepping into their cars and turning them on. When the ferry is only a few meters away, the employees already start to lower the gate. In a wink of an eye, the boat is docked in the port and cars already begin to approach. After that, it kind of looks like a race to see who can get off the ferry first. Politeness is gone at that moment… It's every man – or rather every car – for itself…
Ow yes! Almost forgot! On a ferry, you never have to reverse your car. You can get off the boat at the other side of the ferry as the boat has two sides that can be opened. So it's really easy!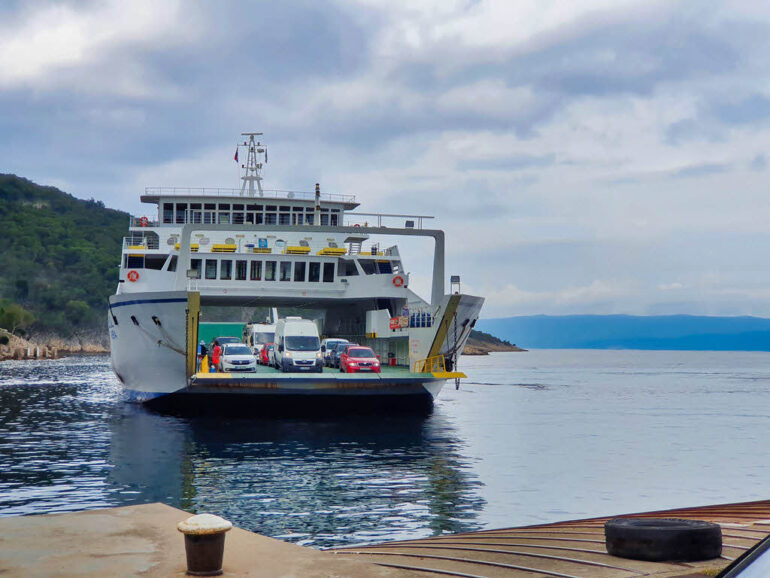 Ferry from Italy to Croatia
One last thing to mention is that there is also an international ferry route that you can take from Italy to Croatia. All year round you can take the Jadrolinija ferry from the Italian city Ancona to Split in Croatia. The ferry only runs on certain days, and the ferry takes approx. 9 hours.
There is also an Italian ferry company, SNAV, sailing the same route from Split to Ancona.