On September 11th of 2020, Elke and I got married. And logically, we also wanted to go on a honeymoon. We went on honeymoon to Croatia, but that wasn't exactly what we planned… Our choice of destination was Corsica, an island of France in the Mediterranean Sea. But Covid-19 made us change our travel plans. So we ended up going on a honeymoon to Croatia. That ended up being an amazing honeymoon though 🙂. More about that below.
When we made our bookings for our honeymoon, we planned to go to Corsica. As we were already aware that the coronavirus wasn't going anywhere, we booked two apartments. 1 week each, so we could see how the coronavirus evolved and could cook our own meals if it was needed.
Early September the Covid-19 situation in Europe was getting worse again. But Corsica was still green on the map of the Belgian government. But a bit later in September Corsica colored orange. Orange for Belgian inhabitants meant travel was still permitted but extra attention was needed. Then 3 days before we were supposed to leave on our honeymoon, Corsica turned red.
Red in Belgium used to mean that traveling to that destination was forbidden. So we couldn't go to Corsica anymore. This rule changed later though, after we already changed all of our plans.
New Destination
With our wedding only being 2 days away, we had very little time to look for a new destination for our honeymoon. As our wedding party was already delayed for a year, we felt we had to go somewhere. So we started looking. The choice of destination wasn't that difficult though. We wanted to go somewhere warm where we could spend time relaxing at the beach. We had a few alternatives in mind.
First, there was the south of France, but this was red as well, so not an option. Then there was Spain, also red. Next were the Canary Islands, red. Then there was Italy, but as the coronavirus started there, we didn't really feel like going there. So we picked Croatia. But then again, we were limited to the north of Croatia, as that was the only part that was still fairly OK.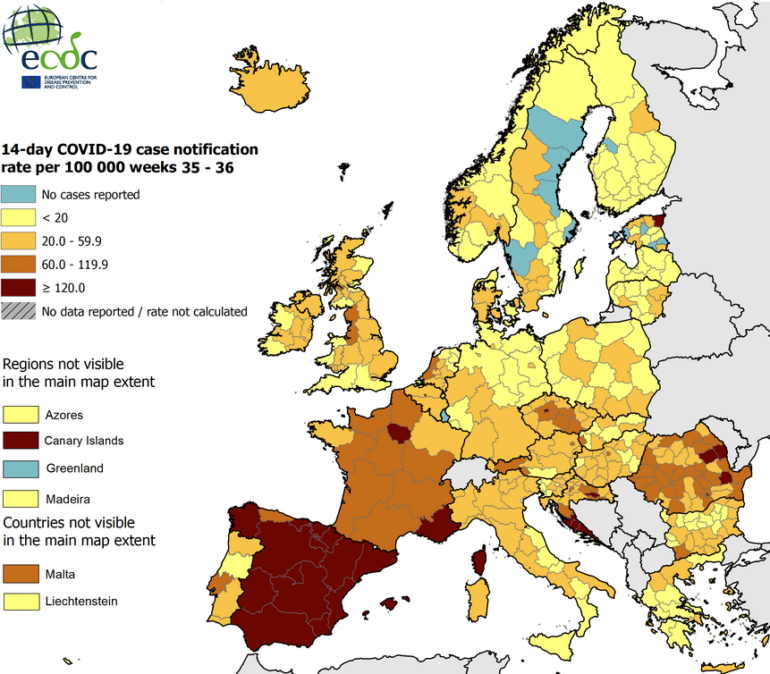 So, this explains how, thanks to the coronavirus, we picked Croatia as our honeymoon destination. It wasn't our first choice, but after our trip, we can tell you it wasn't bad at all. In fact, we had a wonderful honeymoon!
Honeymoon Planning – Austria and Croatia
From Belgium, it's quite far to Croatia. From our home to the island Krk, it is about a 14-hour drive. We felt that this would be a bit long for the day after our wedding. That's why, as the first stop on our honeymoon, we booked 3 nights in the Hochkönig region of Austria. We planned to spend the first days here hiking in the mountains.
The rest of the trip we booked along the way. Our idea was to keep a close eye on the map and go somewhere where the coronavirus was OK and we'd play it safe and book apartments where possible. After our stay in Austria, we went onwards to Croatia.
In Croatia, our first stay was four nights in Punat on the island Krk. We'd then set off and explore the beaches of the island Krk. After our stay on Krk, we took the ferry to the island Cres. We didn't stay in Cres though, we drove south of the island to another attached island Losinj. We stayed 3 nights relaxing in Losinj.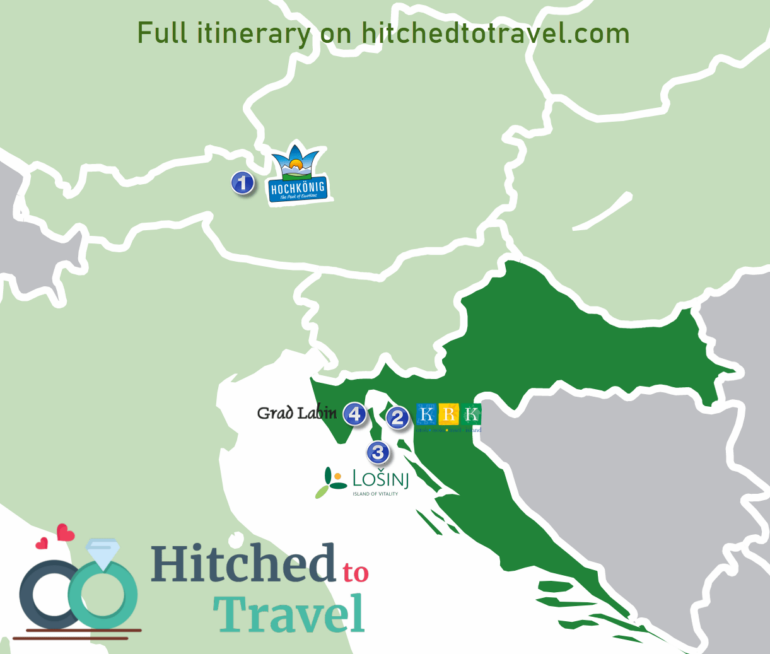 After Losinj, we took the ferry again to the mainland, to a town called Labin in the county Istria. Here we stayed another 3 nights enjoying the beaches of Rabac, Koromačno beach, and Duga Luka beach. Those were our last days in Croatia. Sadly it was time to head back home. On the way home, we had a 1-night stay in Munich, because the weather was really bad. We had been driving in the rain for 9 hours and we were just tired.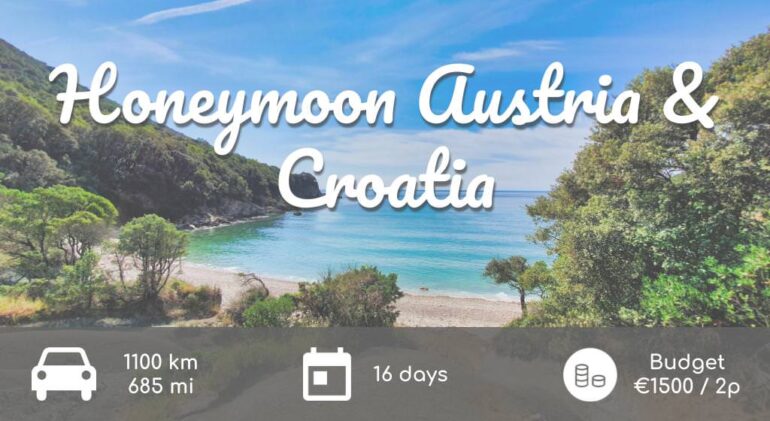 If you're interested in only the Croatia part of our honeymoon, check out our 10 day Croatia road trip post. Here you'll find the same trip, but with the Austria part removed.
Travel Itinerary of our Croatia Honeymoon
In our itinerary below we'll give you an overview of what we did each of the days of our honeymoon.
Day
Itinerary of the day
1
We left our home at 4 AM and drove to Maria Alm in Austria. When we arrived, we went for a short walk to explore the town and went to have dinner. We received our Hochkönigcard.
2
We started off our day by going to the summer rodelbahn in Saalfelden (bobsledding). After that, we drove to Hintermoos, took the ski lift up in the mountains, and hiked to Bergstadl / Dirndlalm. After returning to Maria Alm we went to the Maria Alm swimming pool.
3
We woke up early and drove to the Karbachalmbahn. We took the ski lift up. From there we took the hike to Schneebergkreuz.
In the afternoon we took the lift in Maria Alm, Natrunbahn to Natrun. Up there we visited a lake and walked down back to the village on foot. On the way, we did take a few slides in the Waldrutschenpark (forest slide park).
4
We drove to Croatia and went hiking in Novi Vinodolski, a small town by the sea. After our hike and a swim, we continued to Krk island.
5
Before noon we went to Baška Beach and did a hiking tour in the mountains close to Baška. We went for a swim twice and then returned to Punat. After lunch, we went to Punat Beach.
6
Another day of exploring the beaches of Krk island. First, we visited Magneli Beach. After we had returned we went to Oprna Bay, a beach area close to our Airbnb in Punat.
7
We returned to Oprna Bay beach but soon learned it was too windy. We went back to Punat and had another visit to Punat Beach.
8
We took the Croatian ferry from Krk to Cres and drove to Lošinj. In Lošinj we rented a small house close to the sea to relax for a few days. We went to the supermarket to buy BBQ supplies.
9
The second day of relaxing in Lošinj. We went for a swim a few times and did some snorkeling in the sea.
10
Last day of relaxing in Lošinj, only today the weather was a bit off. It rained and our firewood for the BBQ got wet, so we cooked on the furnace today.
11
We left Lošinj, drove north on the island Cres, to the town Porozina. From there we took the ferry to Istria and continued to Labin. We did the Sentona's hiking trail from Labin to Rabac.
12
The weather wasn't that good when we woke up. It was a bit cold to swim so we started by going on a hike around the coast of Duga Luka. After a few hours, the weather improved and we went swimming at Plaža Mali Portluk beach. In the late afternoon, we went for a walk in the touristic town Rabac.
13
Almost the end of our honeymoon and our last day in Croatia. We started the day by going to Koromačno beach. After that, we went to the supermarket to buy lunch and some supplies for the trip home. In the afternoon we went swimming at Rabac beach and had cocktails in a beach bar.
14
We left Croatia and drove home. After an hour it started raining non-stop. After 9 hours of driving in the rain, we stopped for a night in Munich. We ate some great ribs here.
15
The rest of the drive home. Again lots of rain during the drive. Luckily we were spared this kind of weather during our honeymoon in Croatia.
Road trip itinerary of our honeymoon in Croatia
Map of our Honeymoon
Croatia as Honeymoon Destination
We were quite surprised about our honeymoon to Croatia. In our opinion – but we only went on 1 honeymoon 😉 – Croatia should be one of the best honeymoon destinations. It's definitely a cheap honeymoon destination. We ended up far below our budget that we were going to spend on our honeymoon to Corsica.
One of the reasons we saved that much money, compared to Corsica, is because the food and hotels are cheaper in Croatia. The next reason is that we went in our own car, so we saved the money for a rental car and plane tickets.
We'd definitely recommend a honeymoon in Croatia. The country is beautiful, has lots of beaches, good weather, 8 nice national parks… There are lots of options for your stay: you can stay in hotels, rent apartments, camp, go glamping and so on. There is something for everyone!
If you plan to go to Croatia, check out our other itineraries and more information in our Croatia travel guide. Also, check our article on the 10 best destinations in Croatia.