In this article we'll introduce you to the national parks of Montenegro. Montenegro has 5 national parks, covering 7.7% of the country. Those national parks are: Durmitor, Biogradska Gora, Skadar Lake, Lovćen and Prokletije. The national parks of Montenegro have about 400.000 visitors a year.
Each of these national parks is a protected area to protect and manage the natural and cultural heritage of Montenegro. The national parks protect over 100 animal species and over 130 plant species in total.
The oldest national parks are established in 1952. Those parks are Durmitor, Biogradska Gora and Lovćen. Next, Skadar Lake was added to the list of national parks of Montenegro in 1983. And lastly, Prokletije was added more recently, in 2009. This makes the list complete, with a total of 5 national parks in Montenegro.
Our Plans for the National Parks of Montenegro
We didn't visit Montenegro yet. But Montenegro is on our bucket list and we plan to go there in September 2021. So we wrote this article as a preparation for our own trip. But that's depending on the Covid-19 evolution and vaccination strategies. So fingers crossed 🤞.
Our current plan is to visit Durmitor, Skadar Lake and Biogradska Gora. We don't plan on going to Prokletije, as it's too far away. We don't know yet if we'll add Lovćen to our itinerary. But, if any of you has visited any of the national parks of Montenegro, we'd love your input!
The 5 National Parks of Montenegro
Durmitor National Park
Durmitor National Park is the largest national park of Montenegro. The park includes the massif of Durmitor, the Tara river canyon, Draga and Sušica rivers… Durmitor is located in the northwest of Montenegro. The park has an extreme diversity in animal and plant species. Many of the species living in Durmitor can't be found elsewhere!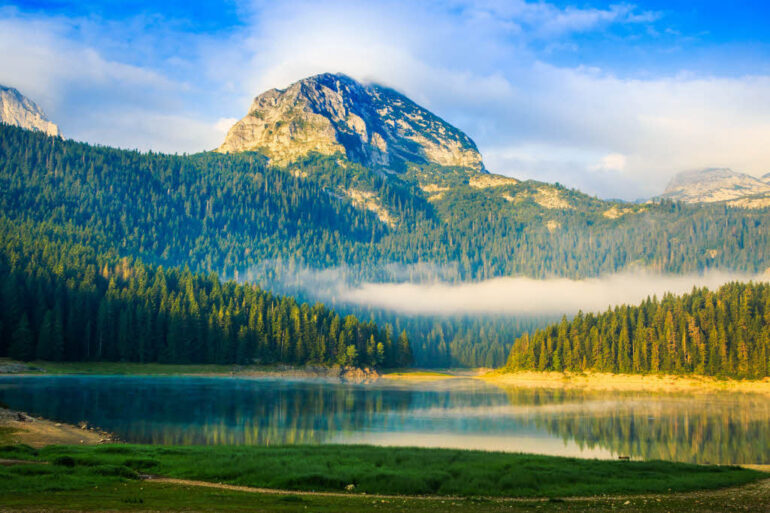 The Durmitor massif has a large amount of peaks above 2000 meter, making Durmitor the ideal destination for hikers. Next to the large amount of mountain peaks to be explored, the park also has 18 glacial lakes to be discovered. In one of those lakes, Crno Jezero (black lake) you can swim in the summer months.
Next to hiking, also mountain biking is something you can do in Durmitor national park. Next, you can also go kayaking or rafting on the Tara river. UNESCO has listed Durmitor on the world heritage list since 1980.
Skadar Lake National Park
Skadar Lake National Park is located in the south of Montenegro, close to the border with Albania. The national park is located around Lake Skadar (Skadarsko Jezero, Shkodra Lake), the largest lake of south Europe.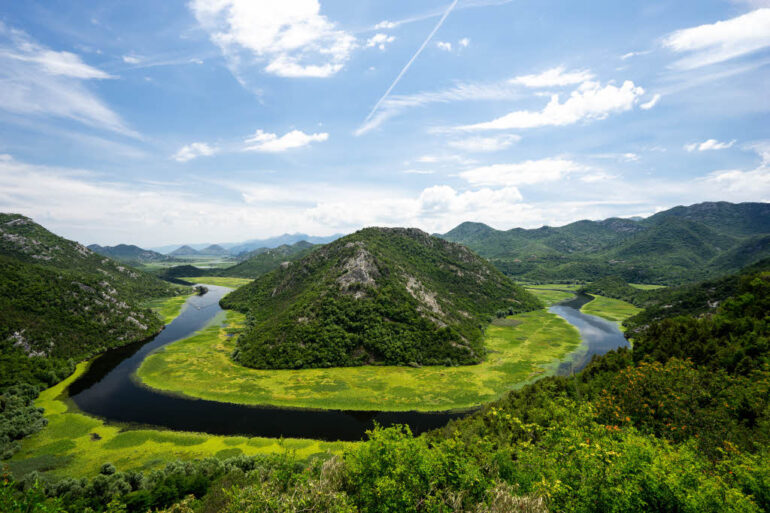 Lake Skadar is a popular destination for hiking, biking and fishing. The lake is also popular for boat owners who want to sail around the lake. But next to that, Skadar Lake is also home to lots of different birds, making this a top destination for bird watchers.
In the summer months you can also go to Lake Skadar to go swimming. Skadarsko Jezero is a freshwater lake, with temperatures in summer of about 26°C (79°F). You can go to Pješačac beach or Murići beach for a refreshing swim.
Biogradska Gora National Park
The National Park Biogradska Gora is a part of the larger Biogradska Gora forest. Biogradska Gora is one of the last 3 remaining old-grown forests of Europe. An old-growth forest, or virgin forest, is an old forest that has been growing for a long time without much disturbance of men. Because of that, UNESCO listed Biogradska Gora in the World Network of Biosphere Reserves.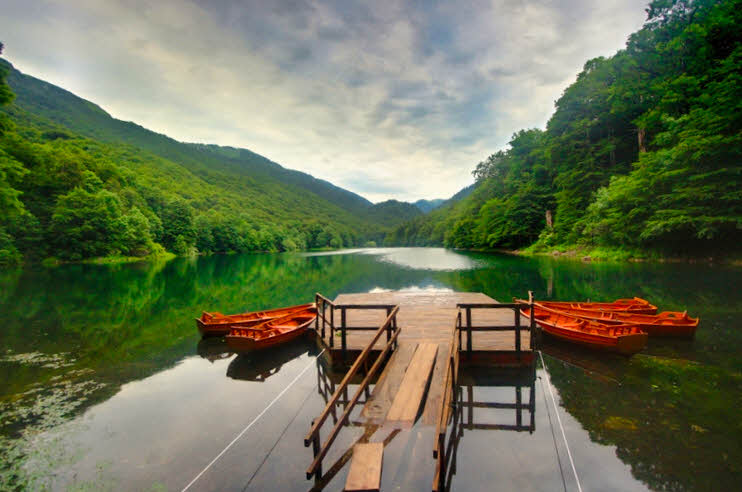 Biogradska Lake National Park is a wonderful destination for hikers. You'll find unspoilt nature with large forests, high mountain peaks and 6 glacial lakes. The most popular glacial lake in the national park, is located near the entrance, Lake Biograd (Biogradsko jezero).
Lake Biograd is the ideal place to start exploring the park. You can hike around the lake in 40 minutes (3.3 km, 2 miles). Fishing and renting a boat are also amongst the possibilities of Lake Biograd. If you have more time, you can take one of the trails into the mountains.
Lovćen National Park
Lovćen is a mountain massif in Montenegro. The national park of Lovćen is the highest area of the massif. Lovćen National Park is protecting the natural, cultural, and architectural heritage of Lovćen.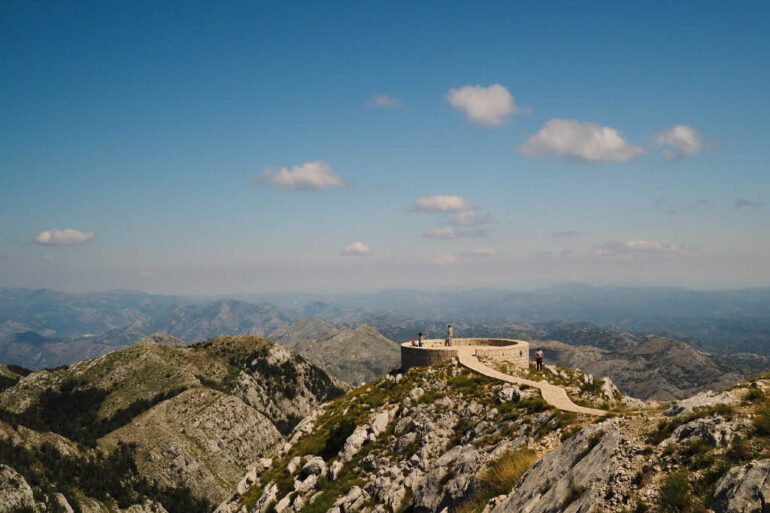 You can drive by car to the Mausoleum of Petar II Petrovic-Njegos, a viewpoint at the top of the Lovćen mountains. From this viewpoint you have a spectacular view in all directions. You can also visit the mausoleum.
Prokletije National Park
National Park Prokletije is located in the southeast of Montenegro, next to the border with Albania and Kosovo. The national park is known for the high peaks, glacial lakes, rivers and waterfalls. Prokletije National Park has been added to the national park list in 2009. This makes Prokletije the newest national park of Montenegro.
Prokletije is a group of mountains in the Balkans. Those mountains are also known as the Albanian Alps. In the Prokletije mountains, there are four national parks. First there is Prokletije National Park in Montenegro. Second there is Bjeshkët e Nemuna National Park in Kosovo. Third and last, there are Theth National Park and Valbona Valley National Park in Albania.
Prokletije national park is home to the 3 largest peaks of Montenegro: Zia Kolata (2534 m, 8314 ft), Dobra Kolata (2528 m, 8294 ft) and Maja e Rosi (2524 m, 8281 ft).
Further Reads on the National Parks of Montenegro
If you want to discover more on the national parks of Montenegro, we advise you to check the official website Nationalni Parkovi Crne Gore (means: national parks of Montenegro).
On their website you can discover information on the parks, a price list, map of the parks… The website isn't that great, but they have an Android app that's very helpful to find information on the parks.
If you're planning to go to Montenegro, it might be worthwhile to include Croatia into your visit. Check out our Croatia Travel guide for all info!
Related article: National Parks of Croatia
Save our Article on the National Parks of Montenegro
Liked our article? Then please consider to share it on social media to support our website. You can also pin it to Pinterest for later!