Korana River Hiking makes you immediately think of a walk through a river, but you couldn't be more wrong 😉. We actually hiked the Korana River when it was dried up in September!
So technically it's still a hike through a river, but without the water. We could see with our own eyes what kind of things people throw in the river…
Korana River
The Korana River is a river that runs through 2 countries: Croatia and Bosnia and Herzegovina. The river is 138 km (86 miles) long and mostly flows close to the border between both countries.
The Korana River is the river that makes Plitvice park possible. The water in the Korana River runs through Plitvice creating all sorts of beautiful waterfalls. For more information on this fantastic National Park, please check out our guide on Plitvice National Park.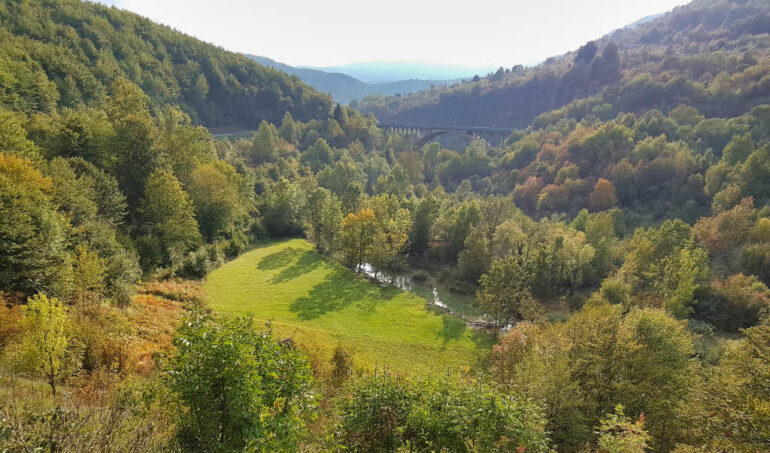 Swimming in the Korana River?
Well, funny story actually. We were visiting Plitvice National Park for our second day and realized that we had seen practically everything already in that park. We did about every trail in the park, so we decided to go and do something else. Steven tried to find something close by to our apartment. After scouring the internet for tips on what to do nearby, he came up with a brilliant idea! He wanted to go swim in the Korana River.
We read in a review that it was possible to swim in that river. We already went for a swim next to a waterfall in Krka National Park, went swimming at the beaches of Croatia, but we didn't swim in a river yet! It was a hot day, so we were excited to go for a refreshing dive.
The Korana river was also running through the town we were staying in in Smoljanac, north of Plitvice. We stayed close to Camping Plitvice. From there we started to walk towards the river, to Most na Korani (here). When we saw a bridge, we knew that we had arrived at Korana River. We were quite surprised though, as it was completely dried up. So there we were, a backpack filled with swimming gear, but no place to go for a swim 🤪. We improvised and decided to change our plans. We'd walk on the dried-up riverbed and follow that for a while, just to explore. We thought this would be a nice idea to get to know the area as if we were on a boat on the river.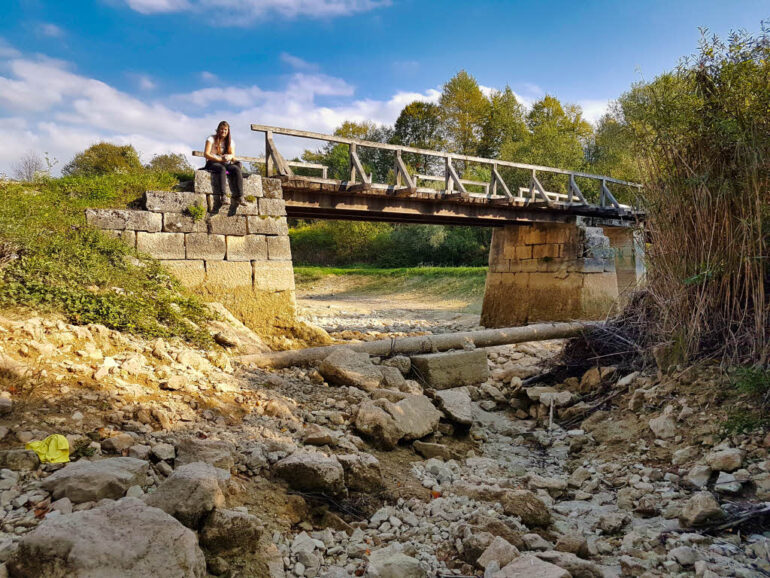 Treasures in the Korana River
Steven and I planned to hike for a while and just return when we would either see water or if the riverbank would get all mushy. The walk was very pleasant because it was something completely different. We saw a lot of pipes and garbage on our hike but we also saw a car wreck! The car had been in the river for quite some time now by the looks of it. It was pretty difficult to even recognize it if you aren't paying much attention. So anyone missing a car? You know where it is now 😉.
It did cross my mind that there could be a horrifying story behind this car. But let's just put those thoughts aside and hope that wasn't the case at all!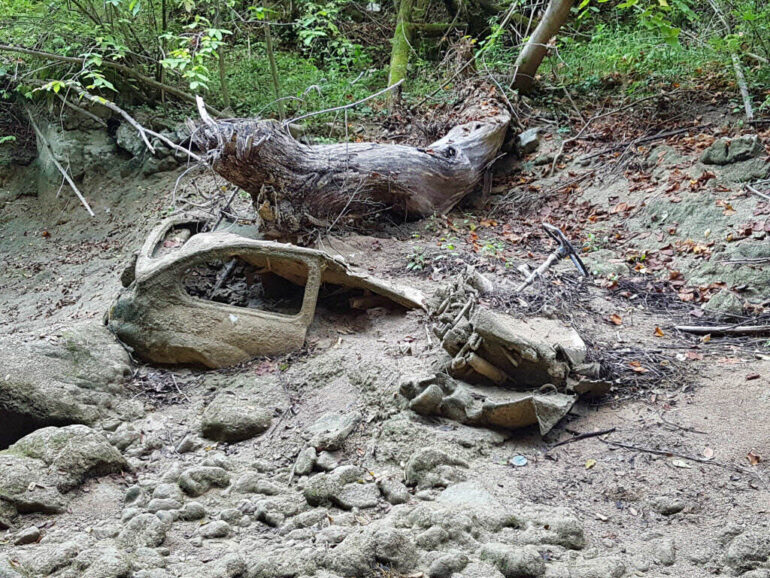 When we had been hiking for quite some time, the plants and rocks prevented us from going any further. So sometimes we needed to walk beside the river to get any further. After a while, we noticed that there was water in the river again, so that meant our hike was over.
Back to Smoljanac
We retraced our steps and found a "path" up. The trail wasn't that much used though. The path was full of bushes and was hard to walk on. But we didn't feel like going the entire way back, so we decided to take our chances. We hiked up on the trail and reached a dirt road. We followed the dirt road and saw a signposting at the Korana river, so the trail must have led to a location to go swimming in the river.
Finally, we reached road number 1. We're not too sure exactly where, but we think it must be near the location here. It seems like we didn't cover too much distance walking through the Korana river.
After arriving on the road we followed the road south until we crossed the Korana river on a bridge. After the bridge, we took the road on the left and walked back to our apartment in Smoljanac. We had been walking for about 2 hours and about 8 kilometers.
When we arrived back at our apartment, we went to dinner in a restaurant called Cafe Bar Plumm. This was a very cozy place. You could sit outside on the terrace because it was heated. Steven had a steak and I had ravioli. Both dishes were very tasty.
After dinner, we went to bed. Ready for our next adventure! Tomorrow we'll go to the World War II monument Petrova Gora. After that, we'll end our road trip and visit Zagreb.