After our lovely visit to the Beach Duga Luka, we went to visit the town of Rabac. We had already seen this town from a distance during our hike from Labin to Rabac. Rabac is another beautiful coastal town in the Kvarner Bay of Istria, Croatia. It is an ideal place to go swimming in the Adriatic Sea because of the large number of beaches. 
Parking in Rabac
Now when you drive through Rabac, you can immediately tell that the town of Rabac is very touristic. The town has a huge amount of parking spaces all around town. These are all paid parkings. When you look in the direction of the sea and look from your left to your right, you will see more hotels and resorts than you have fingers to count. Rabac has a little over 1300 permanent inhabitants, but in summer the town can accommodate almost 10 times that! When we visited Rabac, it was very quiet. We visited in September 2020, so we think it was that calm due to the Corona pandemic.

Steven and I drove through the town and were looking for a free parking space somewhere. We were driving past the many resorts and even had to turn back in one street because it was actually the road to the resort parking garage! We turned back and found a sand-covered parking space in a bend just beside the Market Jedinstvo Allegro (location here). After parking the car, we got out and walked downhill towards the sea. We passed the supermarket and saw that near this supermarket and near the big apartment blocks, there were also free parkings. But we were happy with our spot, so we walked on. We passed the Allegro Hotel on our right and continued. After the bend, we could already spot the sea.
Teleferika
When we got to the sea, we immediately took some pictures and looked around. We saw a few people walking on the boardwalk or sitting on benches. But what immediately caught or eye – or should I say ear – is the beach bar playing some fine tunes. We noticed that not many people were actually having a drink in the bar, so we thought maybe the bar didn't have good drinks. We decided to leave the bar behind and walked towards Maršal Tito Beach. The weather was great and we enjoyed the walk.
We ran into an info board and started reading it. It was an explanation on the "Teleferika" you could see on the inland opposite of us. You could see the remnants of the bauxite loading terminal. It was connected with a 9 km long cable wire to Cere. Cere is a place in the Labin hinterland. The bauxite was mostly exploited between the two World Wars. After the 2nd World War, the cable wire was dismantled. From a distance, the building looked a little ghostly now.
Pebble Beaches: Maršal Tito Beach and Lanterna Beach
When we reached Maršal Tito Beach, we noticed that this beach was already covered in shadow, so not the best place to go for a swim I would say. There were some people swimming at the beach, so I guess it wasn't that cold.
We walked on and saw that there were some snack bars and cafes located next to the boardwalk. We walked past these and walked on towards Lanterna Beach.
When we got to Lanterna Beach we saw that all of the small beaches on this coastline had one thing in common: they all had a natural fine pebble beach with crystal clear water. We immediately knew why these beaches were so loved by so many!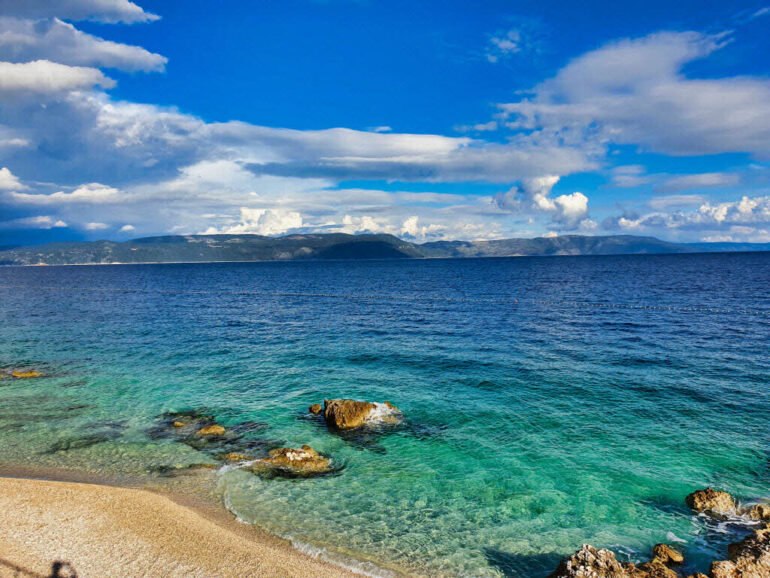 Rabac Resort Paradise
It fell to our attention that there were a lot of deck chairs and beach umbrellas on these beaches. When we looked a little more inward, we saw the hotels and resorts emerging from the forest. Most hotels were hotels from the Valamar group. Although there were a lot of hotels next to each other, a lot of them seemed to be closed. Now we thought that was a bit early, but we think the Corona pandemic is also absolutely to blame here.

Most of the deck chairs on the beaches were not occupied. Only at the hotels that were clearly open, people were sunbathing on their deckchairs. We also saw people sitting by the swimming pool of their hotel.
We followed the coastline and saw many more hotels and resorts. It was obvious to us that the town of Rabac is really the place to be if you want pebble beaches, an amazing view of the sea and a feeling of being in paradise. There were hotels for everyone: from kids friendly hotels (with a children's beach) to adult-only hotels. I think you can find it all in Rabac. I'd imagine if all hotels are full, it can get quite crowded though.
We decided to turn around and go back to our car as it was already starting to get late. Or rather because we were starting to get hungry! 🍽️
Velo Kafe in Labin
We drove back to our apartment, hopped in the shower, and put on some decent clothes. Today we wanted to go to the restaurant Velo Kafe. It was the restaurant opposite the pizza place from last night. It looked a little more sophisticated, so we thought we'd play it safe and dress up just a little. Velo Kafe has 2 floors. The ground floor is where the bar is located and the first floor is where the restaurant is located.
When we arrived, it was rather busy in the cafe, but it wasn't busy in the restaurant. Only a couple of other guests were also eating there. We ordered some appetizers and chose our main course. Steven got the squid and I ordered the tuna risotto.

It was really delicious. I would recommend this place to everyone! We also had a tiramisu to share as a dessert. It was a fantastic evening!
The restaurant was a little pricier than our visit to the pizza place, but it was still so much cheaper than in our hometown, so it was a great deal. Especially since the food was fresh and the service was impeccable.
We walked to our apartment and went to sleep. Tomorrow we will start our day by visiting Koromačno Beach.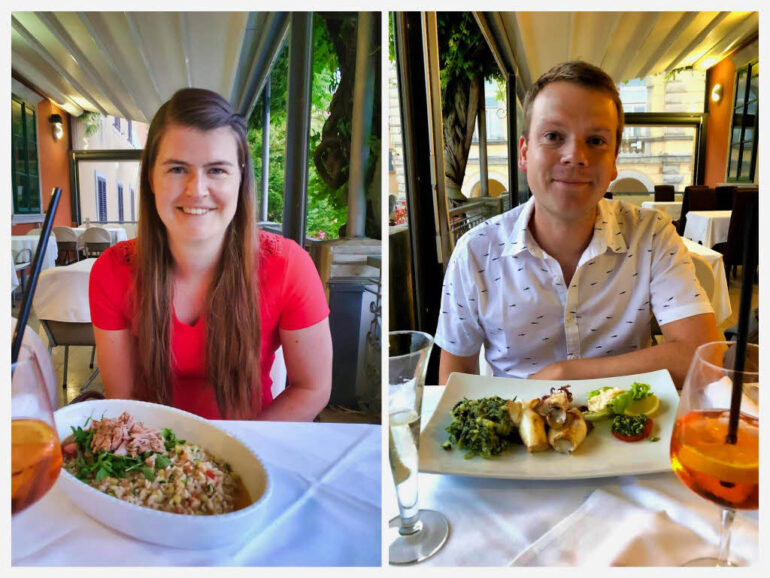 Second visit to Rabac
The next day, after our hike to Koromačno Beach we decided to go to Rabac once more. We loved the beaches and it was the perfect place to stroll along the beach. And we didn't manage to go for a swim there on our first visit, so a perfect reason to visit again!

We didn't park at the same spot as yesterday, Steven saw an even better place to park! He drove past the Allegro Hotel and turned right just after the hotel. There was a small parking spot where you could also park your car and it was already pretty close to the sea (here). Steven is a great spotter for these things! I do fear that it'll probably be completely occupied in the summer season.
We took the same route as we did yesterday but this time we absolutely wanted to go for a swim! We walked past all the resorts until we reached the end of the tourist beach. You could tell because of the word "FKK" written on the rocks. FKK means nudist beach. We walked back and went to a nice spot near the hotels, but not in front of them. There were too many people for our liking. The sea was lovely as always. The water had a nice temperature and there were some waves to have fun in. The sea was a little wild, but nothing too crazy.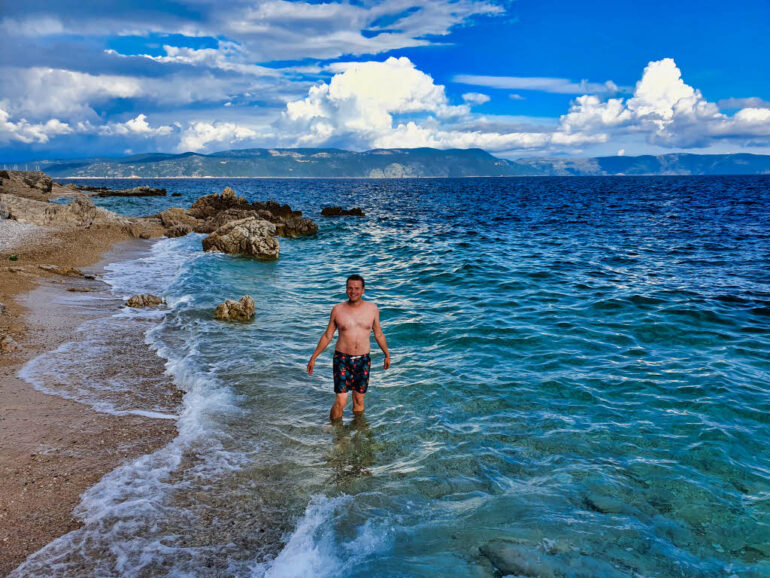 Sundance Beach Club
After our refreshing swim, we walked past a really neat beach bar called Sundance Beach Club. Unfortunately, there weren't a lot of people at the beach bar, so a large part of it was closed. It even had a swimming pool in the middle of the bar. We decided to go to that beach club and have a cocktail. We deserved it! While enjoying our cocktail, we talked about how much fun we already had and how many times we swam this holiday. That's just crazy. The weather had always been too perfect not to swim. Especially because the sea had heated up quite nicely in the summer months, so September really is a fantastic choice to visit Croatia.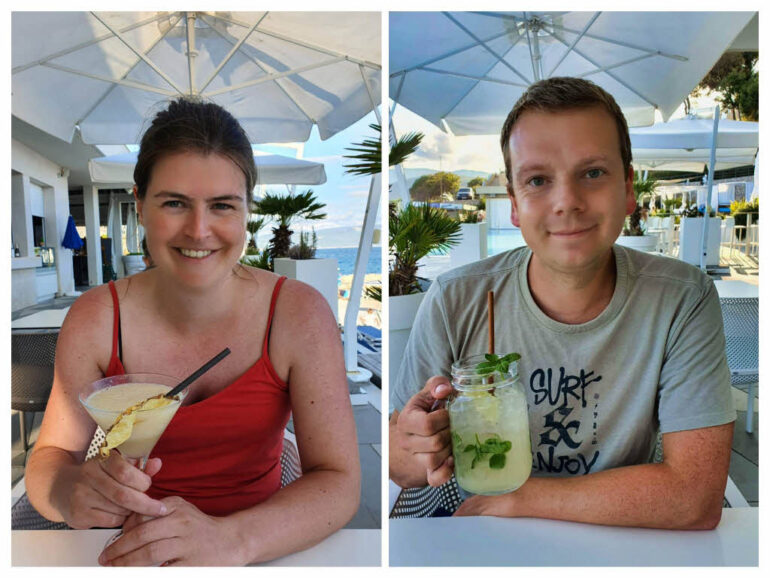 We headed back to our apartment after this and went to Labin again to have dinner. Who knew our biggest surprise still had to come…
Pizza Napoli – Delicious Pizza
Our first intention was to go to another restaurant near our apartment. But when we walked past it, we saw that the entire place was empty. So we were a little reluctant to go in. So I made the suggestion to go back to the pizza place Napoli as we were really happy with the service and the food. We walked over there and sat down at a table on the terrace again.
We wanted to do something crazy and thought we would share a pizza this time. A black pizza 🍕! We ordered a pizza that's called Carbon 1921. We took a Jumbo size to share and ordered some local wine to go with that.
And then the waitress approached our table with something I can only describe as a giant serving tray. But no wait… that was just our pizza plate… Our pizza was huge! The pizza was really tasty and I really liked it. I ate so much that I really needed to go home to lay down somewhere. Maybe not the best idea to eat THAT much. But I had no choice! The pizza challenged me!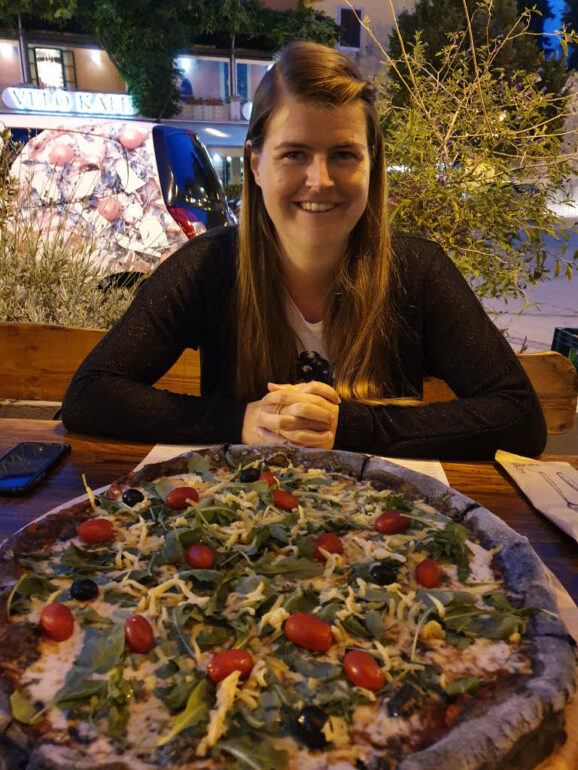 After that feeding frenzy, we walked back home. We knew it was our last night in this apartment and that meant that our vacation was coming to an end. We were a bit saddened by this, so we cracked open a bottle of wine to celebrate our great road trip in Croatia.