We started off our day with one last swim at our rented house in Lošinj. After that swim, we checked out and we drove up north. We were going to take the ferry to the mainland again. Our next stop would be the beautiful old town called Labin, in Istria County. From there we wanted to do the Sentona's trail, a hiking trail from Labin to Rabac.
Driving to Port Porozina
Just after 10 o'clock, we left towards Porozina. This is where we needed to be to take our next ferry. The drive took a little over an hour and a half. We stopped at the supermarket on the way to get some food. The sun still hadn't shown, so we knew the weather wasn't going to be that great. We hoped it would be better on the mainland.
On our way, we crossed some very narrow streets and also streets that were in poor shape. We found it very strange that the streets were this bad because we assumed that these roads were quite popular in the summer season. Especially since it connects the mainland to the beautiful island of Cres. We couldn't believe that a motorhome driver would feel safe when driving there! There were also a lot of sharp bends with absolutely no view of upcoming traffic, so it was a pretty special experience.
Port Porozina
When we got to the port, it was obvious that this port was able to accommodate a lot of tourists. There were 2 waiting lanes on the road and there even was a second ticket office a little higher up the road so that people at the end of the line wouldn't have to walk the entire street. When we were there, it wasn't that busy at all. So the second ticket office wasn't open. We parked our car in the lane and walked to the ticket office. There is only one ferry route that you can take at Port Porozina and that is to the port Brestova.

This port, like all other ports, had a place where you could have a snack or drink something. A public restroom was also present and free to use. Read our article about taking a ferry in Croatia, for more tips.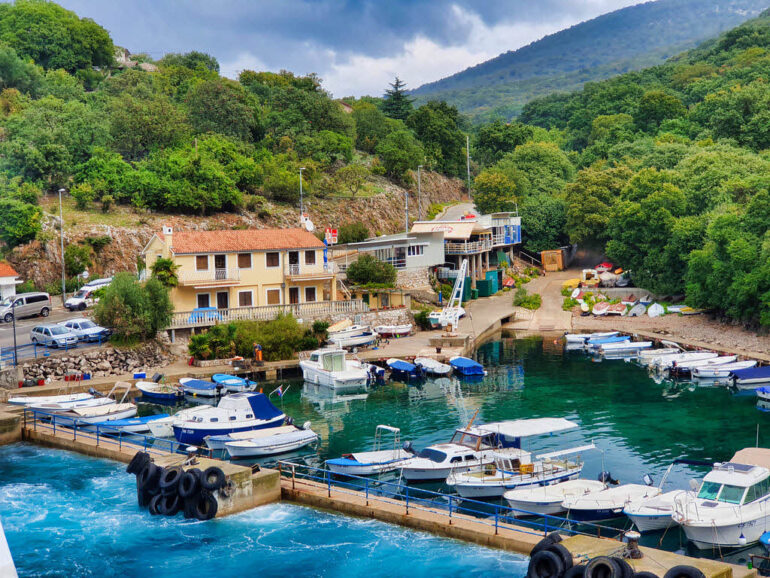 While we were waiting on the ferry, we walked around the town of Porozina. We looked at all the apartments that were for rent and to us, it looked like everyone had already left for the season… it was really quiet there. Of course, we also noticed it was less busy everywhere because of the coronavirus in Croatia and the rest of Europe that restricted travel a lot.
Rain at Porozina – Cres
When we were on our way back, it started raining! Luckily we were pretty close to the car, so we got in quickly! But we saw people -who also didn't expect a downfall- running to their cars. It was more like one of those tropical rain showers. One that is really heavy, but doesn't last long.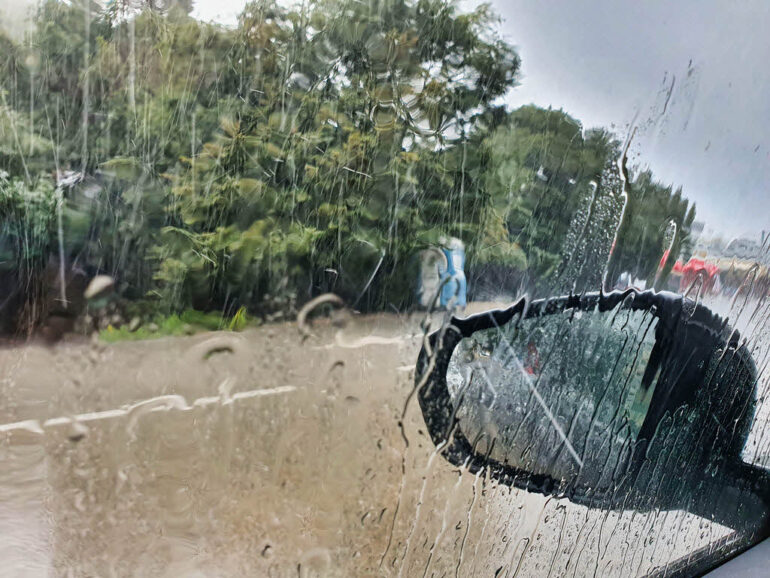 A little after this rain shower, the cars were starting to move. The ferry had arrived. We followed the traffic and drove towards the employee wanting to see our ticket. He looked at our license plate and said something in German. That always happens. For many countries, Dutch and German are the same languages…. But hey, we're on our honeymoon so we just yelled something German back at him!
Ferry from Porozina to Brestova
Like always the employees wanted to make sure that everyone got on the ferry and they told everyone how and where to park. The boat was still half empty when there were no cars approaching anymore. Half of the boat's loading area was still empty.
The ferry left and we saw a car driving really really fast towards the port. He was honking in the hopes that the ferry would take him along. But the ferry had already left the port and was on its way to the mainland!
It was pretty cold on the deck. It had rained, so all of the seats were wet. Sitting inside was an option, but we don't like sitting inside for 2 reasons. The first one is that you can't enjoy your surroundings when you're sitting inside and on a ferry, it is pretty amazing to look at the islands from a distance. And the second reason was because of Covid. Sitting inside with no air circulation just isn't what it used to be. I used to think it was cozy; now I see it more as a way of increasing the risk to get sick. So we just stayed outside.
Our hopes for good weather were a bit crushed when we had a closer look at the mainland. We saw an incredibly dark cloud! It was one of those clouds that you knew you wouldn't want to be stuck in. We could even see the rain streams in there.
Little Town Presika close to Labin
After about 20 minutes, we approached the port of Brestova. Everyone got in their car and started advancing towards the exit. Our first plan was to find a nice beach and have a picnic. But because of the weather, we decided to drive towards our rented apartment instead.
That apartment was located in Presika. It's a small town right next to Labin. Labin is mostly known for its old buildings. We were happy we didn't stay in Labin itself because the town doesn't really have a lot of parking space. Because we were driving in our own car, we wanted to have an apartment with a decent parking space. So Presika was a great choice. It was only a 15 minute-walk to Labin and there were a lot of cheap apartments with a private parking space.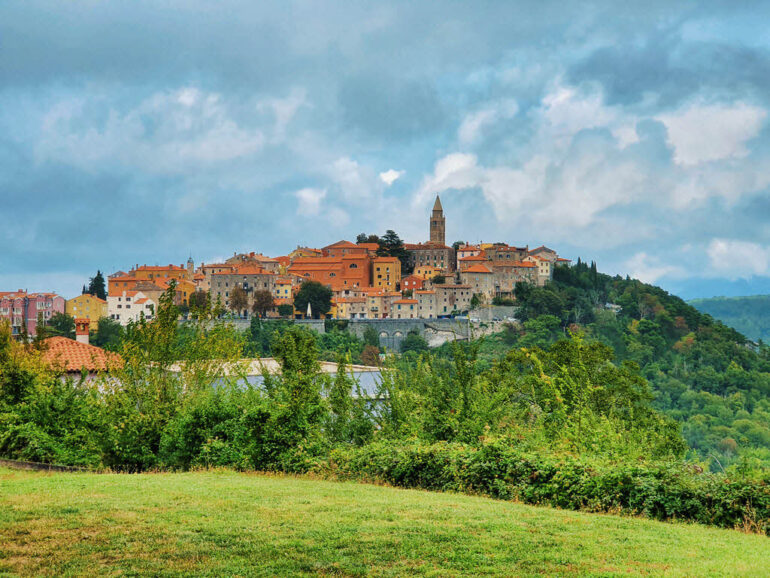 Because the weather wasn't that great, we checked in a little earlier than expected and decided to go for a hike nearby. It had stopped raining so we were happy about that. We walked from our little town to Labin. This is where our hike began. We did the famous Sentona's Trail from Rabac to Labin. We chose a different way to go to Rabac to make it a nice circular hike and discover even more beautiful places in Labin.
Hiking from Labin to Rabac
Our hike starts in the old town of Labin, on the marketplace. The first part of our hike was right next to the street Ulika Sveta Katarina (from A on the map to 1). From point A on the map, we had to follow the road that was parallel with the street. This started as a good path but got a bit narrower later on.
After a while, we ended up on an asphalt road again and took a left there to the village Lovronci. In this village, we passed through a group of houses and then we descended through the meadows. The meadows turned into a forest. In the beginning, the path was really broad, but it soon started to narrow down to a small hiking trail.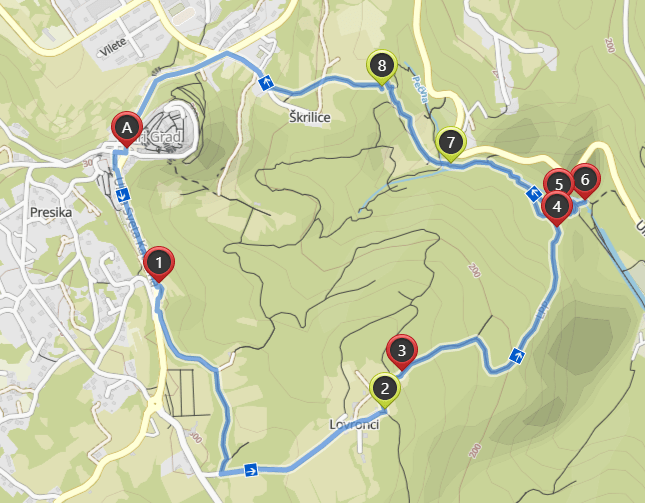 The bushes and plants didn't care much about the path and decided to make it difficult for us to get through. The branches of the trees were also really wet from the fallen rain, so every time you walked by a bush, it felt like someone had sprinkled water on your clothes. I didn't mind that the first few times, but after a while your shirt gets wet!
Steven used his coat to protect himself from the wet plants. He's a smart one! I didn't bring my jacket, so I just ran through the bushes, looking like someone afraid of the forest 😉.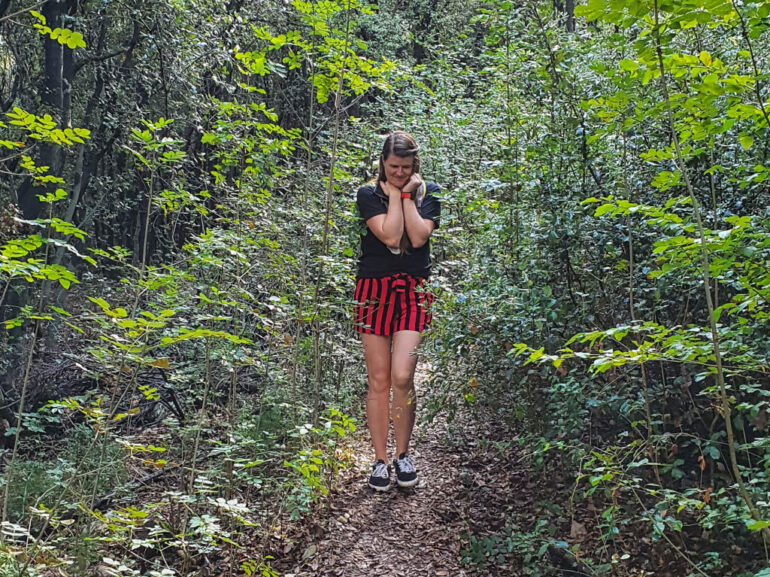 Chapel between Labin and Rabac
After about half an hour of descending, we saw a sign telling us that we were close to an old chapel (close to marker 4 on the map). On the way, you also cross below some electricity lines where you have a nice view of the town Rabac.
We visited the chapel and went further down the hill towards points 5 and 6. When we heard a waterfall splashing, we knew we were getting closer. We were really excited! We followed a very steep path down and had to be very careful to not slide. The surface was wet thanks to the fallen rain and we all know that a wet surface with rocks and dirt doesn't score high on the stability front.
When we were descending we took a small side road that led away from the marked map and came across a fun river crossing. There was a part of the trail where you had to hold onto a chain and use iron handles to get across the river. That part was definitely my favorite part of the hike! Unfortunately, the river wasn't really high because normally you had to jump pretty far to cross it. When we were crossing it, a big step sufficed.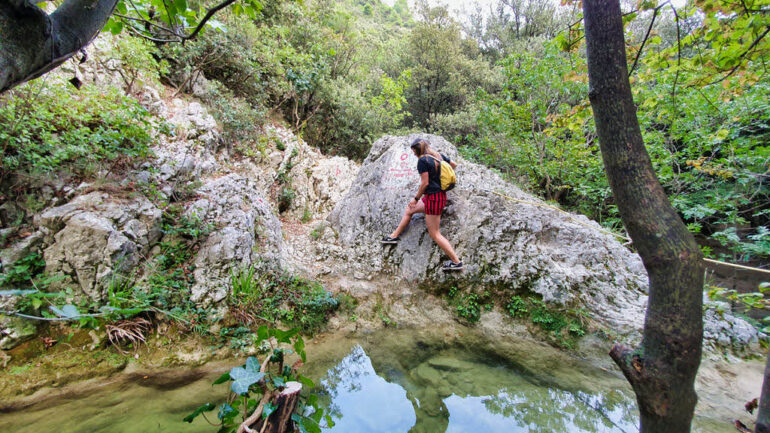 Waterfall close to Rabac
When we eventually reached the lowest point, we saw a little -almost laughable- dripping waterfall… I think we were not in a good season to see the waterfall. The river that normally runs below this waterfall, was also completely dried up. Now we have seen pictures online where the river is still there and the waterfall is actually very beautiful. But I must say that the waterfall was a bit disappointing for us. Luckily the views and the forest made that up.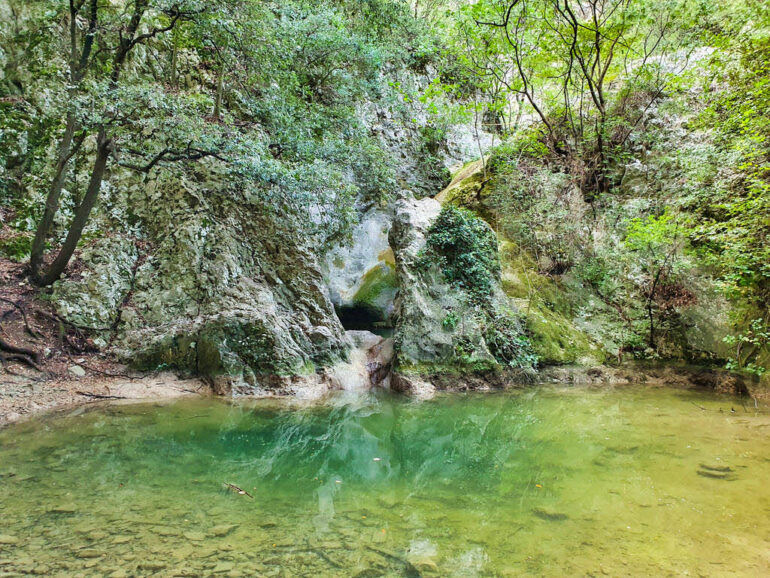 If you have more time, then from the waterfall you can follow the trail further to the town Rabac. You can walk around the town or go to the beach in Rabac. We didn't go to Rabac because we were hungry, so we decided to go back to Labin and get some food. However, we did visit Rabac the day after, and it's a nice town with great beaches!
Sentona's Trail from Rabac to Labin
After the somewhat disappointing waterfall, we hiked back up. It was a steep climb and it was getting really hot. It seemed that the sky had cleared up because we were even sweating now!
We took a different road back to Labin. We took the Sentona's trail (from 6 to 7, 8, and then back to A). On this trail, we crossed some more meadows and woods. When we were hiking along the meadows, we heard some goats making all kinds of noises. About 5 minutes after we had heard these noises, there suddenly was a goat 🐐 in our way. Steven slowly passed the goat and walked on and even though the goat followed Steven, I walked the other way… I was hoping for a safe passage somewhere, but unfortunately, it was a dense forest we were hiking through, so I had to follow Steven and the goat. Luckily the goat eventually got bored of us and stopped following us.
After following the trail for quite some time, you end back on an asphalt road in the village of Skrilice. There you take a right back to the main road. The main road, Ulica Alda Negrija, you follow to the left back to the marketplace of Labin.
Great Food in Labin
When we were passing through Labin, we were already pretty hungry. Normally the plan was to go back to our apartment, take a quick shower and then go to the restaurant. But as we were already in the town center, we decided to go to dinner and save ourselves the walk to and from our apartment.
We went to Pizzeria Napoli, a great pizza place, and sat outside on the terrace. So I don't think anyone could smell us after our exhausting walk. Or at least I hope so! 😉
The pizza was delicious and very cheap. For the 2 of us, we paid about €20 ($25) for 2 pizzas and 4 glasses of house wine. It's also mindblowing how many languages the waitress could speak. She could easily switch from Croatian to German, to English. We were delighted with the service!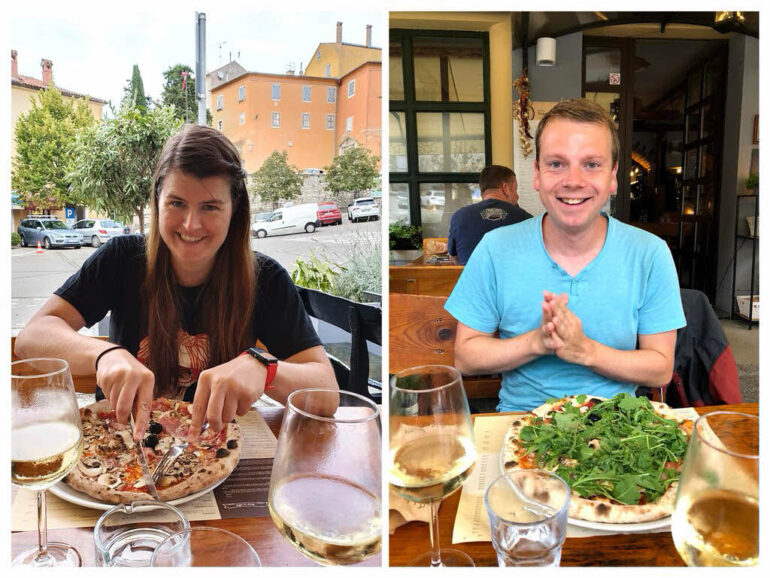 We walked back to our apartment and called it a day. Tomorrow we'd go to Duga Luka for a hike and swim and visit the Rabac beaches.
Pin our Guide
Like our article, save it on Pinterest so you can find it back later.