The coronavirus certainly makes travel to Croatia and in fact all around the world, more difficult. When we went on our honeymoon to Croatia, we had to be quite considerate in what we did. Almost every country in Europe has a list of countries and conditions for entry into their country. Sometimes you're free to enter, sometimes you have to provide a negative Covid test and in other cases, you have to go into a mandatory quarantine.
When we drove to Croatia, it was allowed for us to stop in Germany and Austria. But not in Slovenia. When driving back Germany was OK, but we couldn't stop in Austria anymore because we'd been in Croatia. So careful planning is needed, and the real issue is that it's constantly changing.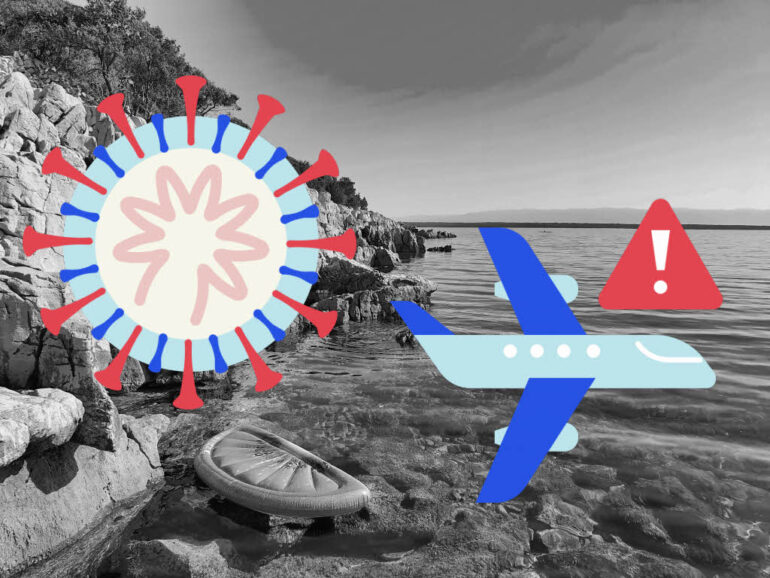 Croatia Against Coronavirus
When we traveled to Croatia for our honeymoon in September of 2020, we thought the measures against Covid-19 were quite good in Croatia. We stopped for a few days in Austria, where the measures were far less than in Croatia. E.g. face masks weren't worn in restaurants and hotels in Austria.
In Croatian supermarkets, you have to take a caddy when you go inside. Bread and other bakery products are pre-packed so you don't have to touch anything but the bag. This means nobody touches what you buy. You also have to keep your distance and there is a disinfectant gel at the supermarket entrance.
When going to a restaurant you also have to wear a face mask until you're seated at your table. The serving staff is also wearing face masks when serving you. We had the general feeling that the rules were followed well in the places we visited.
Mandatory Registration
If you're traveling to Croatia, it's mandatory to fill out an online form before you arrive in Croatia. After submitting the form you have to print out a paper that you can present to customs upon crossing the border.
We did fill out the form but didn't have a printer with us, so we wrote the data on an A4 paper. But nobody checked the paper when crossing the border. Only our passports. But the form isn't really a lot of trouble, so avoid problems at the border and fill it in.
More Information about Coronavirus in Croatia
You can find the number of active cases, the evolution of the virus in Croatia, and more information on the official coronavirus website of Croatia: koronavirus.hr. On this site, you can find details on which countries are allowed to enter Croatia. They keep it quite theoretical though, so it doesn't really give you a straight answer.
I'd advise everyone to check this website regularly if you have planned a trip to Croatia as the rules tend to change quite often, as in the rest of Europe 😟.