In September of 2020, my wife and I went on honeymoon to Austria and Croatia. We didn't exactly do the 10 days Croatia road trip as described below though. Because the drive from Belgium to the north of Croatia is about 14 hours, we stopped in Austria.
Because this is for most people a quite unlikely combination, we want to share an edited version of our itinerary, removing the Austria part. So in this road trip itinerary of 10 days, we will focus solely on the part in Croatia. But if you want to know more about the full road trip, including Austria, check out our page about our honeymoon in Croatia and Austria.
Next to that, we also have a 2 week Croatia road trip itinerary across the highlights of Croatia. This road trip will take you across Croatia. Firstly we'll take you to the island of Brač. Secondly, we'll visit and swim at a waterfall at Krka National Park. Thirdly we visit the mountains of Croatia. And last but not least, to the famous waterfalls of Plitvice National Park. Therefore we recommend checking out our 2 weeks Croatia road trip itinerary.
Lastly, if you plan to go to Croatia, check out our full Croatia travel guide. In this travel guide, you'll find all our articles on Croatia.
Road Trip Overview: Krk, Cres and Losinj
Our road trip itinerary will take you through the north of Croatia, in the Kvarner Gulf. So this travel plan will take you through Primorje-Gorski Kotar County and Istria County.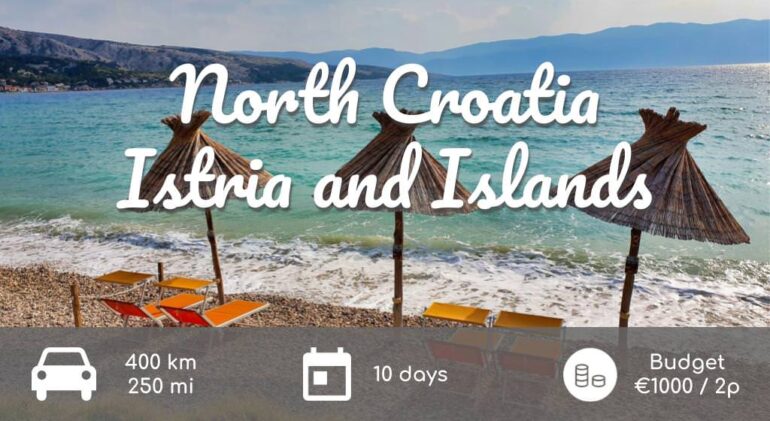 We'll start our road trip with a day visit to Novi Vinodolski. After that, we'll continue the trip by going to the island Krk, where we'll stay for 3 days. During those days we'll explore the beaches of the island.
After Krk, we'll take the ferry to the island Cres and the adjacent island Losinj. Here we just relaxed for 3 days, but you could explore the islands as well. Lastly, we'll take the ferry back to the mainland and spend our last days in the town of Labin, in Istria County. From there we'll visit the nearby beaches of Koromacno, Rabac and Duga Luka.
The total Croatia road trip should take you about 10 days. The total distance is 400 km (250 miles) and will cost you around €1000 for 2 persons. More about the budget later.
Travel Itinerary Road Trip Croatia Istria
In our itinerary below we'll give you an overview of what we did each of the days of our road trip. This is a good starting point to plan your trip. If you discovered another beautiful place you added to your trip, we'd love it if you'd share it with us!
| | |
| --- | --- |
| Day | Itinerary of the day |
| 1 | Start of Croatia road trip. We started by going on a hike in Novi Vinodolski, a small town by the sea. On the trail, we went swimming on a remote beach. After our hike, we continued to Krk island. |
| 2 | Before noon we went to Baška Beach and did a hiking tour in the mountains close to Baška. We went for a swim and then returned to Punat. In the afternoon we went to Punat Beach. |
| 3 | The next day we explored the beaches of Krk island. First, we visited Magneli Beach. After we had returned to Punat, we went to Oprna Bay, a beach area close to Punat. |
| 4 | In the morning we returned to Oprna Bay beach. And in the afternoon we had another visit to Punat Beach. |
| 5 | We took the Croatian ferry from Krk to Cres and drove to Lošinj. In Lošinj we rented a small house close to the sea to relax for a few days. If you feel like doing something more, we recommend exploring the island Cres on this day. |
| 6 | For us, this was the second day of relaxing in Lošinj. We went for a swim a few times and did some snorkeling in the sea. If you want to be more active, we recommend to go and explore the beaches south of Veli Lošinj. |
| 7 | Last day of relaxing in Lošinj. Alternatively, explore the town Neresine or Osor on the island Lošinj. |
| 8 | We left Lošinj, drove north on the island Cres, to the town Porozina. From there we took the ferry to Istria and continued to Labin. We did the Sentona's hiking trail from Labin to Rabac. |
| 9 | We started the day by going on a hike around the coast of Duga Luka. After a few hours, we went swimming at Plaža Mali Portluk beach. In the late afternoon, we went for a walk in the touristic town Rabac. |
| 10 | Last day of our trip. We started the day by going to Koromačno beach. In the afternoon we went swimming at Rabac beach and had cocktails in a beach bar. |
Road trip itinerary north Croatia – Istria, Krk and Cres
Map of our 10 Day Croatian Road Trip
On the map below you can find the main stops of the 10-day road trip in Croatia. Click on any of the stops for more information on the activities.
Road Trip Budget
The total budget for this road trip is around €1000 for 2 persons (based on prices of 2020).
A breakdown of the expected costs:
Apartments: €600. That's approx. €60 per night, for 2.
Ferry: €40. You'll have to take the ferry 2 times. Once to go to Cres and once to go to Istria.
Gas: €50. The trip is about 400 km, so that should cover it.
Supermarket: €150. We bought a lot of food to cook and also Croatian wines. The supermarket is rather cheap though in Croatia.
Restaurant: €100. We only went out for food 3 times. We cooked a lot. Because of the Coronavirus, we didn't always want to go out for food.
Various expenses: €60. Parking tickets, tips…
A credit card is accepted in most places, but in some places, you'll have to pay cash. Some examples are apartments and parking tickets. The currency in Croatia is Kuna (kn).
Save for Later