After our visit to the town of Nin and the island of Vir, we planned to go and visit Paklenica National Park in Croatia. This National Park is one of the 8 National Parks of Croatia. Paklenica National Park is located in the north of Dalmatia. Close to the town of Starigrad. 
This National Park actually consists of 2 canyons. The Velika Paklenica gorge and the Mala Paklenica Canyon. The Velika Paklenica Canyon is famous in Europe for being one of the best destinations for climbers.
Apart from the canyons, the national park also has mountains that offer magnificent views over the park and a cave called Manita peć cave, where you can discover all sorts of cave formations. Those mountains are a great destination for hikers.
When to Visit Paklenica National Park
The National Park has 2 official entrances. One entrance at the Velika Paklenica canyon and the other at the Mala Paklenica canyon. The entrance at the Velika Paklenica is the easiest accessible one and it is open year-round. The entrance at Mala Paklenica is only open from the end of April until the end of October.
Velika Paklenica Gorge
You can visit the National Park year-round via the Velika Paklenica gorge entrance. The best time to visit this National Park depends on your wishes. If you would like to visit the Manita peć cave (Paklenica cave), I would recommend going between July and September as the cave is open daily.
Velika Paklenica offers many hiking trails. You can find some proposed hiking trails on the national park website, ranging from a few hours to full-day hikes.
If you want to hike during wintertime or you want to climb on snowy mountains, the park will be open for you.
Mala Paklenica Canyon
If you want to visit the Mala Paklenica gorge, you can only do so in the summer period. The entrance to the Mala Paklenica gorge and hiking trails is only open from the end of April until the end of October. In the Mala Paklenica gorge, climbing is not allowed to protect nature.
This entrance requires you to cross the Mala Paklenica canyon, a much smaller canyon than Velika Paklenica. The trail through the gorge is reserved for experienced hikers only. This part of the national park is considered to be wilderness.
Paklenica National Park Tickets
We paid 50 kn for the 1-day entrance ticket as an adult. I noticed that the prices have gone up. In the year 2020, an adult price costs 60 kn (€8 / $10) now for the high season.
In Paklenica National Park you also have the option to buy a 3- or 5-day ticket. This is particularly useful for climbers who want to spend some time there and take on various climbing routes. You can also get an annual pass for this National Park.
The visit to the cave Manita peć is not included in your entrance ticket. You'll have to buy this ticket separately. This ticket costs 30 kn (€4 / $5) in 2020 for an adult. For the full price list, you can check the official website.
What to do in Paklenica National Park
Paklenica Climbing Routes
Paklenica National Park is one of the top destinations for rock climbers. There are over 500 well-equipped climbing routes available for climbers. These all have different lengths and different difficulties (grade 3 to 8c). So there is bound to be a climbing route for you in Paklenica! As we're not climbers ourselves, we recommend you to visit the national park website for more information.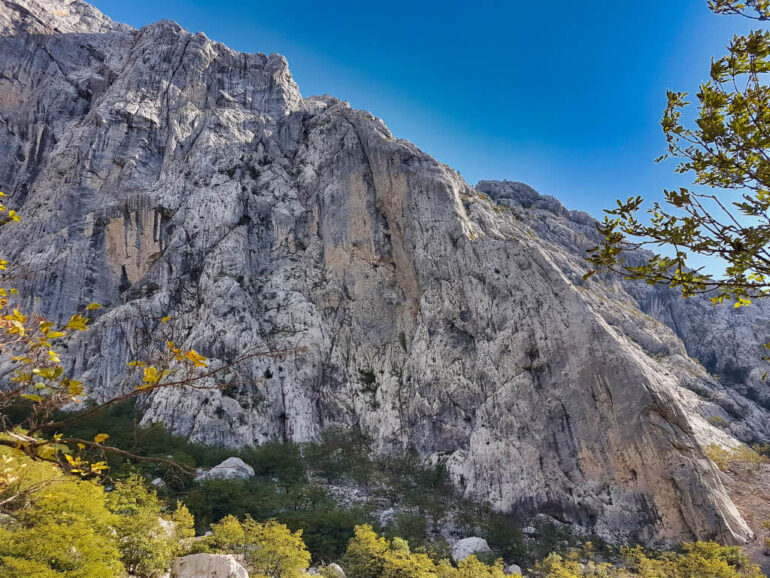 During our visit to the national park, we saw a lot of climbers in Paklenica. It's a really popular destination for climbing. There are maps indicating trail difficulty.
Paklenica National Park Hiking
Hiking around Paklenica National Park is absolutely the best way possible to fully enjoy this park. There are 9 suggested hiking trails that you can choose from. You can find these on the pamphlets you get at the entrance of the park and on the website of the National Park.
The hiking trails are marked and there are quite some signposts where you can check if you're still following the right trail. To be honest, we managed to get lost though, so keep an eye on the markers at all times 🤪.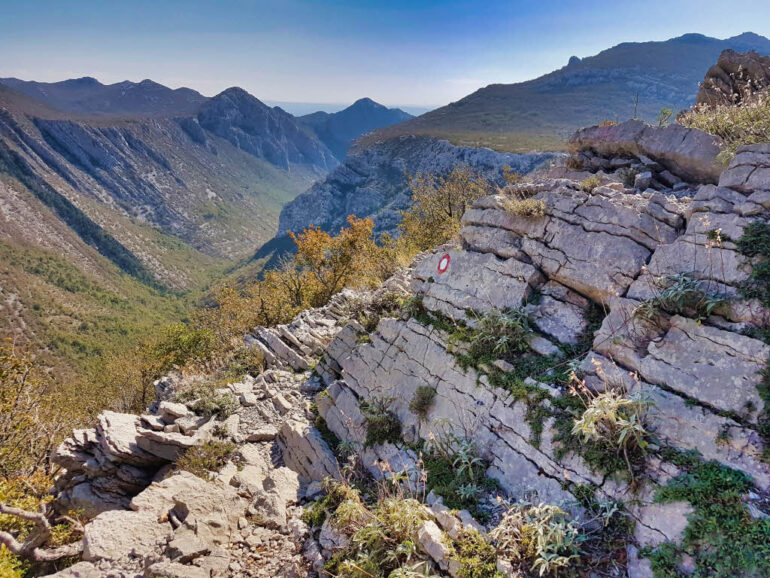 Visit Manita Peć Cave Paklenica
Špilja Manita Pećcave is a very popular tourist attraction in Paklenica National Park. In this cave, you will encounter many cave formations and underground fauna. The cave is only accessible with a guided tour. The tour takes about 30 minutes. To get to the cave, you'll have to walk about an hour and a half. At the entrance, tour guides will be awaiting you. You can buy tickets for Manita pećat the cave entrance.
The cave is only open for a few hours a day, so if you do want to take this tour, you should really plan your day around it. In the high season (July, August, and September) the cave is open every day from 10 AM till 1 PM. During wintertime, the cave is closed because several bats use this cave for hibernation. Please check out the official website for more information and the working hours.
Our Itinerary to Paklenica National Park
Steven and I got up very early for our visit to Paklenica. We were sleeping in the town of Nin, so it was a little over an hour's drive. We planned to get food for our picnic on the way to Paklenica. Unfortunately, in all the towns we have passed, we didn't come across any supermarkets. When we eventually found a local small shop, we thought it was best that we stopped there as we were afraid this would be our last chance to get some food. 
When we walked into the small shop, the shop owner immediately stared at us. I don't think he was used to seeing tourists in his shop. The shop was even smaller than it looked, so we had to search for something we could eat during our picnic at Paklenica National Park. As I've already said, the choice was very limited, so we ended up with nuts and biscuits. Definitely not what we had in mind, but that would do.
We drove on and got to the parking area for Paklenica National Park. We arrived at around 9 AM and were among the first people who arrived there. The park employees told us to park our car near an abyss (and checked our handbrake about a hundred times) and got out of the car. Today was going to be a great active day. I was looking forward to the hike!
Hiking to Paklenica Mountain Hut
We started our trip with a hike to Paklenica Mountain Hut. It is also known as Planinarski Dom Paklenica. You can find this point on the map below. The Mountain Hut is about 480 meters high. So we were going to climb quite a lot.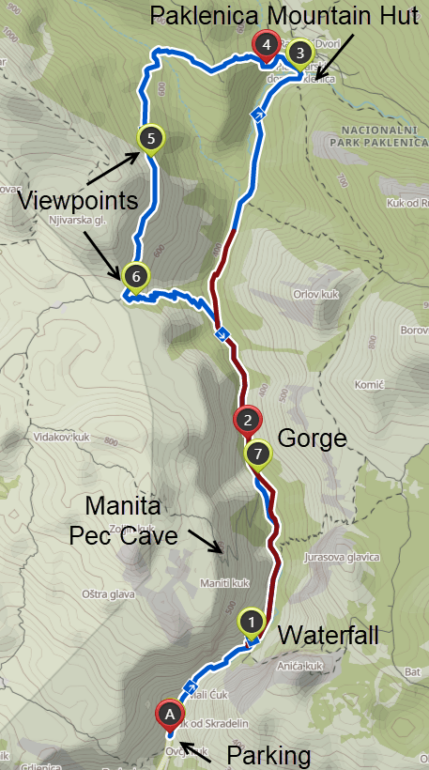 In order to get there, we had to cross the Paklenica Canyon first. The first part of the hike is definitely the one with the most versatile views. You hike up the canyon alongside the river. So waterfalls and pools are definitely something you see a lot. But apart from that, as I already mentioned, Paklenica National Park is a top destination for climbers. So whenever you looked up to the cliffs in the canyon, you could spot climbers giving their best.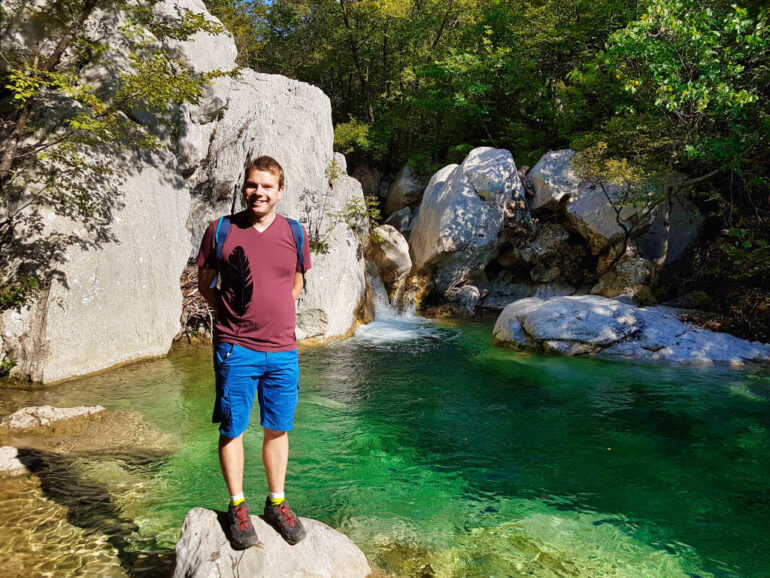 Because you need to climb over rocks and cross the river sometimes, this part of the hike does take quite some time. You don't want to miss out on these spectacular views after all.
After the crossing of the canyon, the climb was getting steeper until we finally reached Paklenica Mountain Hut. We decided to go on and follow the signs to Njive.
Hiking to Njive
We took the hiking trail in the direction of the city of Ninje. We followed the signs and got to a junction where Njive suddenly wasn't included on the road signs… Neither of us could find this junction on the map, so we were a bit confused! Where the heck were we then?

We decided to follow the path to the left and eventually could orientate ourselves again and got back on the hiking trail we intended to follow. So we did take a minor detour, but we were happy to know where we were again. The hike was pretty intense as we had to descend and climb a lot. The views, on the other hand, were spectacular! We thought it was a gorgeous National Park with a lot of variation. I would definitely recommend visiting!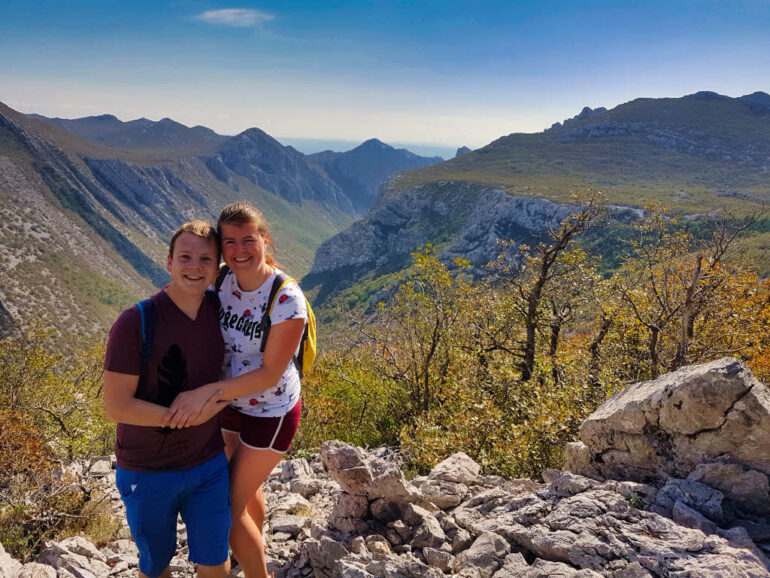 We descended again from the heights in Njive and walked back towards the entrance of the National Park. The descent was quite difficult because there was a lot of gravel on the path and the path was quite steep. Unfortunately, I fell on my bum two times, but luckily without a lot of bruising!
We eventually hiked from 9:30 am to 4:30 PM. Meaning we hiked for 7 hours straight. The total trail we did was 14 km (almost 9 miles), not including the getting lost part. I must say I was rather exhausted when we got back to our car. My muscles were already stiffening up. Of course, the falling didn't really help…Thank God that Steven drove the car. I wasn't up for it.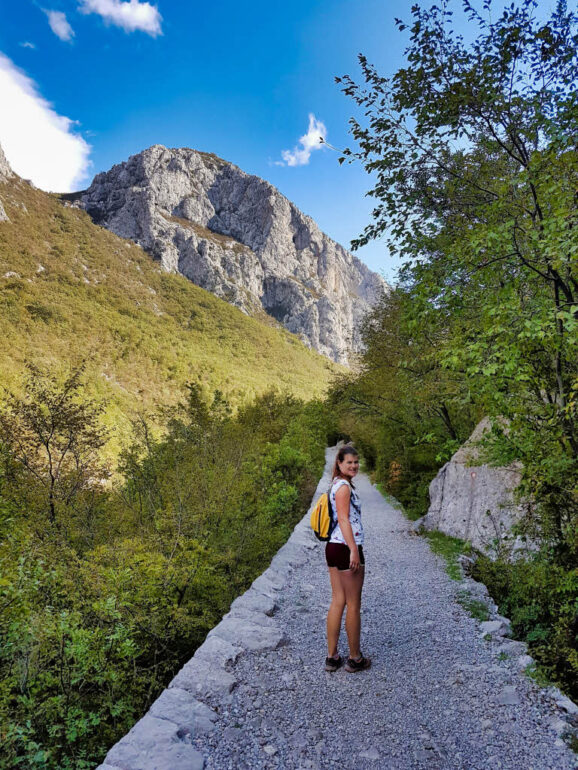 Where to Stay at Paklenica
We stayed really close to Paklenica National Park. We rented a mobile home on the Bluesun Camp Paklenica. Its prices were really affordable. We rented a mobile home for 4 people, so we had more than enough space. We even had 2 separate bathrooms in there! I was really happy with this place. You also have a small patio in front of your mobile home to have dinner outside. It's an ideal place when you want to be close to Paklenica National Park.