After our visit to Austria, up next on our honeymoon in Croatia was a beautiful place called Novi Vinodolski. We started our day bright and early and drove from our hotel in Austria all the way to Novi Vinodolski, where we would go hiking.
Parking in Novi Vinodolski
In this town, the roads are very charming, but can also be quite narrow if you drive a rather large car. We wanted to hike between the two towns Novi Vinodolski and Selce. According to what we found online, hiking between these 2 Adriatic towns would take about 4 hours out-and-back. 

When looking for a parking space, bear in mind that in this town, the parking spaces closest to the beach are not for free. You have to pay for them. We decided to park our car on the street parallel to the street next to the beach. In this street, you could park on the side of the road for free.
Free parking is really what we look for when we want to go for a hike because you never know what amazing things you might encounter that make you want to stay just a bit longer. You just don't want to spend any time worrying about how long your parking ticket is valid. Especially not on your relaxing holidays. 
I still remember that one day that we had to run like madmen to our car because we got lost and the parking ticket was about to expire. That's really something I am hoping no one has to go through. 😉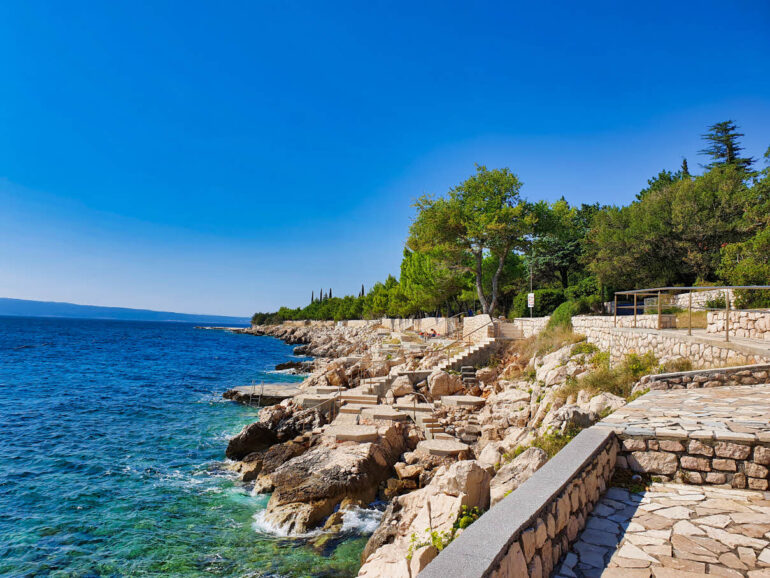 We locked our car, walked about 100 meters to the beach and took in the incredible views. Just look at it! Clear water, sunshine, people swimming, and even rock formations built to form a small private beach. You could tell the town did their best to give you a great vacation feeling. And boy did it work!
Hiking from Novi Vinodolski to Selce
After a couple of pictures and breaths of fresh sea air, we started our hike. The trail always followed the seashore, so we knew we were going to get rewarded with some gorgeous views of the sea. About 1 km away from our starting point, it was noticeably more quiet. It felt like we had trespassed a private property somewhere. It was THAT quiet.
The beaches we came across were very peaceful and the clear blue water was inviting, but we decided to keep on going and only swim when we were closer to Selce.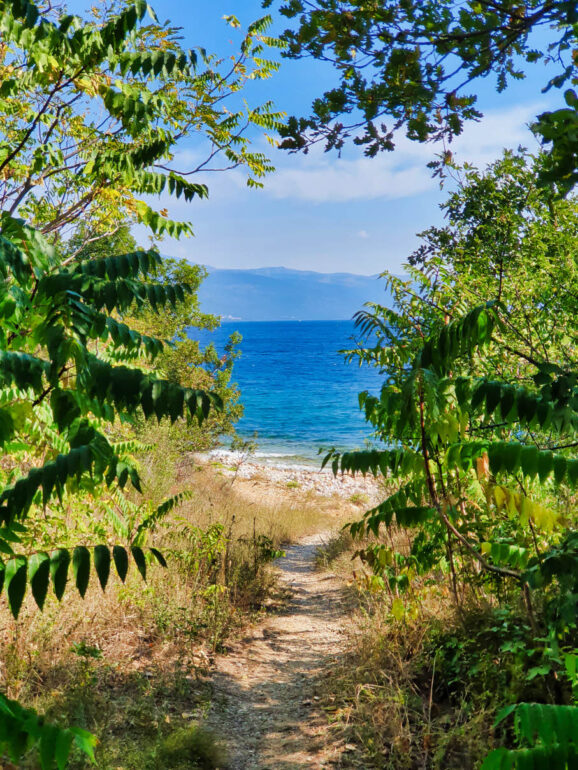 Another 15 minutes later, the path was getting smaller and smaller. Instead of the usual nice open trail, there were a lot of plants and bushes in the middle of the trail. We looked around a few times to see if we might have taken a wrong turn somewhere, but the GR-mark on the trees confirmed that we were indeed on the right track. If I thought the trail was bad in the beginning, I was in for a treat. The green bushes made way for dead prickly plants. So ladies, you know what that means… you're smooth nourished vacation legs are going to get scratched…
I tried to step on every plant I came across just to spare my legs from getting those annoying scratches. Of course, that meant that I was going slower than a turtle… My husband kept staring at me and I could already hear him thinking: this is gonna be a long walk… And let's just say he wasn't wrong! 
Secluded beach along the hiking trail
After another hour of avoiding all of the tree trunks, bugs, and dead plants we got to a trail that was in much better condition. We followed this path for about 200 meters and then we saw the most perfect beach you could imagine. I turned from a grumpy slow lady to a happy ready-to-swim beach girl in less than two seconds. 
The beach was absolutely perfect. Some shade to put our backpacks, a nice sun, easy access to the water, and we had that whole beach just for us!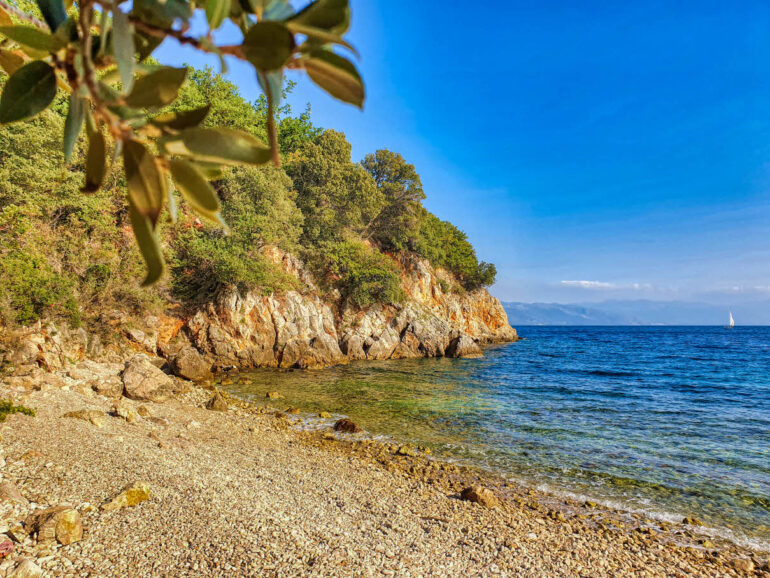 Swimming in the Adriatic Sea
After taking a few pictures of the secluded beach, we went for a swim! The water wasn't cold at all. Those are the perks of having your vacation in September. The seawater heated up nicely during the summer period!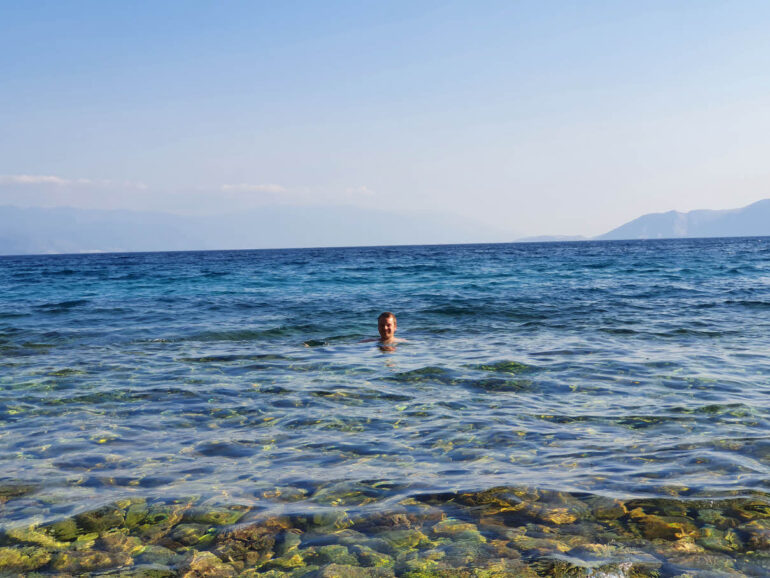 Now one thing I already have to confess to you guys… I always take my swimming shoes with me, because I just don't like the thought of fish eating my toes…
Even when it's just a sandy beach, I still prefer them on rather than off. My husband however, is the exact opposite of me. He always says that it doesn't feel right swimming with water shoes on. His feet want to feel free and not trapped in a shoe. I'm pretty sure you're thinking the same thing as me: if that's the only freedom he wants when he's married, I'll sign for that in a heartbeat!

Because it was our first day in Croatia, we didn't really know the swimming shoes were actually really necessary. We didn't see any sea urchins on this beach. That made it even more sublime. We did find a sea urchin on the beach of Oprna Bay.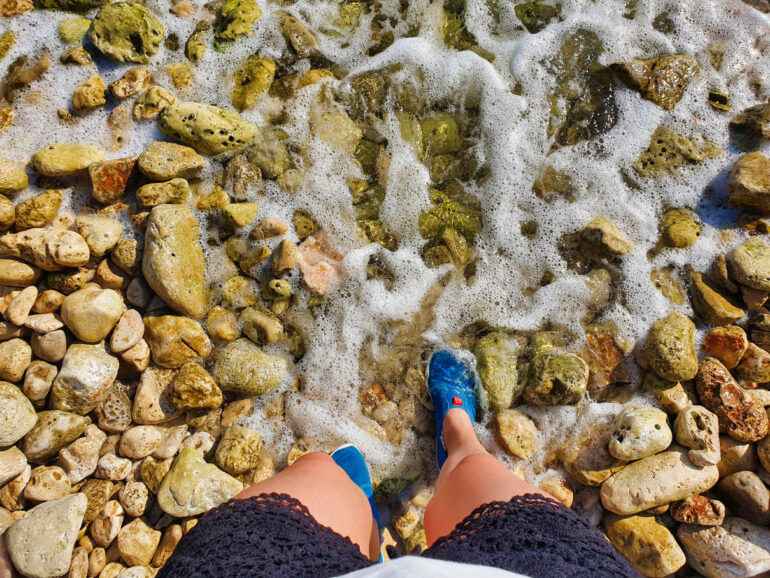 After the refreshing swim, we decided to go back and not go all the way to Selce as we had planned. We had already spent a lot of time on the difficult path and had been swimming for over an hour. What can I say, we love swimming! We took the same route to go back to our car and I must say, I was quite relieved I got through the day with only a few shallow cuts on my legs.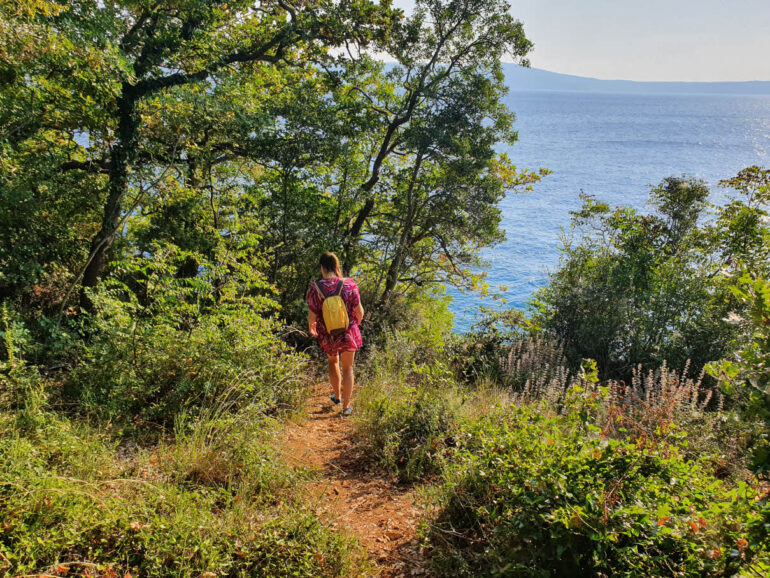 Driving to Krk island
After our walk, we drove to the Island Krk where we're going to spend the next 3 days visiting the beautiful beaches of Krk. We took road 102 to the Krk Bridge (Krčki most). This bridge connects the island Krk to the Croatian mainland, so you do not need to take a ferry to Krk.
Before the early summer of 2020, you had to pay a toll when you wanted to cross the bridge and visit Krk. The Croatian government decided to abolish that toll to try to get people from other counties to take a trip to the island. And our wallet was very happy with that decision!
On Krk, we stayed in an Airbnb in the city Punat, close to the city Krk. We got ourselves settled in and went to the grocery store to stock up on food and drinks for the coming days. After that, we went for an evening walk and made dinner. We had a glass of Croatian wine and went to bed.
Read about the next day of our honeymoon in our post about Baška Beach on the island of Krk.