After our hiking trip in Novi Vinodolski, we had a good night's sleep dreaming about our next day. Rested and ready for our next adventure, we headed out to go and visit the town Baška on the island Krk. We intended to do a hiking trail that led from Baška Beach to Uvala Vela Draga, a beach located on the other side of the mountains.
Parking at Baška Beach
When we arrived in Baška, we immediately saw that there were a lot of paid parkings around. That's how you could tell that Baška was pretty popular with tourists. As it was still early in the morning, the parkings weren't busy yet, so we took our chances and drove directly to the beach to find a parking spot. We could park our car right next to the beach! For this parking spot you had to pay, but considering almost the entire town had paid parking, we decided to go for the convenient spot next to the beach.
Steven parked our car and said he would get us a parking ticket. Very soon after he left, he yelled that he would go to an ATM first because you could only pay cash at the ticket machine.
On most of our trips, we try to exchange some money in Belgium, but because of the Coronavirus and the last-minute change of plans for our honeymoon, we were out of time to exchange cash upfront. We decided to try our luck and try to do everything with our cards. But on day 2 in Croatia, we were already in a pickle…
Luckily there was an ATM right next to the beach, but the machine only gave him big bills. Tough luck! So Steven went to a local café to get the money changed in smaller notes.
After this little adventure, we packed our bags and headed off to the starting point of our hike. We found online that the hike should take about 4 hours and was 14 km long. What's also important to mention here is the difference in height. On this walk, we would start at sea level, but the highest point on this hike would be about 300m high.
Starting our Hike from Baška
We crossed Vela Plaža Baška Beach and it looked like a really beautiful place to spend a sunny afternoon. Baška beach is, in our opinion, one of the best beaches in Krk.
There were chairs and beach umbrellas to make it feel even more like paradise. Of course, if you wanted a chair or a beach umbrella, you had to rent them. The renting of beach equipment is pretty popular in Croatia. Apart from the areas with umbrellas, there is also a lot of beach where you can just get settled on your beach blanket.
We never rent these things because I have one of those husbands who gets tired of the beach after five minutes. You probably think I'm exaggerating, but dear readers, I am really not. Sometimes we arrive at a beach. I take out my towel and sit down. I look at the sea and I think: wow how peaceful. And then there's Steven already asking if I wanna go swim because it's too hot on the beach… So he makes sure I stay fit and don't get sunburned ;).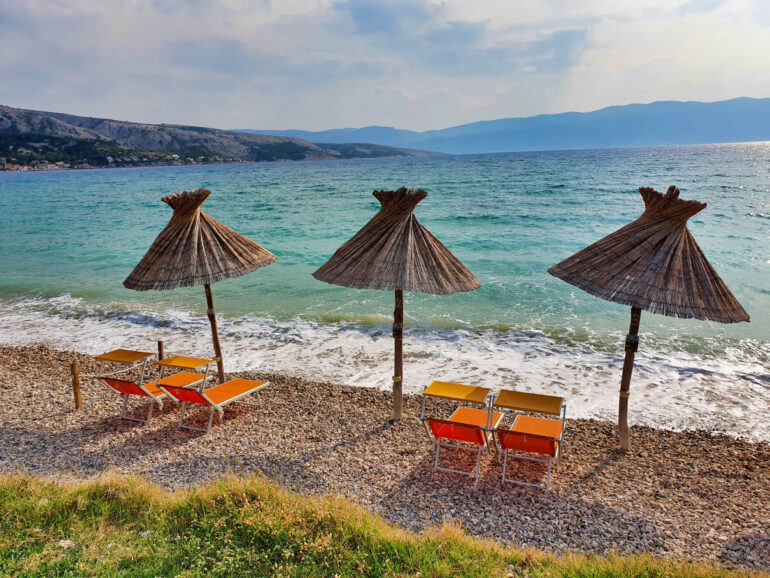 The trail immediately led us towards a hill. Baška Beach was getting smaller every time we looked back. The path got steeper and we noticed that the sun was shining on our faces. It was getting really hot, especially because on this side of the hill there wasn't a breath of wind. The hike itself wasn't for those who have a fear of heights because you do need to be comfortable walking next to a cliff.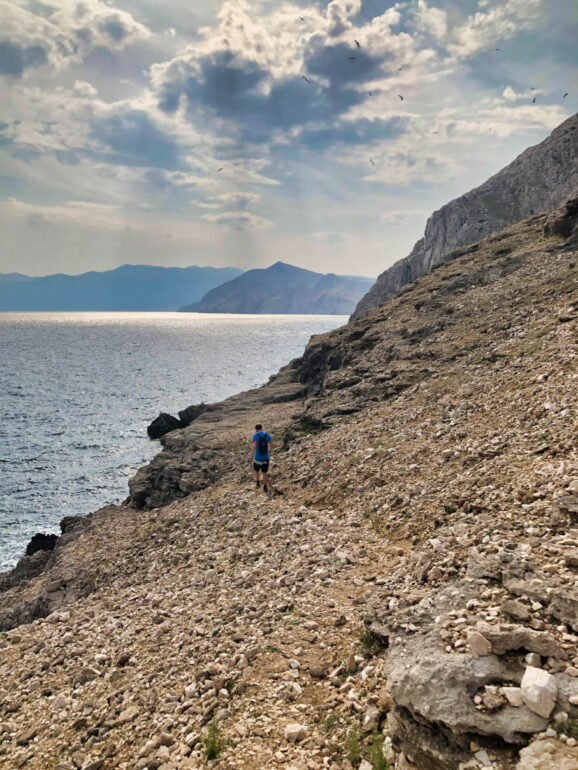 Škrinjica Beach
There were many different paths you could take on that hill. We decided to take the trail closest to the cliffs because we wanted to find a beach called Škrinjica Beach. We found online that it was a little beach that was very hard to spot from the hiking trail. Of course, we were intrigued by that!
When we got closer to the supposed location of the beach, we noticed that the only way we would be able to see anything was by climbing the cliffs. We did climb some of these cliffs, but we decided to return to our main route after some climbing to prevent someone from losing their balance and slipping. Better safe than sorry!
Checking again in the evening, we learned Škrinjica Beach is only reachable by boat, so we were right to return as we'd never been able to get on the beach! But the walk to the cliffs and the views from there were lovely. So still, time well spent :).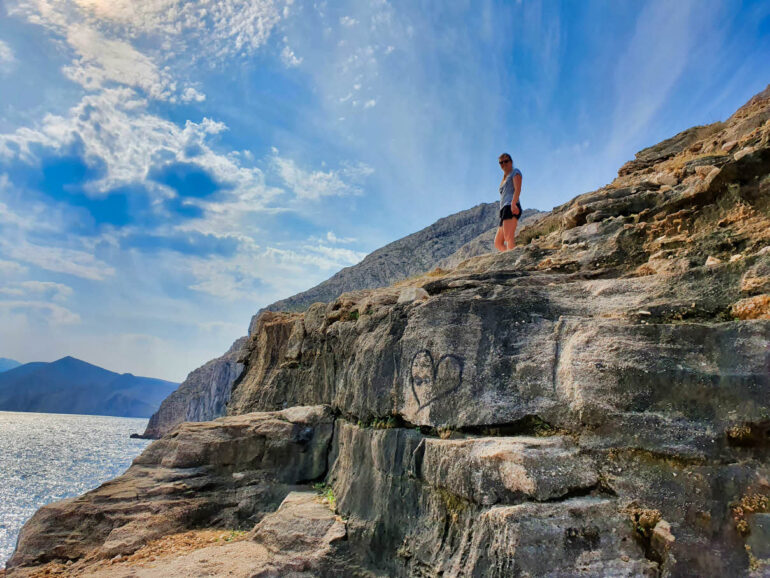 When back on the trail, we continued our hike to Vela Draga. The view from the trail was very panoramic. As far as the eye could see there were islands surrounded by a blue sea. The hike itself was getting pretty tiresome as we climbed uphill the entire time. Luckily as we got higher up, there was more wind, cooling us down from the hot summer sunshine.
Panoramic view from Bag
After we had been hiking for about an hour, we arrived at a beautiful panoramic view on top of a mountain, called Bag. From here we could see the nearby island Otok Prvić and the Velebit mountains on the mainland.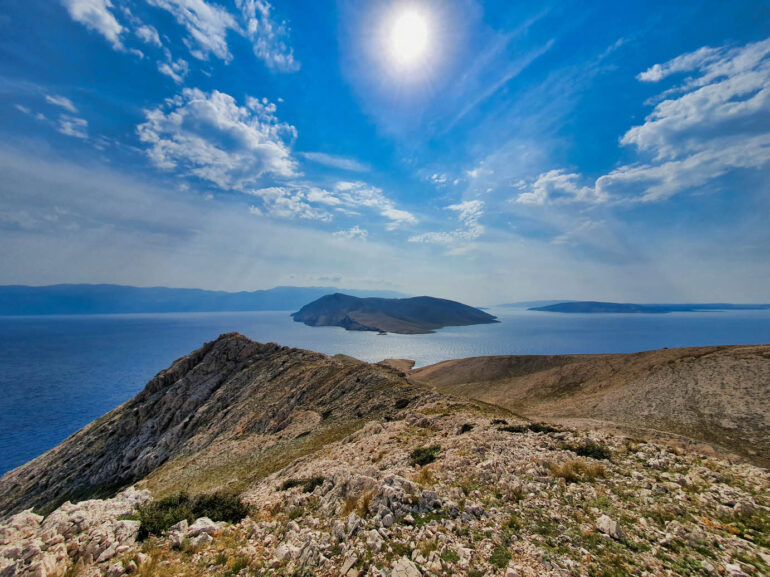 When we got to this panoramic view, we had already been sweating like crazy. Climbing in the sun was really exhausting and on a large part of the side where we had been walking, there was absolutely no wind. So we were stopping a lot to rest and tried to hydrate as much as possible.
On the signs, we could see that it was still 3 km to get to Uvala Vela Draga. We had walked about 3.5 km and we were -quite frankly- already beat! The sun really made it difficult to hike at a fast speed so we decided to skip Uvala Draga beach and go back to Baška via another route.
This alternative route also brought us to the highest point of the walk: Ljubimer. On the highest point, we were rewarded with another beautiful view on both sides of the mountain and with the beautiful colors of Baska beach. We stopped here to eat some snacks, which gave us enough energy to start the descent.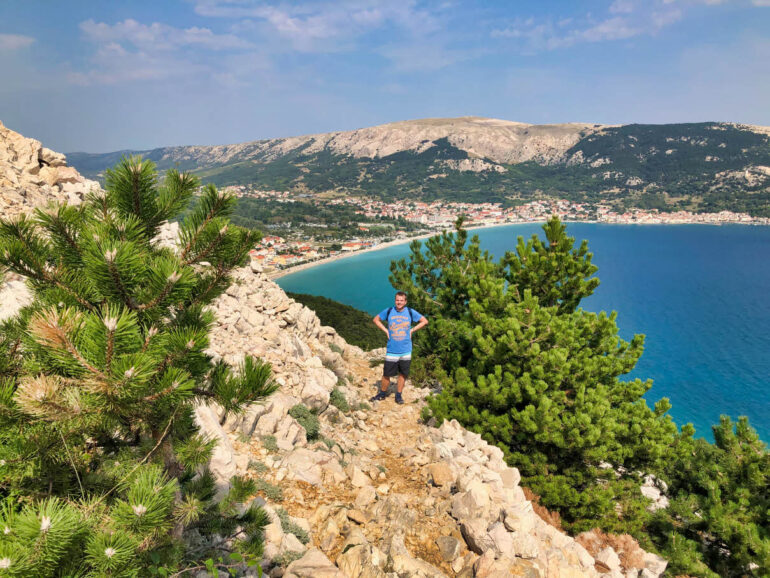 Proper hiking shoes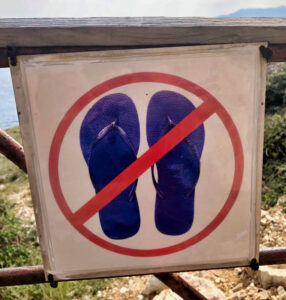 As you can see in the picture below, I am wearing Nike shoes. Let me just say that that wasn't my brightest idea. I thought walking shoes weren't necessary, but on my way down, I knew I was wrong. Steven and I slipped a few times on the loose rocks, but luckily we didn't fall. We just looked a little goofy and scared when there were loose rocks on the trail because we knew that meant trouble.
That brings me to my most important tip for this hike: when doubting, go with the hiking shoes. Even when you thought you were certain "regular" shoes would suffice! Just go for the hiking shoes anyway! On the trail, we even saw a sign that said "no slippers allowed" in the area, and let's just say we know why!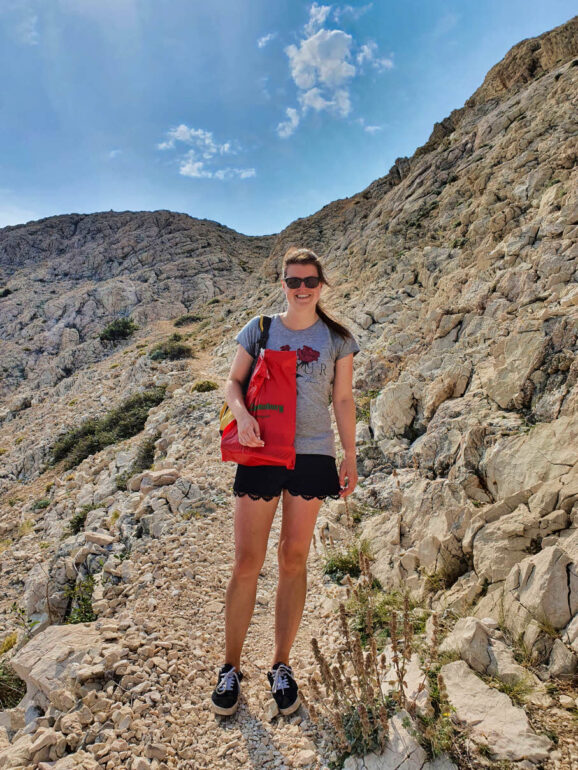 Secluded beach close to Baška Beach
After the descent, we noticed a small secluded beach a little more downhill. We saw a trail that led to the beach, so we decided to go there for a swim. The small beach wasn't easy to reach and this patch was also a bit slippery. Because of the more difficult access, we were the only ones on the beach.
We looked for the best bench-looking rocks we could find and sat down a little. The view was amazing and the sound of the waves lapping on the rocks on the beach was the ultimate vacation sound to me. When we were completely zen again, we decided to go for a swim.
The water wasn't cold at all, but you could see a lot of sea urchins in there. I really had to watch my step even though I was wearing water shoes. It still didn't feel very comfortable to me. The tricky part of this beach wasn't only the sea urchins, it was also the strong current. The waves would push you towards some big underwater rocks, making it hard to navigate in the water. So we decided to pack our bags and go for another swim when we arrived at our starting point of the hike: Vela Plaža Baška or in short Baška Beach.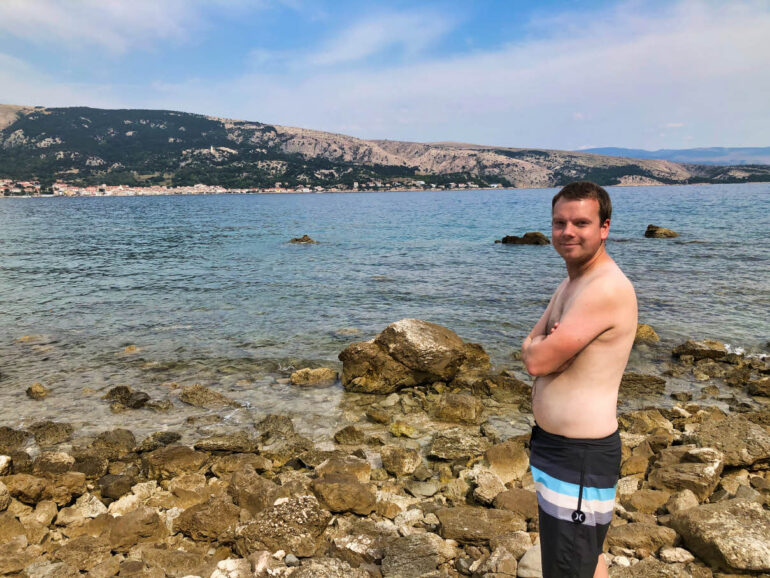 Arrived back at Baška Beach
Arriving at our car, we dropped off our gear in the trunk and went for another swim. The beach had filled up quite nicely with other vacationers. This time we were pleasantly surprised to find out that Baška Beach was a sandy beach when you were in the water. Meaning bye-bye sea urchins and hello beautiful fishies.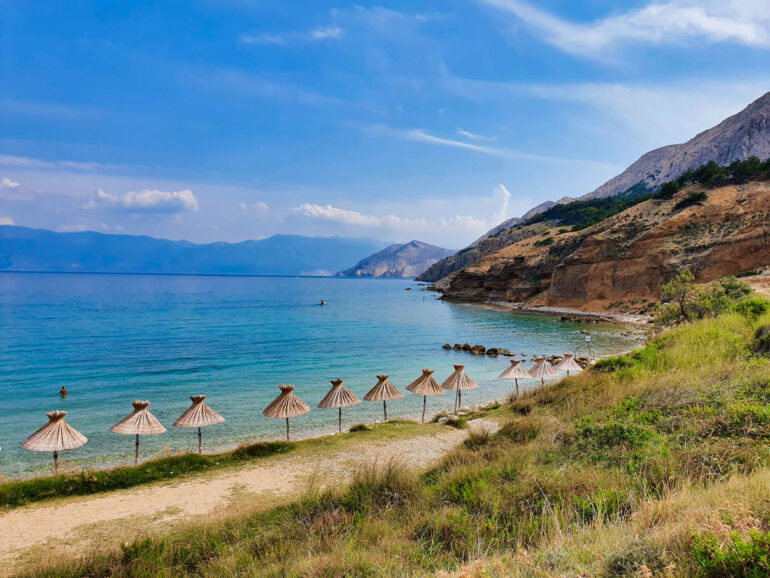 After this refreshing stop, we went back to our apartment to get ourselves some lunch. In the afternoon we visited Punat Beach. This beach was very close to our apartment, so it was a perfect afternoon activity!
Baška Hiking Map
On the map below you can see the hiking trail of the tour we did. The total walking distance is 5.4 km (3.4 miles) and the total hiking time, without stops, is about 2 hours.