Krk Island in Croatia has a lot of beaches. Some are close to towns, but many are more secluded. Many of those secluded beaches are very beautiful and are a good alternative to the developed beaches close to the towns. In this post, we want to introduce you to, what we consider to be, the best beaches 🏖️ on Krk island.
Feeling inspired? Find out more about Croatia in our Croatia travel guide. Here you'll find more information about the other beaches in Croatia, itineraries and a list of other places to visit.
Oprna Bay / Oprna Beach
Oprna Bay Beach is located close to the town of Stara Baška. It's our favorite beach on the island Krk. Next to Oprna Bay, there are some other beaches that are also very beautiful to visit. Check out our guide to Oprna Bay for more information.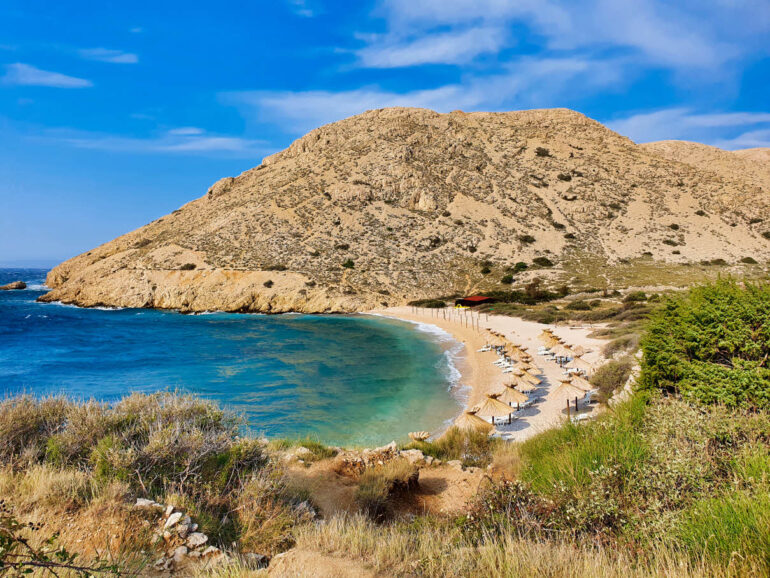 You can reach the beach by boat or by car. When you arrive by car, you have to park by the side of the road (free parking) and descend to the beach on foot. The walk to the beach takes about 10 minutes.
It can sometimes be a little bit tricky to pass other cars on the road to Oprna beach Krk, as everyone is parked next to the road and the road is quite narrow.
Vela Plaža Baška Beach
Vela plaža Baška is a very long beach in the town Baška, located on the south-east of the island Krk. Baska beach is a pebble beach and in the sea it's sandy, so no worries about rocks and sea urchins here. When visiting Baška and Krk, this is a beach to add to your to-do list.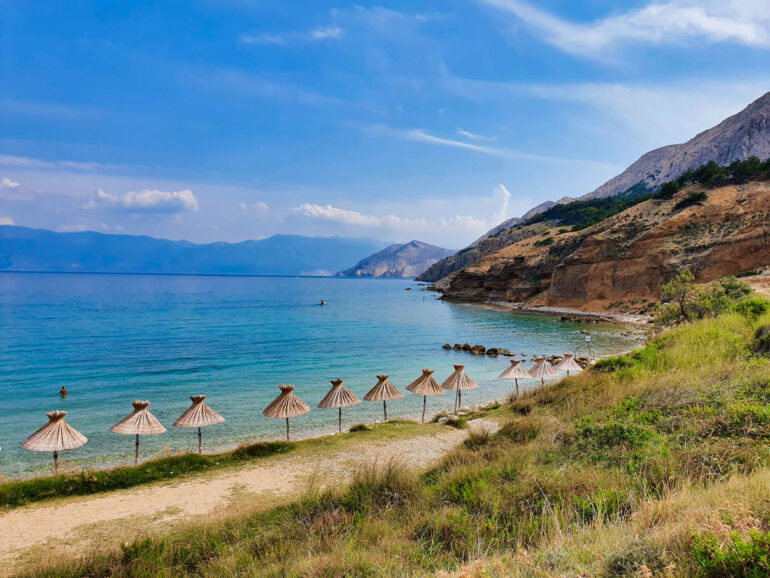 As Baska beach is located in the town center, it can be quite crowded on the beach. The benefit is that you'll have a lot of restaurants, pubs and other stuff nearby though. If you feel like being somewhere quieter, you can wander a bit further and find a more secluded place to swim in the Adriatic sea. Check out our article on hiking and swimming at Baška beach for more information.
Spiaggia Sv. Marak / Sv. Marak Beach
Sv. Marak Beach is one of the few sandy beaches on the island of Krk. The beach is located close to the town of Risika. There is a bar close to the beach and there is easy access to a parking lot. The beach can be quite crowded in the summer months (July and August).
We put this beach on our list of places to visit when we traveled to Croatia, but we didn't manage to tick this one off our list. So this is still on our Croatia bucket list. Maybe next year 😉. You can find the beach on Google Maps.
Magneli Beach
Magneli Beach consists of 2 beaches, located close to the town Brzac. The first beach, Plaža Makneli, is the easiest to access. The beach can be reached by parking close to Brzac and then hike down a gravel road to the beach.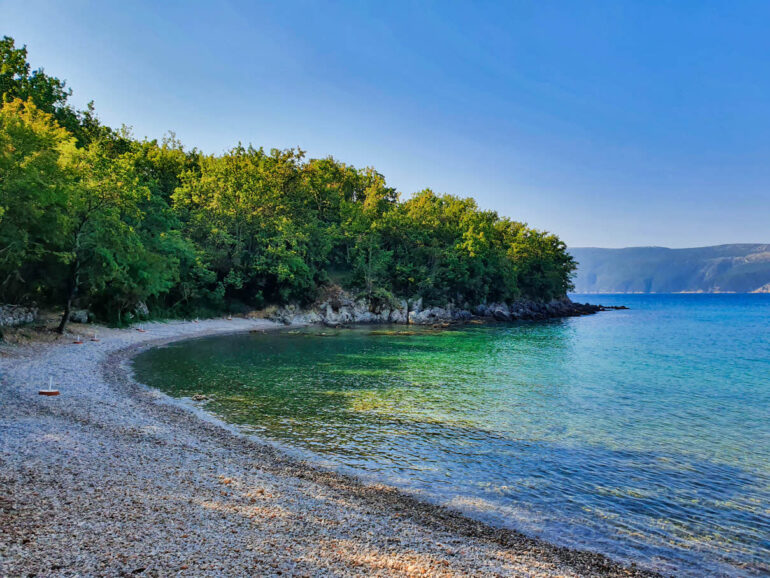 The second beach, Magneli II wild Beach, is a bit more difficult to access. You'll have to cross the first beach, hike up the rocks and follow a narrow path for about 10 minutes until you reach Magneli Beach 2. Check the full article of our visit to Magneli Beach for more detailed information.
Vela Luka Bay Krk
Vela Luka Bay is located close to Baška. This very long bay, more than 1 km, is all covered with beaches. It's a wonderful place to visit but the beach isn't easily accessible.
Vela Luka beach can be reached on foot or by boat. When going there on foot, it's about 8 km from Baška. The hike is up-and downhills, so it will take about 2 hours one way. Because it can get quite hot in Croatia in summer, this is quite a heavy trip. When we visited Croatia, we skipped the planned visit to this beach because it was too warm when we were on the island Krk.
Punat Beaches Krk
Punat beach and Medane beach are close to the town of Punat. Closest to the town the beach is developed, with all the facilities you'll need. There are a lot of beach bars and some places to get some food as well.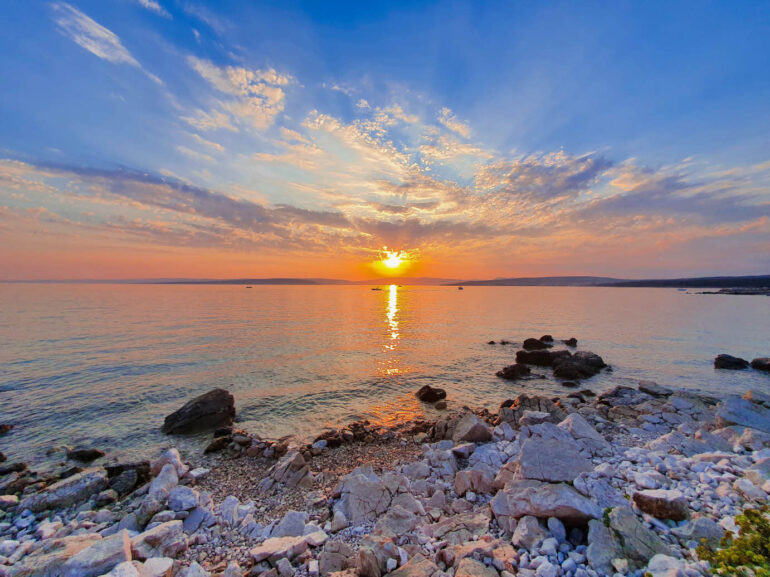 But our favorite part of Punat beach is when you follow the shore in the direction of Konobe naturist camp. Along the shore, there are many smaller beaches where you can enjoy the Adriatic sea more privately and go for a quiet swim with a lovely view. Check out our article on Punat Beach for more information and for a map.
FKK Beaches Krk
On the island Krk there are also quite a few nudist beaches (FKK beaches). We didn't visit any of those, but for those interested, we listed them below. We also added them to our map, to give you a quick overview.
There is one close to Punat, called Konobe beach & nudist camp. Close to Oprna Bay, there are two nudist beaches: FKK Beach Oprna Bay and a nudist beach at Camping Škrila. Then, north of Baška is Plaža Bunculuka and Plaża Jablanova Baska FKK. Close to Krk town you have FKK Plaza Krk. And a last one, close to Njivice.
Krk Beaches Map
As everywhere in Croatia, on Krk island, there are lots of beaches. In total there are over 60 beaches on the island Krk. To help you find all of those beaches, we created a map and added the beaches that we know off to the map. You can find the map below.