Punat beach is located in the small town of Punat. During our travel to Croatia, we were staying in Punat. That meant that Punat beach was really close by and we could even walk to the beach. That's the reason why it was a perfect afternoon activity. Both after our hiking tour at Baška Beach and our hike around Oprna Bay, we went to Punat Beach to close out our day.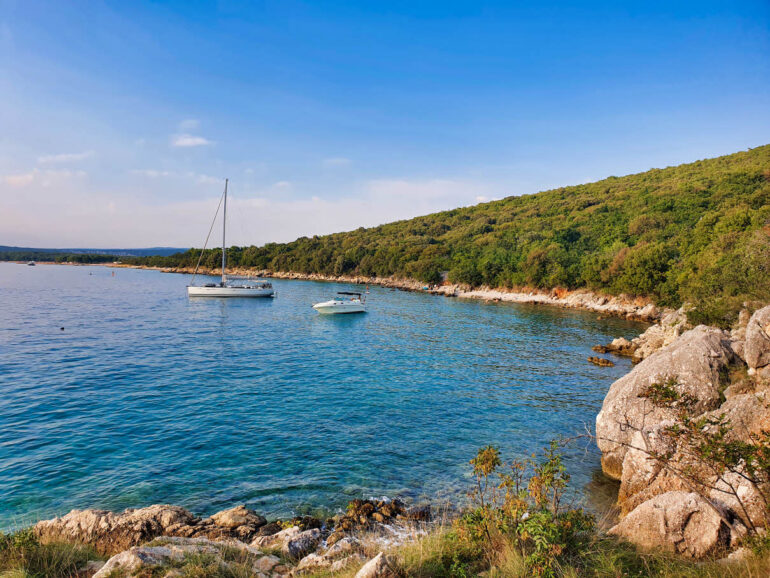 Parking at Punat Beach
Punat isn't that big of a town, but you could tell by the number of parkings and beach bars, that they attracted quite some tourists. Most of the parkings near the beach were paid parkings, but there was also one big free parking area at Medana Beach.
To get to Punat Beach, you should follow the street Starobašćanska from the main road to the beach (Google Maps). At the beach, you just need to take a left when you get to the main beach parking lot. Take the dirt road through the paid parking, and after less than a minute you arrive at Medane Beach.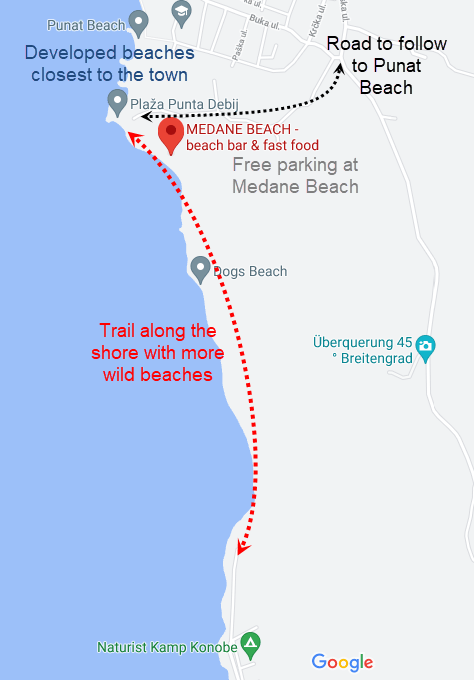 You could see that the parking signs were adjusted according to the time of the year. There were just sheets of paper taped over the signs to tell you how much the parking cost. In September the big parking in the back was for free, but unfortunately, we do not know if that's the case the whole year-round.
Our First Afternoon at Punat Beach
Punat Beach was a very well organized beach. You could rent beach umbrellas and deck chairs if you wanted to. You could also walk past this organized beach and then you would come across a lot of small rocky beaches where you could easily access the water.
Because we went to Punat Beach in the afternoon, it was already getting a little colder outside. That was ideal for us to walk around because we tend to get overheated quite fast in the blazing sun.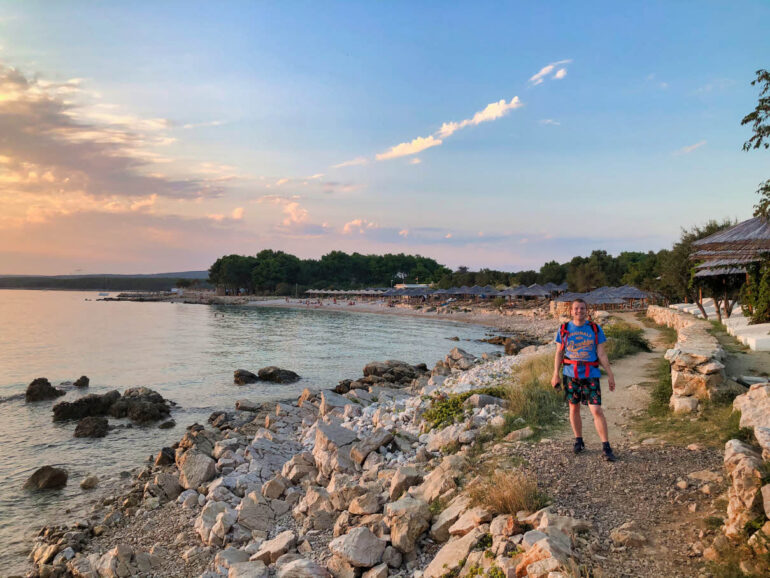 There was a clear distinction between the man-made beach and the all-natural beach. Now you could take this "all-natural beach" quite literally as well. When we had passed the beach with the deckchairs and walked on, we could immediately spot a lot of naked people on the small beaches. We were a bit surprised at first, but it is actually really common in Croatia. Croatia is a very popular destination for naturists.
Naturism in Krk
We also learned that if there is "FKK" written on the rocks, you're going to see a lot more than just the sea… FKK stands for "Freikörperkultur" and that is the German word for "Free Body Culture". In short, this means that it's a nudist beach. Nudism in Croatia isn't limited to the FKK beaches, also on other more secluded beaches, it's common to see nude sunbathers.
Now of course we respect everyone's choices, but we're not used to this sight. So we just walked on until we found a more quiet space. We followed the beach trail until we couldn't go any further. When we saw what was blocking our passage, we knew why we had seen so many nude people. At the end of the path was a nudist camp called Naturist Camp Konobe.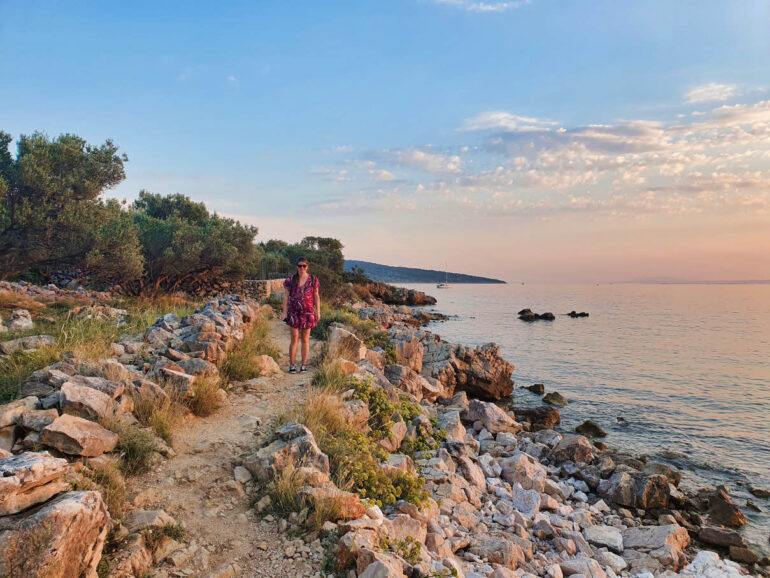 We turned around and chose to go to one of the secluded beaches we had already passed by. Because it was getting rather late, a lot of people had already left.
Swimming at Secluded Beach
We chose to go to a beach where the sun was still shining. Otherwise, it would have been too cold when we came out of the water.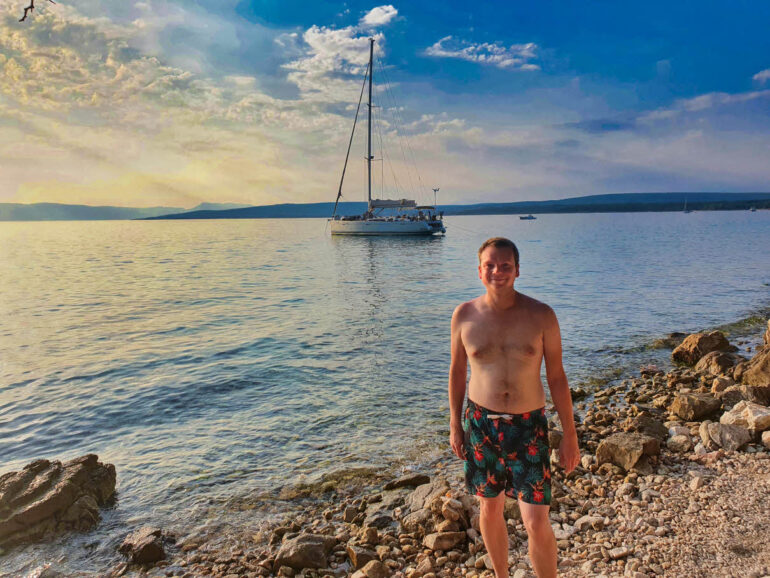 We enjoyed the swim, but more importantly, we took in the view. The sun that was slowly going under… And in front of that, a boat that was drifting on the quiet sea… It was a gorgeous sight!
When we got out of the water, we sat down on the beach wrapped in our towels. Steven and I were just mentioning the Nudist camp again when a paddle boarder came onto the horizon… You probably already guessed it… he was also naked! But it appeared that I was the only one feeling a little awkward because he had been paddling around the coastline.

When we were a little dried up, we decided to go back to our apartment. It was already getting late and we were starting to get hungry. When we got back, we made dinner and had some Croatian wine and talked about all sorts of things. We also discussed our plans for the next day. We decided that we would go and check out another beach called Oprna Bay. It had been another great day in Croatia.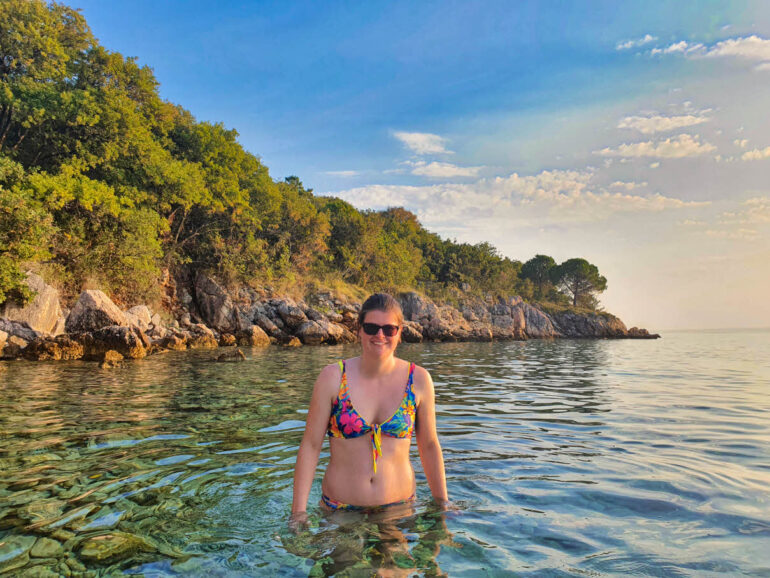 Our Second Afternoon in Punat
The next day, after our visit to Oprna Bay, we decided to go to Punat Beach again. It was a really nice place to swim and it was also really close by for us, so it was very convenient. It had been very windy that day and we thought that maybe the sea was calmer at Punat Beach than it was at Oprna Bay. The reason we thought this was because Punat is located on an inlet of the island Krk.

We already knew where we could find the good places, so we went to a quiet small beach. If you're looking for a good location to go for a swim or to get some tan, we recommend finding a beach somewhere between Dogs Beach and Naturist Camp Konobe. Those are the best spots in our opinion as the sea is calm there and it's not packed with tourists.

The sea was still pretty wild that afternoon, but as we had hoped, it was indeed much calmer than Oprna Bay. The waves were a bit higher than usual and when you treaded water, the current would make sure you ended up a couple of meters behind your starting point. We stayed on that beach for about an hour or two and swam most of the time.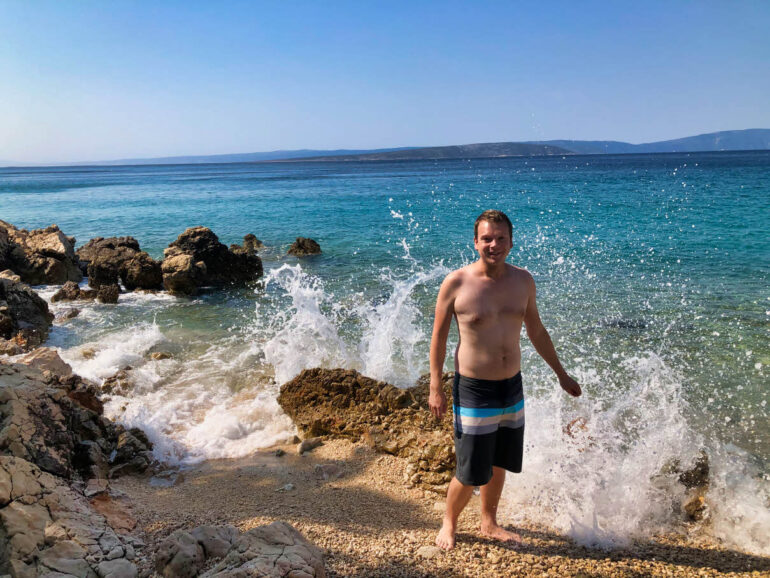 We didn't stay too long at the beach because we had this great idea to come back to Punat Beach in the evening to watch the sunset. This looked like an ideal place to do that as it was so close to our home.
Sunset at Punat Beach
So we returned to our apartment and made ourselves something to eat. We were drinking a glass of wine and thought to ourselves: why not drink some wine with that sunset! And that's exactly what we did. We took some wine with us and went back to that beach. We found some good solid rocks to sit on and enjoyed the spectacle.
This really was one of the greatest moments of our honeymoon. Just us, treasuring Mother Nature's wonders. And you should always add wine to that 😉.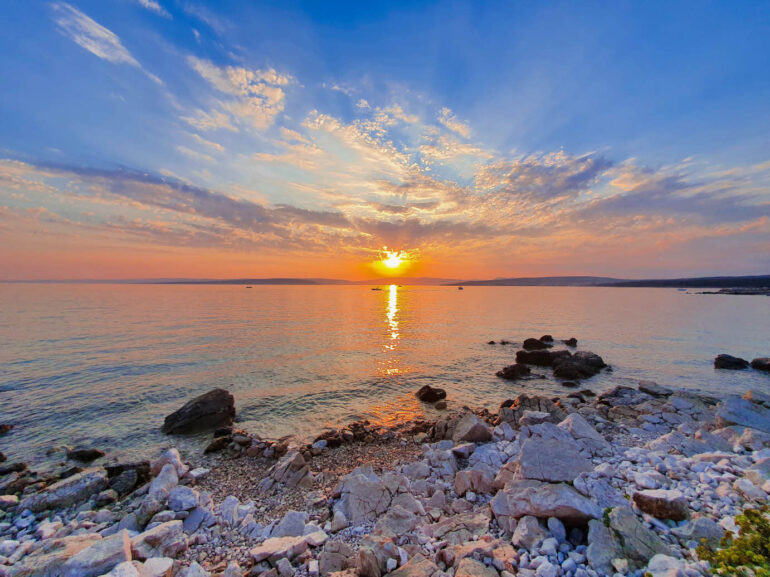 We stayed until the sun disappeared into the sea, so it was dusky when we packed our bags and decided to go home. We had to walk about 20 minutes to get to our apartment. That meant that when we got back to our apartment it was already pitch-black. I am always a little worried about walking in the dark, but luckily I wasn't alone. That's one of the perks of being married: there's always someone who's going to protect you. It had been a fantastic day, with a fantastic guy 🥰.
Krk Beaches
Punat is just one of the many beautiful beaches of the island Krk. If you want to discover our favorite beaches of the island, check out our article on the best beaches of Krk island.