Bol has been on our bucket list for quite a long time. It's the oldest town on the coast of the island Brač. But what really got us there are the many magnificent beaches. Of course with Zlatni Rat being the most famous one. We would search the highlights of Croatia and Zlatni Rat would always be at the top of the beaches of Croatia. But not only the beach-lovers are rewarded in Bol, hikers will love the climbing of the Vidova Gora.
The Town of Bol
Bol is a historic town in the south of Brač. The town is a popular destination for the summer because of the beaches. There is a promenade next to the sea where you can find small beaches and also the big, famous, Zlatni Rat beach.
In the old town, you have a lot of choices for drinks and dinner. There are a few wineries in the town, where you can try Croatian wine. If you are hungry you'll find a lot of places to eat pizza and seafood.
During our visit to Bol we noticed that because it is such an old city, some roads are a bit narrow to drive through. When we were driving to our apartment we had rented in Bol, we were very happy we rented a small car. We had a parking garage under the apartment, but it wasn't that big.
Zlatni Rat Beach
During our road trip in Croatia, we took the morning ferry from Split to Brač. When we arrived on the island, we had breakfast on the beach Lovrečina Bay and then went onwards to Bol. In Bol, we did the hike to the top of the mountain Vidova Gora.
After hiking the Vidova Gora, we went to take a look at the most famous beach in Croatia. It is one of the most popular beaches in the world because of its shape. The beach is a 500 meters long tongue and it's covered with pebbles. Because these are fine pebbles, the beach constantly changes shape by the wind, the waves, and the sea current. That's one of the things that makes this beach a really interesting place. The sea around the beach is clear and had that amazing blue-turquoise color.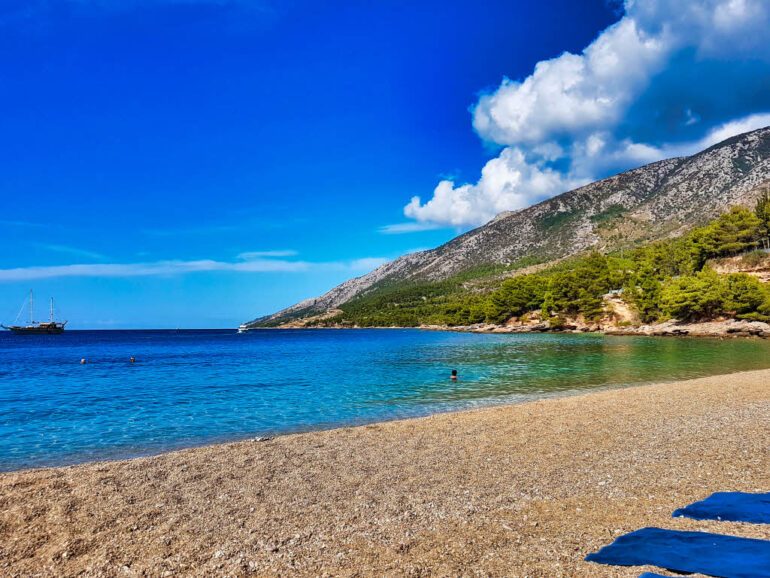 We arrived a little too late to go for a swim, so we just wandered around the beach. We were too curious to wait until tomorrow. The beach really is an incredible place. Also, the hike towards the beach was very convenient. This beach is of course a lot busier than the other beaches, so the town has made sure that the coastal path is easy to walk on. You got to walk on a concrete trail the entire time.
After our quick visit to the beach, we went for dinner. It was pizza time! There was a great pizza place near our apartment, so we could walk there. That of course meant that we could enjoy some local wines with our pizza!
Swimming at Zlatni Rat
The next day we first went to the store to get some breakfast to start our day energized. We had breakfast on our terrace and were excited to go to Zlatni Rat today. This time we would definitely swim! 🏊‍♀️
We packed our swimming gear and walked to Zlatni Rat. When we got there, there already were a lot of people. Steven wanted to find a spot with a little bit of shade, so we sat down near the trees located at the beginning of the beach. We put on our sunscreen and went in for a swim! The water was clear, so you could see where you were going.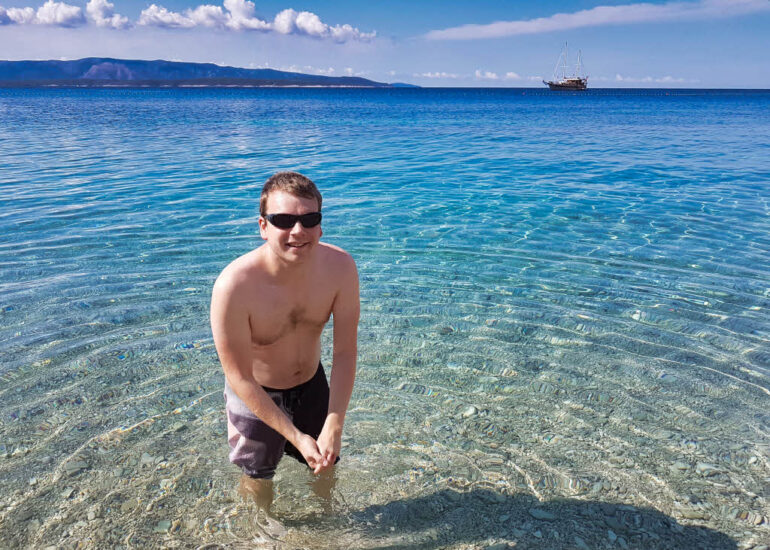 There were a lot of boats nearby the beach and the people on the boats were swimming as well. It was a warm day, but the water was a little cold. If you weren't swimming, you would get cold rather quickly. Steven took that as a hint and he swam away towards the boats. Now whenever I know that we're going to have a beach day, I take out my contact lenses. So that meant I had to follow Steven closely or I would have lost him. Hmmm, maybe that was his point? 😯 I'm gonna go ask him right now! 😉
After our swim, we sat on the beach for a little while to enjoy the surroundings. We decided to go for a walk when we had seen Zlatni Rat's beauty. Staying active is something we really try to do during our vacation. We walked away from Zlatni Rat and towards the Dominican Monastery. On the way, we came across a lot of smaller beaches that also looked like great places to swim.
Graffiti at Cresent Beach – Beach Bijela Kuća
But when we were almost at the Monastery, we were walking through what looked like a ghost town. Close to Cresent beach, the small group of houses we ran into, were all covered with graffiti and the buildings looked abandoned. I must say some of the drawings looked really good! We saw a sign saying it used to be the hotel Bijela Kuća. It was a strange combination between amazing graffiti and a spooky hotel.
It's always a little weird when you see a hotel in decay. Especially when it's so close to the very touristic town Bol. I can't imagine that the hotel wouldn't have good business. When looking further on the internet, apparently the graffiti is painted on the deserted hotel buildings during a yearly graffiti festival, Graffiti Na Gradele.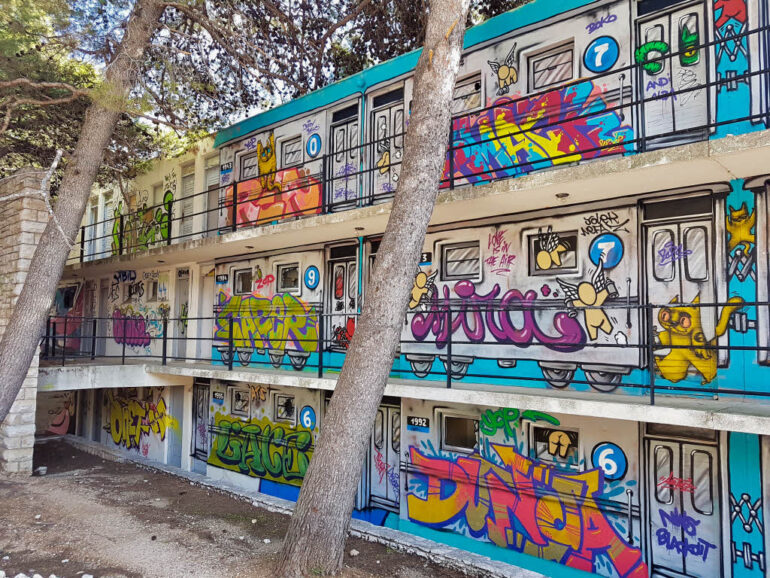 Dominican Monastery
When we arrived at the monastery, you could immediately tell the buildings were really old. We enjoy these old buildings, so we thought it was a nice variation to the beach. After we visited the Monastery we decided to go for a swim. We decided to follow the coastline and see where that would lead us. First, we crossed Martinica Beach, but that beach was quite crowded. So we continued, but we soon ran into a sign saying FKK. That's the abbreviation for the German Freikörperkultur, meaning it's a nudist beach. That was our cue to go back 😉.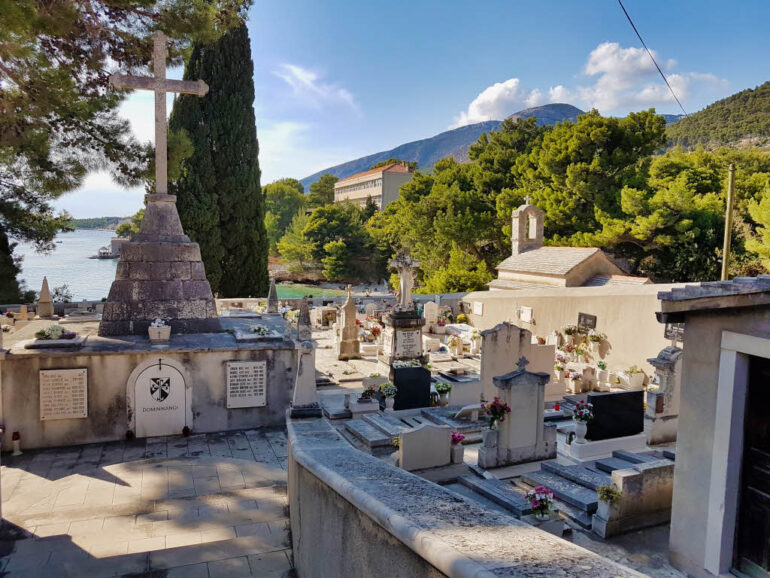 We walked by the monastery again and right next to the monastery was a rather large beach, Beach Bijela Kuća again, with quite a lot of people on. There weren't that many people swimming. They were all sunbathing and relaxing on the beach. It was also already getting a little late, so it wasn't that hot anymore. We decided to join these people on the beach, but of course, Steven was going for a swim. He can't be bothered if it's cold or hot. He's swimming no matter what!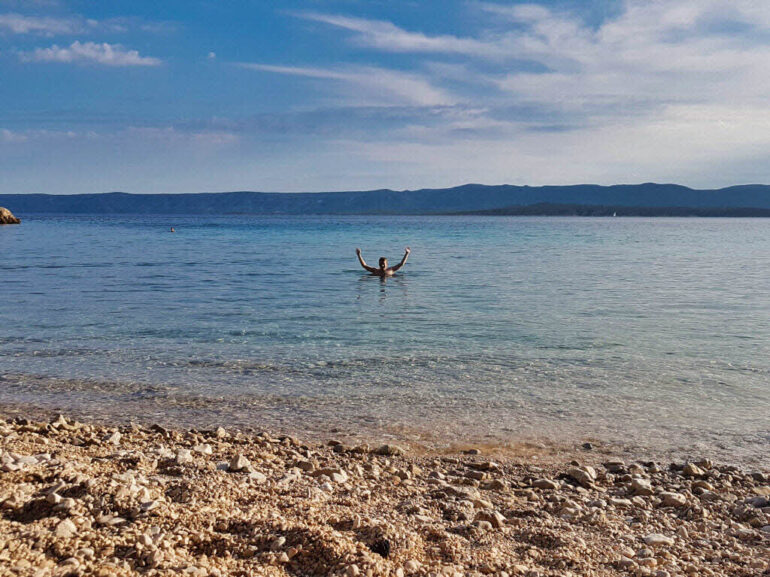 When the sun was already starting to set, we decided to go back to our apartment. We walked through the town of Bol and came back to our apartment. We made dinner and drank some wine. That's always the best way to end your day!
Save our Article on Bol and Zlatni Rat
Like our article? Save it for later. Also, check out our Croatia travel guide for more information.