Our itinerary for a 2 weeks road trip through Croatia will take you to the highlights of Croatia. You'll visit the famous waterfalls of Plitvice Lakes National Park, swim at a waterfall at Krka National Park, visit the island Brač and go to the city Zagreb.
Croatia was a country we never really considered when traveling abroad. But many of my friends and colleagues visited the country and were all very positive about their travels. So we also decided to give Croatia a visit in 2017. And we liked Croatia a lot! We visited again during our honeymoon to Croatia and Austria and we'll probably go to Croatia in 2021.
In 2017 we visited Croatia for the first time, so we wanted to see the important places that are on everyone's Croatia bucket list. We created a list of the places we wanted to see and created a map. Then we started to plan our road trip, booked flights, hotels, and a rental car. We did the exact same road trip as described in our itinerary below, during our travels to Croatia in 2017.
If you plan on traveling to Croatia, also check our Croatia travel guide. Here you'll find an overview of all our articles on Croatia.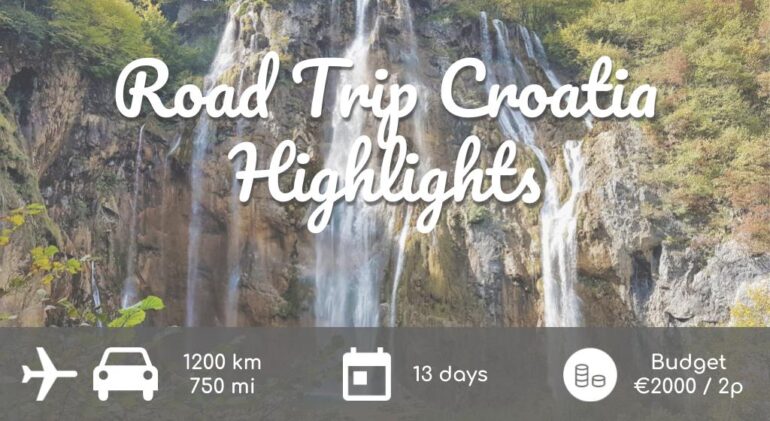 2 Week Road Trip Overview
Before we give you a detailed, day-by-day breakdown, we'll introduce you to our trip. We took flights to Zagreb and from there we drove south to Split. There we took the ferry to the island Brač. After staying there for a few days we started working our way back north, in the direction of Zagreb. The first stops were Split and the fortress Klis.
During our drive back to Zagreb, we visited 4 out of the 8 national parks of Croatia: Plitvice Lakes, Krka, Northern Velebit, and Paklenica National Park. On the way, we also visited Nin and the island Vir.
What we didn't include in our road trip is Dubrovnik. To get there you need to cross a different country, Bosnia and Herzegovina. Our rental company charged quite some extra money to cross the borders of Croatia, so we decided to skip a visit to Dubrovnik. But it's still on our bucket list.
This road trip to Croatia should take you about 2 weeks (14 days). We did it in 13 days as this was a better match with the flights. The total driving distance in Croatia is around 1200 km (750 miles).
Croatia Road Trip Budget
When we did this trip in 2017, we paid less than €1700 in total for this trip. That included the rental car and plane tickets. But, Croatia is becoming more and more popular, so the prices also increased. National park ticket prices almost doubled since 2017, and also hotel stays are getting more expensive. But Croatia is still cheap though.
Recalculating the estimated budget, based on our experiences of our road trip in the north of Croatia in 2020, we now estimate the cost on €2000 for 2 persons. If you're coming from the US, that's about $2450, but the plane tickets will be more expensive.
Breakdown of the Expected Costs (for 2)
Hotels and apartments: €600. That's approx. €45 per night, for 2. We paid less than €400 in 2017, but prices increased in Croatia. We didn't stay in any fancy places though. But we always had a private room with a private bathroom.
Rental car: €300. We paid €250 for the rental car. This fee included the car for 13 days and all insurances. An additional fee to take the ferry has to be paid though (about €25). Most of the time you pay this fee at the rental car desk.
Plane tickets: €200. We took Brussels Airlines flights from Brussels to Zagreb. They were quite cheap when we booked, but we stayed flexible on dates. Alternatively, you can take a Ryanair flight to Zadar. You can make the same road trip from there.
Ferry: €70. You'll have to take the ferry 2 times. Once to go to the island Brač and once to go back to Split.
Gas: €130. For a trip of 1200 km, you'll have to fill up 3 to 4 times. Our rental car was on a full-to-full arrangement, so we had to bring it back filled up.
Supermarket: €150. Supermarkets aren't expensive in Croatia. We bought lunch and Croatian wines. We also cooked a few times.
Restaurant: €250. Restaurants also aren't expensive. We went out for dinner most of the time, but we also cooked our own meal a few times.
Various expenses: €300. Toll road tickets (on the highway you have to pay toll), entrance fees to the national parks, tips… It used to be cheaper, but prices increased. Especially national park entrance tickets.
The currency in Croatia is Kuna (kn). A credit card is accepted in most places, but in some places, you'll have to pay cash.
Travel Itinerary of our 2 Week Road Trip
In the table below we'll give you the details on what we did on each day of our Croatian Road Trip. If you have any questions, reach out to us for more information. If you used our itinerary, we'd love to hear from you about how it went!
| | |
| --- | --- |
| Day | Itinerary of the day |
| 1 | We took our flights from Brussels to Zagreb. After arriving in Zagreb, we picked up our rental car and drove to Split. That's a drive of over 4 hours, so we were exhausted. |
| 2 | We took the ferry from Split to the island Brač. After arriving on the island of Brač, we went to the supermarket to buy breakfast and lunch. Then we visited Lovrečina Bay where we had breakfast on the beach and went swimming. After that, we drove to Bol and hiked the Vidova Gora. |
| 3 | A day all about exploring Bol. Before noon we visited the famous Zlatni Rat beach. In the afternoon we walked around the town Bol and went swimming at Beach Bijela Kuća. |
| 4 | Back to the mainland. In the morning we took the ferry from Supetar to Split. After arriving, we visited the city of Split. In the afternoon we visited the fortress Klis, famous as the Game of Thrones filming location for Meereen. |
| 5 | A busy day! To start, we visited Krka National Park. First, we went to the area Skradinski Buk where we hiked and went swimming at the waterfall. Then we continued to Roški slap for another hike. After Krka, we went to the Cikola Canyon. Lastly, we drove to Nin and stopped at Šibenik Bridge for a great view of the Krka river and Skradin. |
| 6 | We visited the island Vir where we went hiking along the shore and visited a few beaches. After that, we went back to Nin and went to Queen's beach. |
| 7 | Today we went to Paklenica National Park for a hike through the gorge of Velika Paklenica. We hiked back to the park entrance over a mountain trail and had great views from the trail. |
| 8 | Another national park today! We drove north and visited Northern Velebit National Park. In Velebit, we hiked in strong wind to the summit of the Balinovac mountain. |
| 9 | We continued our road trip and drove to Plitvice Lakes National Park. We bought a two-day ticket and entered the park. For our full itinerary, check our Plitvice Lakes National Park guide. |
| 10 | Second visit to Plitvice Lakes National Park. We did some hikes we didn't manage to do on our first day. In the afternoon we went for a hike in the Korana river. |
| 11 | We continued towards Zagreb. On the way, we stopped at the World War II Monument Petrova Gora. When we arrived in Zagreb we went to the city and visited the Museum of Broken Relationships. |
| 12 | A full day in Zagreb. We started with a walking tour through the old city and then walked through the Green Horseshoe of Zagreb. Lastly, we went to the Museum of Illusions. Check all the details in our Zagreb travel guide. |
| 13 | Our last day in Croatia. We visited Maksimir park in Zagreb. After that, we drove to the airport and returned home. |
Day by day itinerary of our road trip through Croatia
Map of our 2 Week Croatia Road Trip
On the map below you'll find the stops of our road trip through Croatia. This can help you plan your own road trip. Also check out our Croatia travel map with more destinations in Croatia.
Save our Itinerary for Later
Interested in our Croatia road trip itinerary? Save it to Pinterest for later.