The next morning we packed our luggage as it was time to go and leave Punat behind and go to our next destination, the island Lošinj. This is an island connected to the island Cres. Just like Cres, Lošinj is an island in the Kvarner Gulf. This meant our adventures and exploration of the beaches on the island Krk came to an end and it was time to discover something new.
Ferry Port Valbiska
We left early to take the ferry from port Valbiska to port Merag on Cres. We found online that it was a good idea to arrive 45 minutes before the ferry actually left. That would normally guarantee that you could get on the ferry of your choice. If you would arrive later than that, it could happen that it was so busy that you couldn't get on the ferry anymore and you had to wait for the next one. Check out our article on taking a Ferry in Croatia for more information and tips on taking the ferry!
I am a little more worried than Steven about those things. If people online tell me you should be 45 minutes early, my mind is telling me that it should be an hour! At least an hour! I would really hate it if we weren't able to get on the ferry. Our ferry left at 10:45 and because it was the first ferry we were going to take on our trip, Steven agreed to being a little earlier than the advised time. Now we might have exaggerated a little because we already arrived at 9:20. If we would have been just 10 minutes earlier, we could have seen the previous ferry and maybe have been on that one instead of the next one…
Tickets and Queuing for the Ferry
When we arrived, we first went to the gas station right in front of the port to make sure we wouldn't have to worry about an empty gas tank on the island. We also assumed that the gas prices would be much higher on the island than they would be in Krk.

After filling up our car, we bought a ticket from Valbiska to Merag. We paid 126 Kuna (about €17 / $21) for that trip. 96 Kuna for our car and 2 times 15 Kuna for an adult ticket. To find out the price list and timetable please go to the website of Jadrolinija.
We parked our car in the first lane and got out of our car. We walked around the port to kill some time as we were really early! In the port of Valbiska, there are also public restrooms. These were really clean and very convenient when you have to wait on a ferry. There is also a bar where you can go for a drink.
When the ferry finally showed up, everybody rushed to their cars and drove towards the ferry. Normally it could get quite busy on a ferry, but this time everyone fitted on the ferry. It wasn't as busy as we had expected.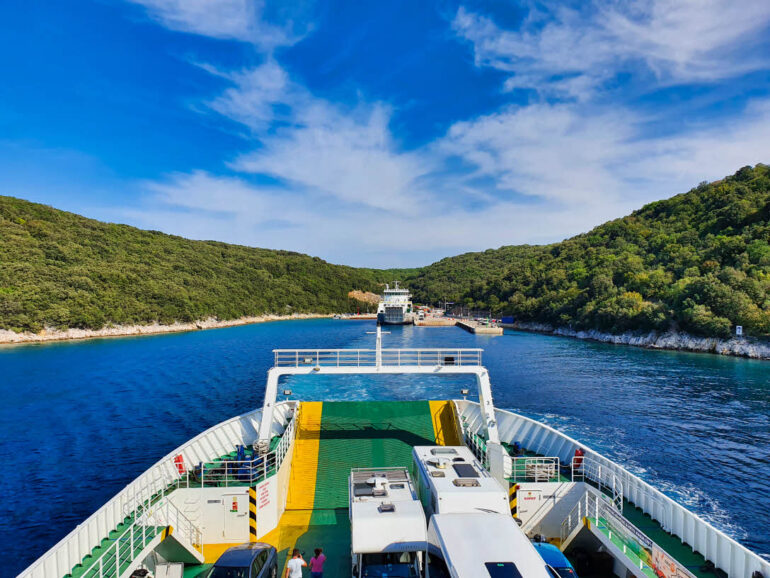 Isle of Lošinj
When we got off the ferry, we started driving towards our house. That house was located in Losinj, so we needed to drive quite a bit. We took in the magnificent views along the way. Views of incredible bays and beaches and most of all, the change of scenery. We drove from a very arid-looking field to a small little forest. It was surprising how often the scenery changed when we were driving through it.
The drive took a little over 1 hour because we got stuck behind a motorhome. We finally arrived at our beautiful house in the middle of nature. We rented a house with private access to the beach and an amazing view. It was our honeymoon after all 😉.
Secluded House on the Hill Side
We had rented the house for 3 nights. And it really was the ideal place to relax and enjoy nature. We were surrounded by a forest and we could hear wildlife all around us. In the morning and evening, we heard goats when they were either going to search for food or go back to their resting spot. We heard birds chirping, saw a deer passing us by… It was a magnificent place to spot some wildlife!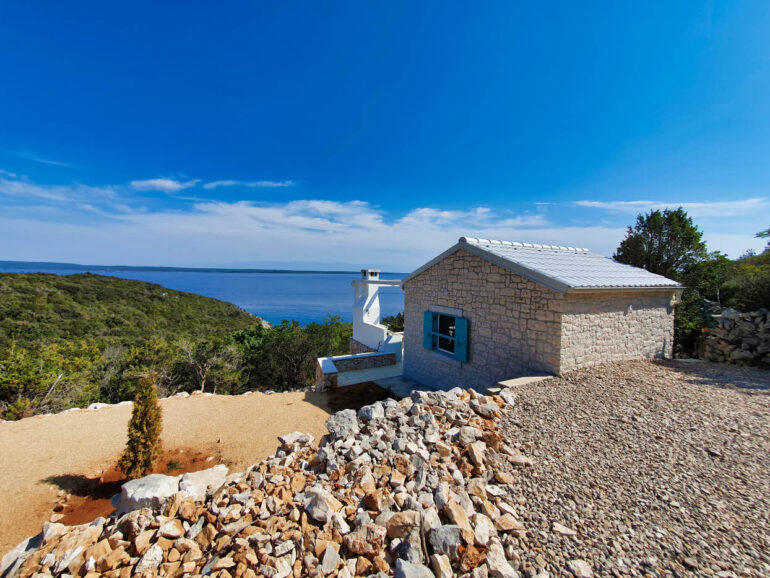 We also had a BBQ on our terrace and we really looked forward to that! It was a BBQ meant to burn wood instead of coal (or so we were instructed). We don't have much of that in Belgium, so it took us a while to get the fire going. Steven doesn't have that much patience to calmly build up a fire, but luckily I am the most patient person there is 😊. Well, at least when you compare me to Steven! I can enjoy working on something for hours even without seeing much result at first. So we immediately agreed that I would start up the fire because Steven would just get annoyed at how slow it burned.

Now we went to the shop earlier that day and were standing in front of these BBQ trays where you could place your food in. We were doubting if we would need it because we don't normally use this, but my god were we happy we purchased them! Barbecuing with wood really makes it very difficult to only use the grill. At times the flames were higher than the grill, so I think without these trays protecting our meat, we would have eaten something a little more black and burned.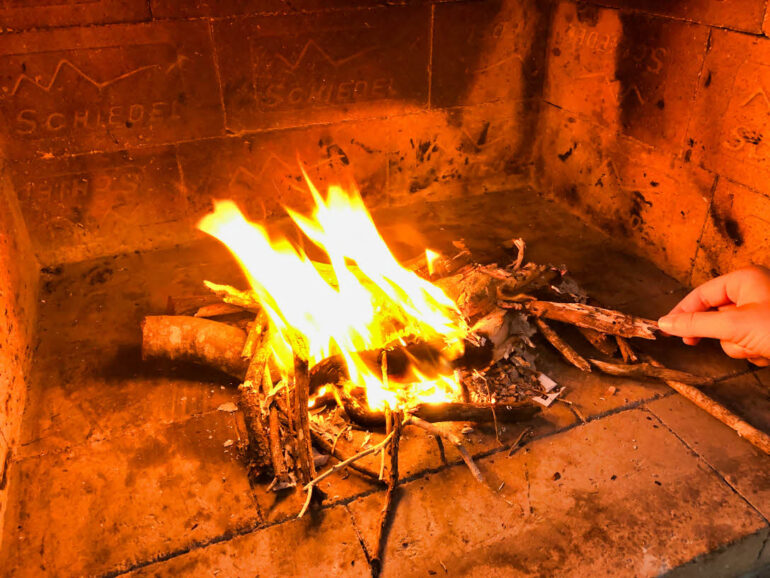 Private Access to the Beach
Our access to the beach was even more magnificent. I had brought an inflatable mattress in the shape of a kiwi with me and I used it every day. I loved how you could lay on the mattress with your belly and spot fishes in the sea because the sea was that bright. We typically went swimming 3 to 4 times a day. Steven loves to swim around the bay. He's also a really fast swimmer. So I really have to give it my all if I want to be able to follow him.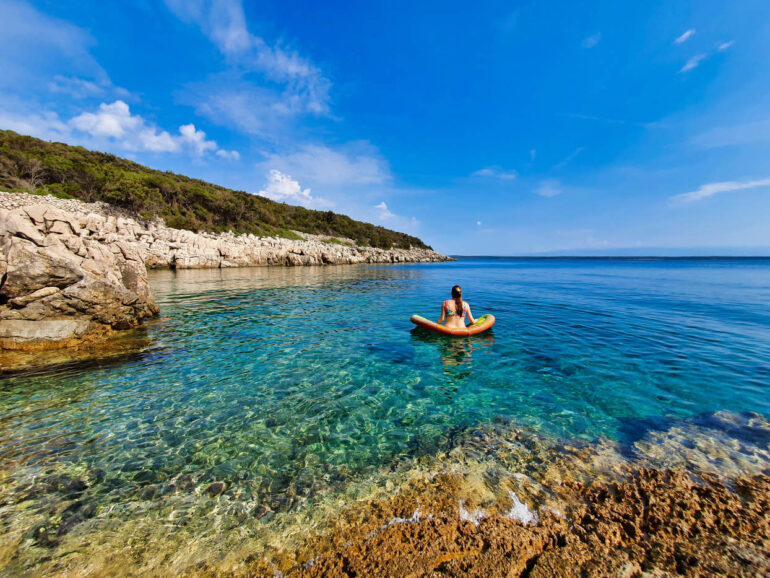 Last Swim in Lošinj
Steven was so zen on the day that we checked out, that he even wanted to go for a quick swim the morning we had to leave! We just ate and did the dishes and Steven was really eager to go swimming one last time. I was already a bit nervous because I'm that type of person who makes up the bed when they leave… So I wanted to make sure we left everything as clean as we could. And we needed to catch the next ferry and be there at least 45 minutes upfront! I can honestly say I wasn't even thinking about going for a swim! But then I looked at him, my hubby, looking all enthusiastic and his eyes filled with excitement. How could I ever say no to that!
So there I was, swimming in the sea in the morning. The water felt colder because the sun wasn't shining. I had suddenly become this worry-free person who goes for a swim right before the check out time! Well at least on the outside that is… On the inside, I was making a list of things I should do first when we got back from our swim… But let's keep that between you and me! 😉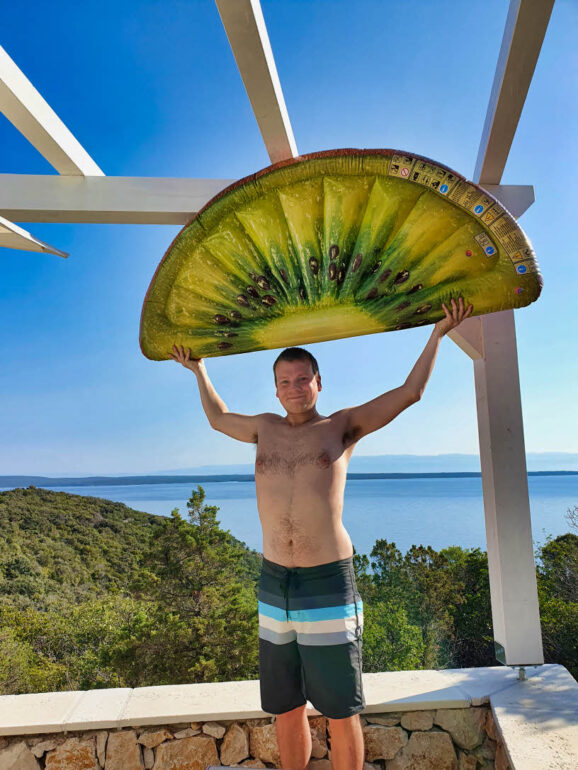 Relaxing at Lošinj
Those couple of days we didn't hike that much, we mostly swam and enjoyed each other's company. We enjoyed a BBQ in the evening, the great Croatian wines and also some schnapps we bought earlier on our trip in Austria.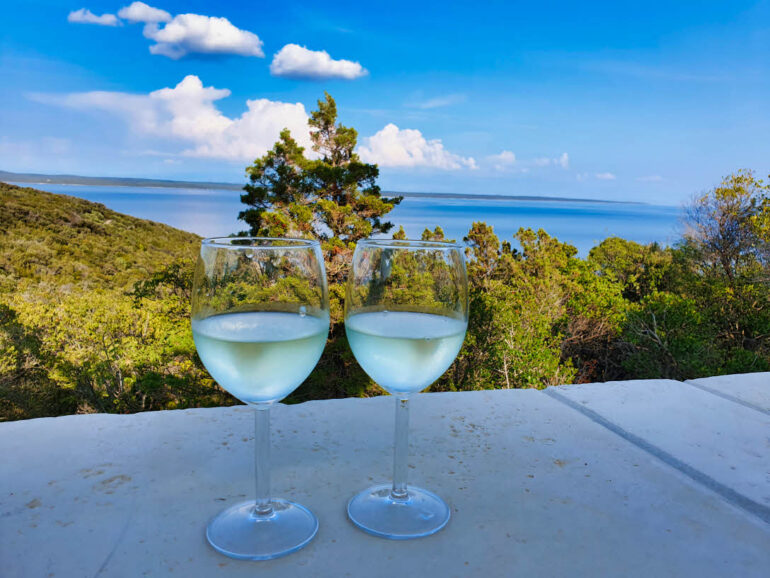 Our house was located on the east side of the mountain, so we couldn't really see the sunset. That's maybe one of the downsides of our location. After 5 PM the sun was gone. But one morning we woke up to see the sunrise. That was also something very pretty and worth waking up for!